Blood threat on tea bonus pay in Darjeeling
We are grateful to management of some gardens which started paying bonus at the rate of 20 per cent at one go: Ajoy Edwards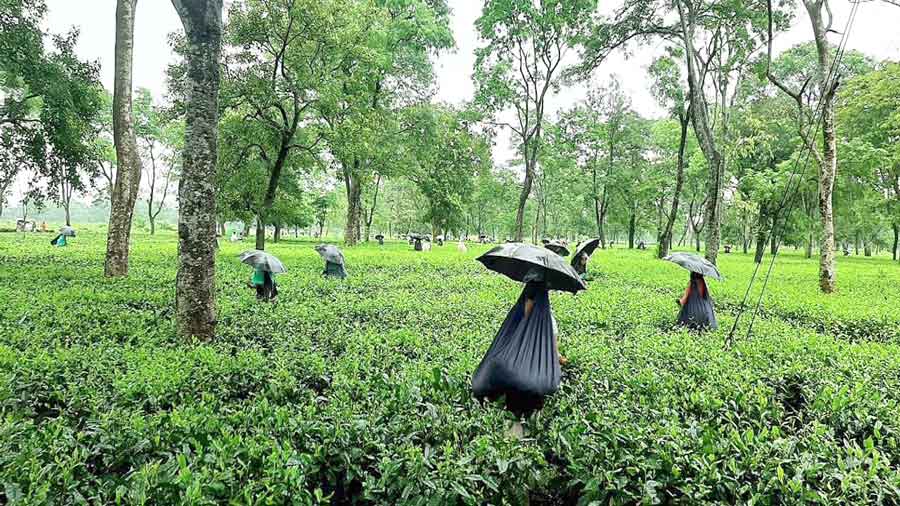 Representational image.
File picture
---
Darjeeling
|
Published 28.09.22, 02:13 AM
|
---
Hamro Party president Ajoy Edwards on Tuesday threatened that his outfit was planning a "symbolic" protest in which blood would be sprinkled on tea bushes in those gardens whose management was unwilling to pay labourers the annual bonus at one go.
Edwards had started a hashtag campaign of "Blood Tea" on social media to protest against the decision of the producers of Darjeeling Tea to pay 20 per cent bonus in two tranches — 15 per cent before Puja and 5 per cent before Diwali. He issued the threat at a joint rally organised by various political parties in the hills.
The march was organised here to protest the bonus payment in two instalments.
The rally saw the participation of leaders and supporters of the Gorkha National Liberation Front, Hamro Party, Gorkha Janmukti Morcha, CPM, Communist Party of Revolutionary Marxists, Akhil Bharatiya Gorkha League and the BJP.
Edwards, an elected member of the Gorkhaland Territorial Administration (GTA) Sabha, said: "We are grateful to the management of some gardens which started paying the bonus at the rate of 20 per cent at one go. However, we are thinking of donating blood and sprinkling the same on tea bushes in those gardens that do not pay the 20 per cent bonus at one go."
The Hamro Party leader said the move of sprinkling blood was "symbolic or some would even say drama" but added that it was a movement started because of frustration.
"The move is symbolic or some would say drama but if workers are not respected, we will have to undertake this agitation to tell the world that Darjeeling Tea is truly blood tea. Let there be a global impact. Let the people from around the world know how badly our workers are treated," said Edwards.
With the management disagreeing to pay 20 percent bonus at one go, the state government has directed the industry to pay bonus in two installments of 15 and 5 percent before Puja and Diwali, respectively.
The management is citing losses.
Edwards, however, said that one needed to be creative in business. "A businessman has to find a way out; one must be creative and brimming with ideas. If only tea cultivation is not working out, probably starting a multi-crop and tourism could make a difference," said Edwards.
BJP Darjeeling MP Raju Bista, BJP Darjeeling MLA Neeraj Zimba also participated in the protest march.
"This (decree by the state government for two installment payment) is outright illegal and discriminatory attitude towards the hill tea workers, done with the intention of humiliating and harassing them," said Bista in a written statement.
Bista also criticised the state government for not providing land rights to the tea garden workers.