Blood on a 20-year tradition
Mainul's 1999 voyage started a tradition in Sagardighi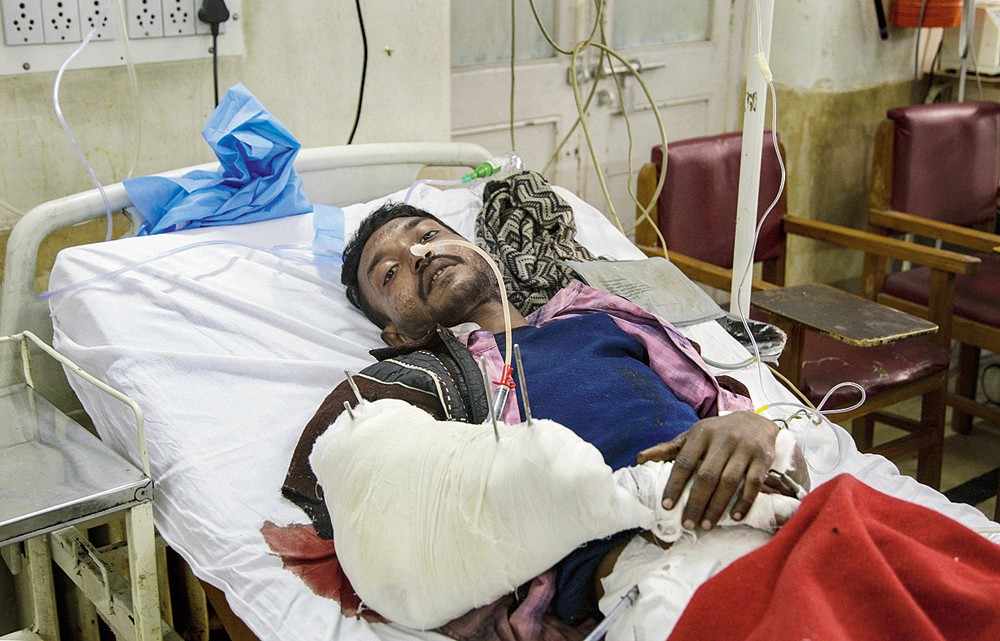 Jahiruddin Sarkar, who was injured in the attack, at a hospital in Srinagar
(PTI photo)
---
Sagardighi
|
Published 30.10.19, 08:43 PM
|
---
Mainul Haque, 40, was on the minds of many in Bahalnagar, a Murshidabad village of 3,000 people 230km from Calcutta, which was mourning five of its men on Wednesday.
As a 20-year-old, Mainul had stormed out of his home in July 1999 and taken a train to Delhi. "When he came back that November, he had a wad of cash in his pocket. He said he had earned it in Kashmir," his brother Isharul Haque, 42, said on Wednesday morning.
Mainul's 1999 voyage started a tradition in Sagardighi — the block of which the village is a part — of nearly 300 youths making an annual journey every autumn to work as apple-pickers in Kashmir's orchards for a daily wage of Rs 500 and free food and stay.
On Wednesday, Isharul and Mainul's wife Rafina were worried because they had not heard from him since Sunday night.
"When we spoke to him on Sunday, we told him he should come back. But he told us that the roads were under curfew and there were no buses or trucks nearby," Rafina said.
"He calls us every evening from his employer's phone, so we don't know what has happened (that he has not called since)."
On Tuesday evening, five men from Bahalnagar — Kamruddin Sheikh, Mursalim Sheikh, Rafikul Sheikh, Rafiq Sheikh and Naimuddin Sheikh — were gunned down at Kulgam in Kashmir.
Mainul, who left in late August, works in an orchard near Kulgam, sources in his family said.
The attack has stunned the residents of Bahalnagar, located 31km from district headquarters Behrampore.
"How could they kill us in cold blood?" asked Safikul Sheikh, 34, who has made the yearly journey to Kashmir nine times but gave it a miss this time. "We have built up a fair amount of amity with the orchard owners there, and with the militant groups as well. They used to treat us with respect, and even stepped in to solve our occasional wage disputes with the orchard owners," Safikul added.
Several villagers said young men from the area looked forward to the yearly expedition, "both for the money and the beautiful setting".
The timing suited them perfectly because they would sow seeds in their own paddy fields by late September and have to wait till November for the harvest.
The five victims of Tuesday's carnage had left as part of a group of seven on the morning of October 3 and were scheduled to return this Friday.
Two of them, Jahiruddin Sarkar and Bashirul Sarkar, survived. While Jahiruddin escaped with injuries, Bashirul was not present at their shared accommodation at the time of the attack.
Jahiruddin's wife Parmita Khatun told this newspaper their group was suspected by militants of being spies, after they spotted an army patrol near their accommodation on Tuesday evening.
"My husband told me over the phone that before the militants came, an army patrol team had come to the area and spoken to the workers from Bahalnagar, asking them to stay indoors. They were attacked because the militants thought they were spies," she said.
The number of migrant workers from Murshidabad this season had dropped after the Centre decided to revoke Kashmir's special status on August 5.
"Not even 30 people went there from Sagardighi this year," said Mustafizur Rahman, a member of the Bokhara-I gram panchayat.
Miral Sheikh, 48, was among them. He returned to Sagardighi on Tuesday night and said the Kashmir he saw this time was different.
"The local people were not like this before. They looked apprehensive about all outsiders…. It seems that the move over Article 370 has made them extremely wary of outsiders," Miral said. He, like the others, had gone to Kashmir in August and worked at a site 20km from Kulgam.
"Last Tuesday morning, I saw groups of militants setting fire to buses and trucks. I decided to leave that very night," he said. He started back home on Thursday, reaching Jammu and taking the train.
Other residents of Sagardighi, whose family members are still in the Valley, are very worried now.
"This week has been like a nightmare. I don't want easy money from Kashmir… I just want my husband to return," said Rafina, whose husband was the pioneer of this seasonal migration from Murshidabad.