BJP walkout over boy's death
Suvendu Adhikari demands 'hanging' of main accused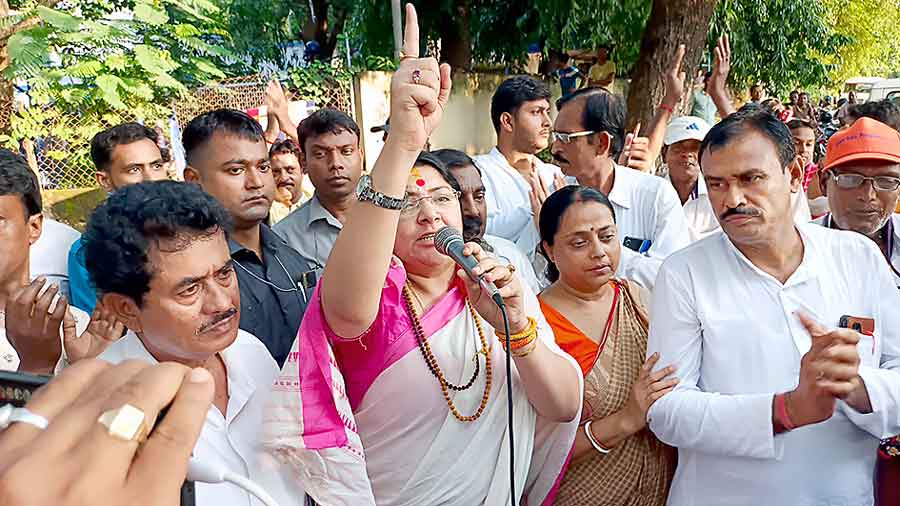 BJP leader Locket Chatterjee stages a demonstration in front of Santiniketan police station to protest against the murder of a minor in Bolpur on Wednesday.
Amarnath Dutta
---
Calcutta
|
Published 22.09.22, 02:59 AM
|
---
The BJP legislators on Wednesday demanded an answer from chief minister Mamata Banerjee, who is also the home minister, on the death of a five-year-old boy in Bolpur before staging a walkout from the House to protest the deteriorating law-and-order situation in the state.
Leader of the Opposition Suvendu Adhikari led the assault on the ruling party as he demanded death penalty for the accused, Ruby Bibi, and exemplary punishment for the law enforcers in Birbhum.
"It has recently become a practice that kids and young men are being abducted, the police are neither taking complaints nor investigating the matters. Finally, the corpses of these kids are being recovered," Adhikari said."This happened with two young boys in Baguiati and was repeated in Santiniketan," Adhikari said, adding that he demanded a CBI probe into the matter.
He accused Speaker Biman Banerjee of acting partially as he rejected Adhikari's demand of summoning the chief minister to the house to face questions on the kid's murder."We demand the hanging of Ruby Bibi, who is the main accused in the case... We also want the arrest of the OC of Santiniketan police station where a missing complaint was lodged on September 18 and yet no investigation was started. The SP must be closed," said Adikari.
Inside the house when BJP was demanding answers from the chief minister, the TrinamulMLAs started shouting slogans against the saffron camp and Adhikari. Meanwhile, BJP MP LocketChatterjee travelled to Santiniketanand tried to meet the bereaved family members of the infant.
However, local people prevented her from entering the village and asked her to go back. Speaking to journalists the agitators identified themselves as local villagers who accused Chatterjee of trying to politicise the issue.
"We don't want any political colour here. The administration is with us, we just want her (Ruby) to be hanged," one of the agitators said.
However, Chatterjee complained that the agitators were affiliated to the Trinamul and the police helped them block her way.'This is the handiwork of the police. They have come in collusion with the Trinamul and stopping us. We will not quit and see an end to it," the Hooghly MP said. She later staged a protest demonstration for two hours in front of the Santiniketan police station. Bengal BJP chief Sukanta Majumdar will visit Thakur's village on Thursday, while a delegation of MLAs led by Adhikari will go on Friday. On Wednesday, a CPM delegation met the family of the deceased and submitted a deputation with Santiniketan police accusing them of negligence. They also blocked the Bolpur-Santiniketan road for around one and half hours agitating against this incident