BJP launches 'age' assault on Amartya Sen
Supriyo took to Twitter to criticise Sen's remarks, questioning his silence on 'WB's plight under the Mamta-Tmchhi'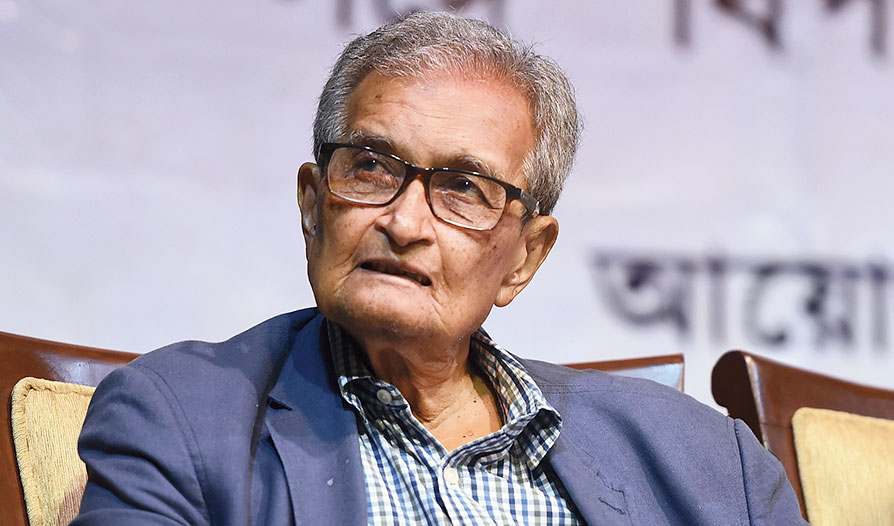 ---
Kalyani
|
Published 06.07.19, 06:54 PM
|
---
Union minister Babul Supriyo on Saturday led a BJP chorus against Amartya Sen over his observations on the Jai Shri Ram chant, with the Asansol MP attributing the remarks to the Nobel-laureate economist's "age".
Supriyo took to Twitter to criticise Sen's remarks, questioning his silence on "WB's plight under the Mamta-Tmchhi".
"It's Sir's @amartya Sen age speaking not his mind or else he wud hv understood that, in Bengal 'JaiShreeRam' is more a Symbolic Phrase of Protest than it is abt religion! #JaiShreeRam is surely not used 'to beat people up' rather it's 2 stand up against those who torture #TMchhi," Supriyo tweeted.
"Utterly sad that he makes such a comment but never utters a single word against all the #TMchhi atrocity against Bangalis in every sphere of life. A Noble Laureate who educated the world abt society & it's behavioural patterns remained quiet abt WB's plight under the Mamta-TMchhi," Supriyo added, before engaging over hours with sections of the Twitterati that criticised his comments.
On Friday, Sen had said that Jai Sri Ram was "not a very traditional Bengali chant" and that it was one of recent imports "to wage a war". The economist was at Jadavpur University for a public lecture.
"First of all, to my knowledge 'Jai Shri Ram' is not a very traditional Bengali chant. It's a recent import. People are asked to chant it as a ploy for beating them. It's not as though it has a connection with Bengali civilisation. Like, for instance, Ram Navami; I hear that Ram Navami is being observed widely in Calcutta nowadays. Haven't heard of it being observed earlier. The other day, I asked my four-year-old granddaughter who was her favourite among the gods and goddesses she saw. She took a while and said: Maa Durga. So, the stature that Maa Durga enjoys here cannot be compared to Ram Navami…. These are recent imports to wage a war," Sen had said in reply to questions from journalists.
On Saturday, Bengal BJP chief Dilip Ghosh, who has made several statements in the past criticising Sen for his views, said it was "unfortunate", without naming the economist.
"Unfortunate…. People are being murdered on the streets for saying Jai Shri Ram. Democracy does not exist here. People don't have the freedom to speak. People are being murdered on the streets. And big intellectuals are seeing terror in the Jai Shri Ram slogan," Ghosh told The Telegraph.
In Nadia's Kalyani, BJP leader Mukul Roy said Sen's was not the "final say" in India.
"Amartya Sen is a respected man, but people will not accept it simply because he has said it, the people have their own views. Jai Shri Ram inspires people. Not only in Bengal, but also in the rest of India, the Jai Shri Ram slogan is very popular. There is nothing wrong in the slogan," said Roy, the former Number Two in the Trinamul Congress.
"Amartya Sen does not mean the last word in India. In the Jai Shri Ram slogan there is the implication of India's beauty, affluence and good governance. Shri Ram symbolises all these things. There is nothing wrong in the slogan. That's why, let Amartyababu stay like Amartyababu. Let him take pilot cars and go to Visva-Bharati, let him stay well in the hospitality of the government. I am saying these things while according respect to him," added Roy.
Trinamul leaders supported Sen.
"By saying such things, they (BJP) are, yet again, exposing their limitations…. These statements are utterly condemnable," said senior Trinamul leader Firhad Hakim, minister and Calcutta mayor.