BJP finger at TMC over bid to foil strike
Roadblocks removed and strike supporters dispersed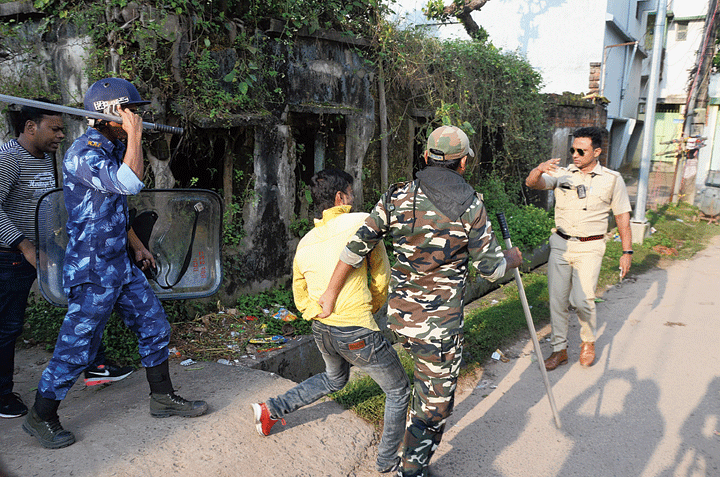 ---
|
Arambagh
|
Published 30.10.19, 08:27 PM
---
Patches of Hooghly's Arambagh turned chaotic on Wednesday during a strike called by the BJP in protest against the murder of a 28-year-old party worker during a clash on October 27.
The town turned tense when Trinamul workers took to the streets to ensure that the BJP's bandh procession did not hamper life.
Although police had to resort to lathicharge to disburse BJP supporters who were obstructing roads and arrested as many as 20 bandh "supporters" for forcibly closing shops and banks, violence and destruction of property was largely avoided.
The strike was called on October 27 after Sheikh Amir Ali was killed allegedly by Trinamul supporters.
Police sources said BJP workers had started putting up roadblocks across different points of Arambagh on Wednesday morning in an attempt to stop vehicles. "Besides roads, they also tried to close down schools, shops and banks," said an officer.
The BJP has alleged that despite the support from local traders, Trinamul and the police jointly tried to defeat the strike by lathicharging "supporters" and forcing striking shopowners to continue business.
"Police and Trinamul jointly fielded their men to disorganise our strike. They resorted to lathicharge and disbursed our supporters. They arrested 20 BJP workers but were not successful in defeating our strike. The people of Arambagh supported the bandh," said Biman Ghosh, BJP president in Arambagh.
On Wednesday morning, a rally of over 1,000 BJP workers led by Purulia MP Jyotirmoy Singh Mahato was taken out near the Arambagh market. "They were asking people over loudspeaker to join their rally," said a source.
In retaliation, Trinamul leaders led by chairman of the Arambagh municipality, Swapan Nandi, took out a procession which led to the opening of several shops belonging to bandh supporters.
"This resulted in a quarrel between BJP and Trinamul groups," said a police officer.
"The BJP forcibly closed down several shops and banks in our area but we opened them within half an hour. Few private buses were stopped in the morning but the transport system came back to normal by 1 pm," said Swapan Nandi, Trinamul leader and Arambagh municipality chairman.
District police chief of Hooghly (rural) Tathagata Basu said: "We have arrested 20 bandh supporters for forcibly closing down shops and breaking law and order."