Bins handed out for waste separation in Calcutta's Chetla
Each recipient got a green bin for biodegradable waste and a white one for non-biodegradable and recyclable waste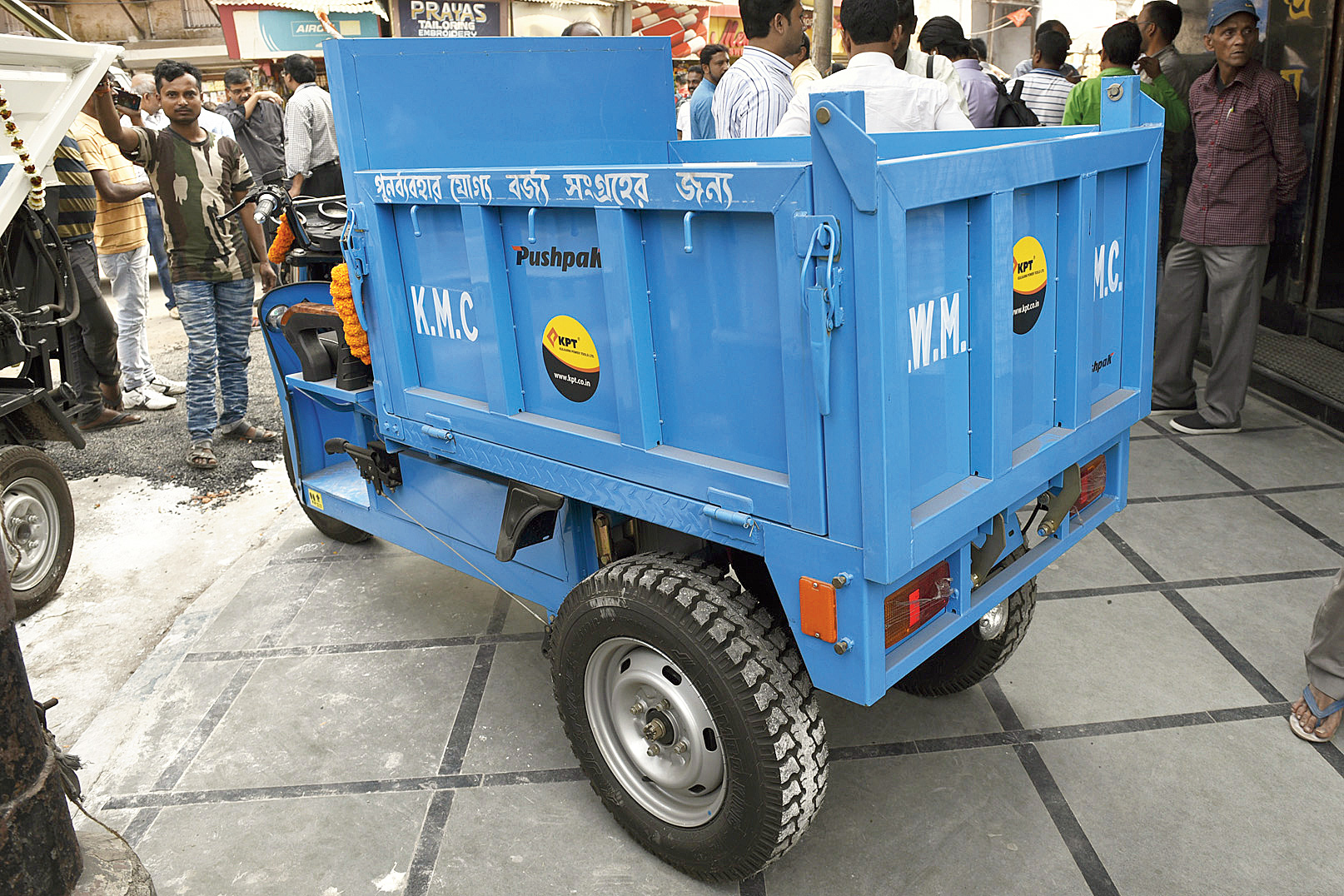 Battery-operated cars that will collect recyclable waste from households.
Sanat Kr Sinha
---
Calcutta
|
Published 21.02.19, 12:12 PM
|
---
Mayor Firhad Hakim handed over colour-coded waste bins to residents of Chetla on Wednesday, marking the introduction of waste segregation at source in 20 wards in the city.
Each recipient got a green bin for biodegradable waste and a white one for non-biodegradable and recyclable waste.
The mayor had on Friday announced that waste segregation at source, which will make recycling of waste easier and reduce the volume of garbage to be dumped at Dhapa, would be rolled out in 20 wards.
"Sixteen of the 20 wards have been identified. These are 5, 11, 13, 25, 72, 73, 74, 81, 82, 85, 88, 90, 93, 96, 97 and 118," an official.
"The scheme will be rolled out in all 20 wards in three months."
Waste segregation had been rolled out as part of a pilot project in seven wards (33, 47, 64, 103, 110, 115 and 130) in 2010.
Those who were given the colour-coded bins on Wednesday were all residents of ward 82, which Hakim represents in the civic house.
"The biggest challenge urbanisation faces is waste management. A garbage hill has formed at Dhapa. We cannot afford to have another hill. So, segregation and recycling is the way forward," the mayor said at the programme at Ahindra Mancha in Chetla.
Once segregation starts, biodegradable waste, which includes food items, will be collected daily. Non-biodegradable waste will be collected every other day.
Biodegradable waste will be turned into fertiliser in compost plants, while recyclable waste will be sent to plants where it will be made fit for reuse.
Rajib Bose, who leads the collection of recyclable waste in ward 110, stressed the need for running an awareness drive.