Binay Tamang's team members extend support to Anit Thapa
They had gone to Bimal Gurung's party office at Patlebas on Friday and handed over the Morcha flag to Gurung on the instruction of Tamang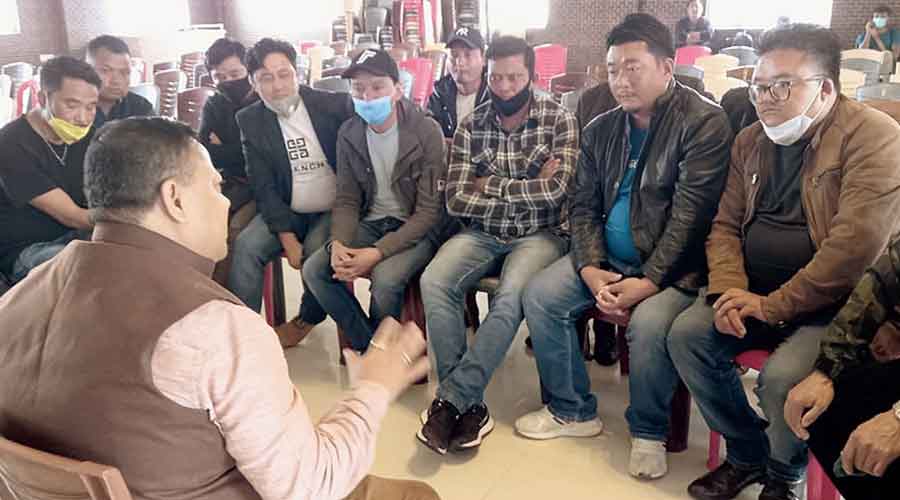 Anit Thapa with his supporters in Kurseong on Sunday.
Telegraph picture
---
Darjeeling
|
Published 19.07.21, 02:19 AM
|
---
Members of Binay Tamang's team that had gone to hand over the Gorkha Janmukti Morcha flag to their arch-rival Bimal Gurung on Friday extended support to Anit Thapa 48 hours later.
The support by people considered close to Tamang and from his Gorkhaland Territorial Administration (GTA) constituency of Bloomfield-Risheehat is seen as a major moral boast from Thapa, who took over the reigns of the faction after Tamang had resigned as the party's president and from its primary membership on Thursday.
"There was confusion among the party cadres following the recent development. We held a meeting and many party functionaries have decided to stay with the party and support Anit Thapa," said Y. Chamling, president of the Morcha faction at Bloomfield-Risheehat.
Chamling and his team had gone to Bimal Gurung's party office at Patlebas on Friday and handed over the Morcha flag to Gurung on the instruction of Tamang.
Tamang had said since the "original owner", Gurung, had returned after being on the run for more than three years, he was handing over the flag.
Chamling said his team had followed Tamang's flag handing directive primarily to fulfil his "family responsibilities".
"Apart from political relations, I also share a family tie with him. I, along with my team, went to hand over the flag to fulfil our family responsibilities," said Chamling.
The Bloomfield-Rishehaat team went to Kurseong on Sunday to extend their support to Thapa.
"I would rather quit politics than support Bimal Gurung," said Thapa.
Both Gurung and Thapa's faction of the Gorkha Janmukti Morcha are allies of the Trinamul Congress.
Over the past three days, Thapa managed to garner support of most of the functionaries of the faction, including Kalimpong MLA Ruden Sada Lepcha.
There has been some churn in hill parties with some former leaders of the Binay Tamang camp joining Bimal Gurung's faction.
On Sunday, leaders of the Darjeeling town committee of the Thapa's faction, Zahid Khan, Allan Chhetri and Shyam Ghisingh, along with other 20-odd supporters, joined Gurung's faction.
Some supporters from Pedong in Kalimpong and also Kurseong have joined the Gurung camp. Thapa on his part has started reorganising his team, especially in Bijanbari-Marybong and Mirik.
Tamang had surprised his party leaders and workers by his decision to quit the faction he had formed in 2017. Tamang had cited a number of reasons from conspiracy to remove him from hill politics to taking moral responsibility for his faction's defeat in the 2019 and 2021 polls and double standard role being played by some of his party leaders.
Tamang, who is preoccupied with rituals following a death in his family, told this newspaper that he would come up with a detailed explanation within a few days.