Binay Tamang plans to rejig Gorkha Janmukti Morcha faction
The three-phase overhaul will start with a reorganisation of committees in Darjeeling and Kurseong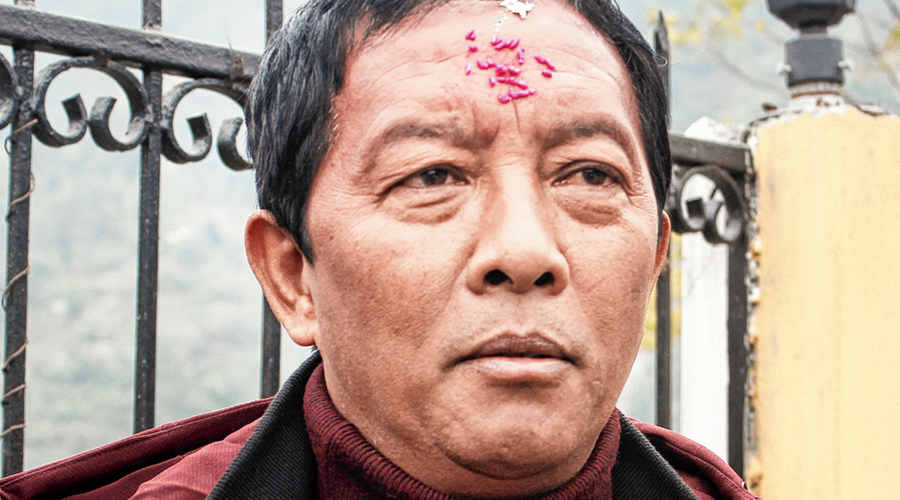 Binay Tamang
Telegraph picture
---
Darjeeling
|
Published 07.06.21, 12:29 AM
|
---
Binay Tamang on Sunday announced his decision to go for a major overhaul of the Gorkha Janmukti Morcha faction, which he formed in 2017, in anticipation of a series of local body elections.
Elections to four hill municipalities of Darjeeling, Kalimpong, Kurseong and Mirik are eight months away.
The Tamang faction tasted its first major electoral success in four years this summer when its candidate Ruden Sada Lepcha won the Kalimpong Assembly seat.
'We did manage to win the Kalimpong seat and when we look at the individual strength of the hill parties we are in a better position. Nevertheless, I have decided to go in for a major overhaul of various committees to further strengthen our party," Tamang said.
The three-phase overhaul will start with a reorganisation of committees in Darjeeling and Kurseong.
"If needed, I might even dissolve some of the committees," said Tamang.
During the second phase, the faction will restructure its organisational set-up in Kalimpong district. "We did win Kalimpong but certain changes need to be brought about," said Tamang.
During the third phase, the party will restructure its frontal organisations. The party has 23 frontal organisations like tea trade union, employees' union etc.
The faction also has 45 constituency committees, three subdivisional committees, a district committee and the central committee.
Many in the hills believe that restructuring plans have been devised with an eye on the possibility of locals elections being held soon. It is said that the party that controls local bodies and especially the GTA controls hill politics.
As far as visibility is concerned, compared to the first wave of Covid-19, the Binay Tamang camp is less active this time around. During the first wave of the pandemic, the party's general secretary, Anit Thapa, was in charge of the GTA. Thapa was not nominated as the chairman of the board of administrators, GTA, by the state government after the Assembly elections though his earlier extension, before the model code of conduct forced him to step down, was till August.
Tamang's rival Morcha faction led by Bimal Gurung is more visible on the ground now with Gurung hitting the streets for sanitisation drives.
The GNLF is also active, mostly through their leader Ajoy Edwards and his foundation. BJP leaders are also visiting nooks and corners of the hills with the party's Darjeeling MP Raju Bista donating many oxygen concentrators.