Bimal Gurung: Plot to keep me off hills
His remarks come at a time the Mamata govt has initiated the process of withdrawing police cases registered against him, except the murder cases and UAPA case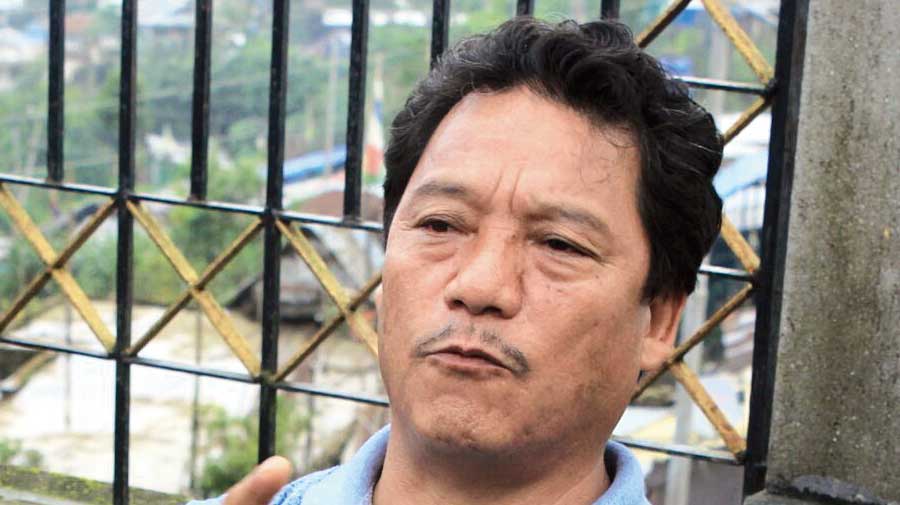 ---
|
Siliguri
|
Published 22.02.21, 12:48 AM
---
Gorkha Janmukti Morcha leaders Bimal Gurung has taken up the task to establish a "conspiracy theory" that had led to his absence from the hills for over three years since the 2017 statehood agitation.
Gurung, speaking at a public meeting in Mirik on Sunday, also obliquely accused leaders of the rival Morcha faction led by Binay Tamang and Anit Thapa of forcing him to move out of the hills and trying to keep him out.
"Party leaders and workers present here… the audience and thousands of residents…none of them did anything. It is because of two people that I was forced to move into the jungles then," said Gurung.
"I stayed away from the hills for over three years...Now, Mamata Banerjee could assess me...When I came here to work, some of our people resorted to hue and cry and said that if Bimal Gurung reaches the hills, there will be tension and violence. I ask them to provide proof… I have been staying here for three months now and there hasn't been any such incident. All these indicate a political ploy hatched against me," he said.
Gurung's remarks come at a time the Mamata Banerjee government has initiated the process of withdrawing police cases registered against him, except the murder cases and the UAPA case. Around 70 cases have already been withdrawn, said sources.
Political analysts pointed out that as the state's decision drew flak from political quarters — a number of political parties have alleged that the cases are being withdrawn in exchange of Gurung's support to Mamata and her party — he is trying to prove that he had "fallen prey to a conspiracy."
"He (Gurung) is trying to drive home the point that he is a victim of circumstances and political strategies and was not involved in the incidents for which police cases were registered against him. It appears to be a planned move to counter political parties on the issue (of withdrawal of cases) and also try to exert pressure on the other faction (Tamang-Thapa) that is also with Trinamul," said an observer.
Gurung also hit out at his former ally BJP and Raju Bista, the BJP MP of Darjeeling who won the 2019 Lok Sabha polls with Gurung's support. He said he trusted the BJP for years but was eventually "betrayed."
"Whenever I met the Prime Minister or Union home minister, I asked about the permanent political solution (PPS) for the hills and for tribal status to 11 hill communities. They went on assuring me but eventually our patience and trust did not pay off," he said.
He told Bista not to ascend to Darjeeling without fulfilling the aspirations of hill residents.
"The (Assembly) elections are now ahead and once the model code of conduct comes into force, nothing can be done. I would like to ask him (Bista) that there is no need for him to come to Darjeeling without meeting the commitments made by his party."