Bimal Gurung faction to erect 11 martyrs' statues killed during 2017 Gorkhaland agitation
Roshan Giri made it clear that it would once again use the Gorkhaland card to strengthen its base in the region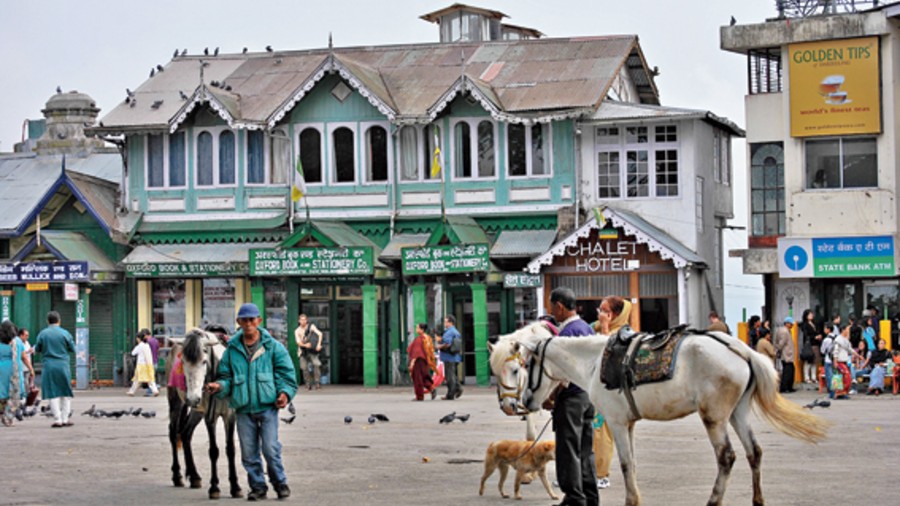 The 2017 Gorkhaland agitation included 104 days of continuous strike in the hills.
File picture
---
Darjeeling
|
Published 19.08.21, 02:21 AM
|
---
The Bimal Gurung faction of the Gorkha Janmukti Morcha has decided to erect statues of "11 martyrs killed during the Gorkhaland agitation in 2017" and has asserted that the party would move ahead with a Gorkhaland-centric agenda.
Gurung chaired the central committee meeting held in Kalimpong on Wednesday, where many decisions to strengthen the faction were taken.
Roshan Giri, general secretary of the faction, made it clear that it would once again use the Gorkhaland card to strengthen its base in the region.
"It has been decided that the party will erect statues of 11 martyrs who died in the Gorkhaland agitation (of 2017)…. In the days to come we will move ahead with our issue, a Gorkhaland-centric agenda," said Giri.
The 2017 Gorkhaland agitation included 104 days of continuous strike in the hills. With the state government crushing the agitation with a heavy hand, Gurung along with Giri and his other senior leaders were on the run for over three years.
Gurung returned to Darjeeling last year after dumping the BJP and joining hands with the Trinamul.
Giri on Wednesday lambasted the BJP for "not being serious" about the hill issue and said any tripartite talk without taking the state government "on board" would be fruitless.
"Our demand is Gorkhaland or Union territory. The other options of a hill body with legislative powers are Article 244A for which the Constitution has to be amended," said Giri adding that the Sixth Schedule status had been rejected by the hill people.
Observers in the hills believe Gurung's faction, which did not fare well in the 2021 Bengal Assembly election in the hills, has little option but to "speak about the emotive Gorkhaland issue" to stay relevant.
"In the present political landscape of the hills, I do not see the possibility of Gurung starting a movement for Gorkhaland but he may keep talking about the issue to attract supporters," said an observer.
Gurung's rise in hill politics in 2007 was after he raised the Gorkhaland issue to oppose GNLF leader Subash Ghisingh's demand for inclusion of hills within the Sixth Schedule of the Indian Constitution.
At the meeting Gurung's party also decided to bifurcate Kurseong subdivision committee into Kurseong 1 and 2 and two from subdivisional committees for Bijanbari area in Darjeeling and Gorubathan and Kumai-Jhaldhaka areas in Kalimpong district.
The party also decided to form three committees for eastern, western and middle Dooars and appointed a number of leaders to oversee the party's expansion in the plains including Siliguri and Terai, and decided to open a "human rights" cell.
On Wednesday, Darjeeling MP Raju Bista of the BJP also visited Kalimpong to inaugurate an Aadhaar Seva Kendra.