Didi asks Bhowanipore electors not to be complacent, & step out to vote
The TMC chief, who took oath as chief minister for the third consecutive term on May 5, has till November 5 to be elected to the 294-seat House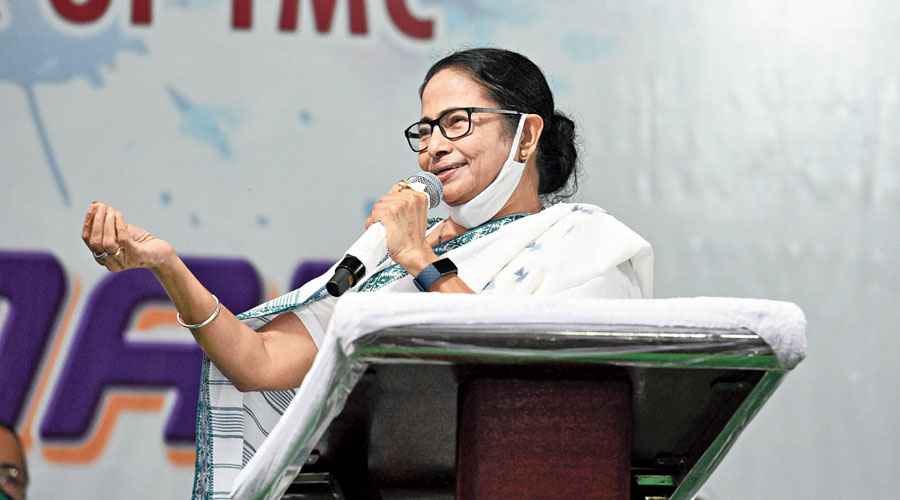 ---
Calcutta
|
Published 23.09.21, 02:02 AM
|
---
Mamata Banerjee on Wednesday appealed directly to the Bhowanipore electors against complacency, warning them against taking her victory as a foregone conclusion and therefore, not stepping out to vote on September 30, especially in case of rain.
"(Suppose) It's raining. You think, 'O Didi will win anyway, so my not going (out to vote) will not make a difference'…. Please, please have mercy and do not think that way. Please have mercy and do not do this," the chief minister urged voters, repeatedly, with folded hands.
"Every vote of yours, if I don't get, I will have to suffer losses. If I do not get every vote of yours, remember, you will not get me. Every vote, therefore, is very necessary," the chief minister added, in a street-corner at Ekbalpore. She reiterated her appeal, almost verbatim, in a similar campaign exercise at Chetla.
Bhowanipore, which agriculture minister Sobhandeb Chhattopadhyay won with a margin of 28,719 votes (22.55 per cent of the vote share) this summer, was vacated for Mamata by him in May.
The Trinamul Congress chief, who took oath as chief minister for the third consecutive term on May 5, has till November 5 to be elected to the 294-seat House.
"Our party has an absolute, two-thirds majority. But for remaining the chief minister of Bengal, if I am not able to win, then somebody else will become the chief minister. I will not be able to remain as the chief minister…. This I am telling you very clearly, to explain to you why there is a need for each and every one of you to go and vote," said Mamata, who had unsuccessfully contested from the Nandigram seat.
"Irrespective of a storm, inundation, downpour, 100 out of every 100 people must come out to vote. Because this is a much bigger fight (than just the bypoll of Bhowanipore)," she said.
"Who will fight against the NRC, the CAA, the NPR (the three components of the contentious citizenship matrix of the BJP-led Centre), against demonetisation, against the riots of the BJP, against atrocities, for development?" she asked, as the audience chanted "Didi, Didi!". "Every vote from you, remember, will help us march forward to Delhi in future."
The chief minister said she had gone on a whim to contest from Nandigram and rued not having contested from her home turf, attributing to destiny the need for her to contest from the bypoll in Bhowanipore.
"I grew up in this constituency…. My mother had suggested once, that I contest from here. I had asked her why, she had said then she would be able to cast her vote in my favour," said Mamata at Chetla.
"Even when I went to contest in Nandigram, I used to miss not contesting from Bhowanipore. Maybe this is fate, which brought me back here, to win the bypoll and continue as Bengal's chief minister," she added, before reiterating that a "fearsome" conspiracy had been hatched – even putting her life at risk – to ensure her defeat in Nandigram, and asserted that the truth would soon be revealed. She said for such reasons, the bypoll this time was "very challenging".
"The BJP will conspire in various ways, they will try to foment tension, disturb peace, try to instigate riots… have the elections cancelled somehow. Do not yield to their provocation, their conspiracies," she added.
BJP leader dies
BJP candidate Dhurjati Saha, who had contested unsuccessfully from the Magrahat West constituency, on Wednesday succumbed to injuries he had allegedly received on counting day on May 2.
Additional reporting by Arkamoy Datta Majumdar