Hope makes way for gloom
Poila Baisakh fails to meet aspirations of traders, farmers and artisans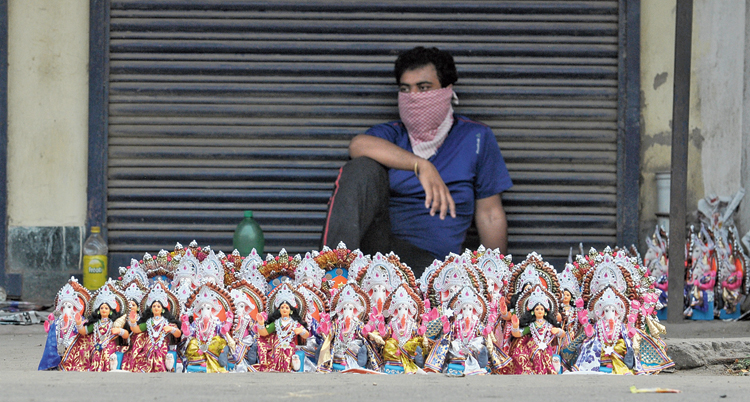 ---
---
The Bengali New Year's Day — Poila Baisakh — falls on Tuesday this year. The day has been seen as a harbinger of prosperity and an occasion of celebration and a flurry of activities in the state.
The tradition of the Bengali New Year arguably started during the reign (1556-1605) of the third Mughal, Emperor Akbar the Great. Initially in the Mughal rule, land taxes were collected according to the Islamic Hijri calendar — a lunar calendar that did not match the solar agricultural cycles.
Several historical accounts state the festival was introduced in Bengal in the late 16th century to match the tax year with the harvest after Akbar had asked his royal astronomer Fathullah Shirazi to create a new calendar combining the lunar and solar calendars already in use.
Since then, Poila Baisakh has been a red-letter day in vast swathes of undivided Bengal, including Bangladesh, Tripura, Assam and Odisha.
But this time, in the New Year of 1427, there is despondency because of the threat posed by Covid-19 and the resultant lockdown.
The Telegraph takes a closer look at how the pandemic has punctured the celebratory mood ahead of Poila Baisakh.
Traders
The Bengali New Year's Day is a time for traders to put together a substantial sum as working capital as loyal customers traditionally clear their dues of the previous fiscal. The pecuniary activities behind the social festival are key to the economy of semi-urban and rural Bengal.
Hindu traders organise a puja of Lakshmi and Ganesh, inviting customers to pay a visit. Packs of sweetmeats and a Bengali calendar are the most common gifts from the traders to the customers. Muslim traders also partake in the festival and give out sweets and calendars to customers.
According to a garment merchant in Birbhum, he rakes in no less than Rs 10 lakh on the day, which helps him with business over the next few months. From settling payments to fresh purchases, the money serves important purposes.
"This time, the backlog and dues of last year would not be cleared. We will have no money in hand. Poila Baisakh is ruined this time," said Sushil Banthia, the merchant.
Farmers
Poila Baisakh is deemed as an auspicious day for those in agriculture. Farmers start harvesting winter crops like lentils, vegetables and mustard. In case of paddy, they start watering the crops. Seeds, of crops like sesame, are also sown.
"What celebrations? We have not even found enough labourers for watering our crops," Jadab Pal, a farmer in East Burdwan's Ausgram, said when he was asked about the celebration this year.
Almanac & calendar
The festival coincides with the circulation of the new panjika (almanac) and the Bengali calendar in households. Traders in Calcutta used to handle orders of tens of thousands of calendars and almanacs. The sale of both has come down to virtually zero this year.
Baikunth Jha, a trader at College Street in Calcutta, said he used to supply at least one lakh almanacs to districts. "I couldn't clear even less than a tenth of my stock this time because of the lockdown. People don't buy panjikas and calendars after Poila Baisakh," said Jha.
Sheikh Akhtar Hossain, who runs a shop in Burdwan, used to print at least 50,000 calendars for Poila Baisakh. This year, he has received almost no orders.
"I also sell haal khata (traditional ledger covered with red cloth). This year, I sold barely 10 pieces. I still have over 30,000 items left in the stock," he said.
Clay artisans
Artisans in most of the hubs across Bengal remained unable to find customers for the clay idols of Lakshmi and Ganesh.
With the lockdown, businesses have been avoiding celebrations and it has hit clay artisans like Sudin Pal, 62, hard. Pal was seen eagerly awaiting customers with about 300 clay models of various sizes on Monday. But till the evening, he could sell only six.
Tribals
Tribals, mainly Santhals, in various pockets of Birbhum, Bankura and Purulia hold the Pata Mela (the fair of new foliage). Tribal women dance and conduct many cultural programmes and the fairs are hubs for indigenous handicrafts and artifacts.
Because of the lockdown, all such activities have been stopped this year.
Additional reporting by Subhasish Chaudhuri and Alamgir Hossain