Bengal won't allow NRC: Rights forum
The forum also referred to the dire condition of refugee camps in Assam, where people excluded from the NRC were reportedly being kept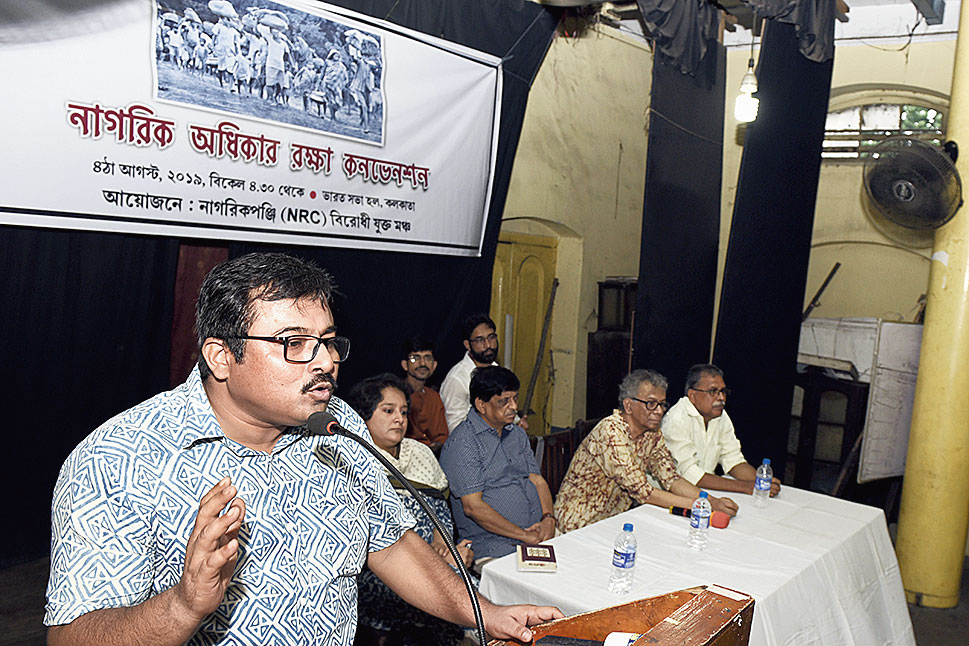 ---
|
Calcutta
|
Published 04.08.19, 08:12 PM
---
Bengal will not allow an NRC (National Register of Citizens), the Citizen's Rights Forum, a citybased political advocacy group, has declared.
At an open forum held at the Indian Association on Sunday evening, the panellists said they were reconvening in the light of the general election results, warning that the rise of the BJP in Bengal was an indicator that all citizens need to take up political advocacy.
"Do not think that what happened in Assam cannot happen in Bengal. Do you think the people of Assam were warned beforehand? Don't sit idle, thinking that it is a faraway scenario for us," said Tapodhir Bhattacharya, former vice-chancellor of Assam University and Silchar native.
Bhattacharya was joined by economist Prasenjit Bose, moderator Sudip Banerji, activists Imtiaz Mollah and Kasturi Basu, and journalist Abdur Rouf.
The forum also referred to the dire condition of refugee camps in Assam, where people excluded from the NRC are reportedly being housed.
"We have said it before. This harks back to fascist times. And they are going for anyone and everyone: Biharis, Nepalis, Adivasis. It is a violation of human rights laws. Assam alone has seen 60 suicides because of the NRC. And we do not know what goes on inside these camps," said Bhattacharya.
In April, the Citizen's Right Forum had convened a similar convention in the lead-up to the general elections, and called for rejection of the NRC in Assam by all citizens. It had urged the government to restore citizenship to all those excluded from the list.
In December 2017, the office of the NRC put out a draft list, which dispossessed nearly 13 out of 33 million citizen of Assam of their citizenship. After public outcry and protests by the civil society, a final NRC draft was published in July 2018 but that left 4 million people stateless.
On Sunday, the panellists at the forum claimed that the issue had gained a renewed importance in Bengal given the general election results in which the BJP bagged 18 out of 42 seats in the state.
"You all saw what the ruling party (at the Centre) did in our state before the elections. They came and they spread discord and hatred. Unfortunately, the results show that they succeeded to a degree. Now is the time to stand up," said economist Bose.
Other panellists said the sheer opaqueness of the paperwork behind the NRC leaves most citizens — many of whom are without means or administrative reach — confused and helpless.
"This is a typical authoritarian move of making a mountain out a molehill. Prior to this episode, I am sure most common people did not even think about these complex administrative terms," said journalist Rouf.
The forum also claimed, as it had done in April, that the NRC was unconstitutional and was being spurred by the "ruling party's divisive politics".
"It is absurd that my right to live in my home now boils down to a family tree that I have to draw on paper and show some government official," said Bhattacharya.
"The NRC is premised on categorising people as outsiders based on their name or faith or origin. So that in itself is unconstitutional," said Bose.