Bengal to join Centre's ration scheme within next three months
Covid offsets state hesitation to share biometric details with Centre over CAA concerns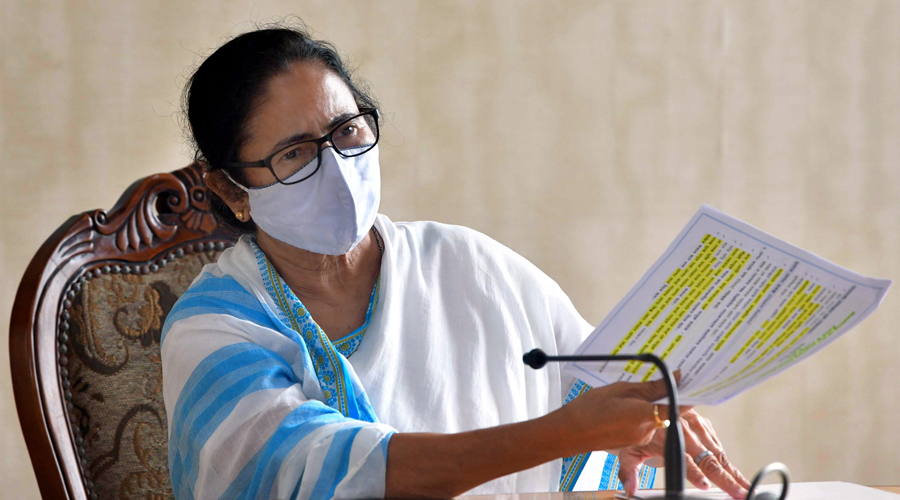 West Bengal Chief Minister Mamata Banerjee addresses a Press Conference at Nabanna in Calcutta.
PTI Photo
---
Calcutta
|
Published 15.06.21, 02:23 AM
|
---
Mamata Banerjee on Monday said her government was working to join the "One nation, one ration card" scheme — which is yet to be implemented in the state — and Bengal is likely to be a part of the central project within the next three months.
"We are working on it and it would take another three months to complete groundwork for it," the chief minister said during a news meet at Nabanna on Monday.
Sources said if the state wanted to join the Union government's scheme, it had to link Aadhaar cards with ration cards and share the database with the Centre.
The Bengal government had earlier refused to join the scheme in 2019 as it had reservations about sharing biometric and other details with the Centre that was pushing the Citizenship Amendment Act hard at that time.
But now, sources said, the chief minister has made it clear that no person should be deprived of food grains in the backdrop of the ongoing pandemic.
"We have already linked Aadhaar cards with ration cards of 80 per cent of nearly 10 crore beneficiaries. The remaining ration cards are expected to be linked with Aadhaar cards within the next three months," said a senior food and supplies department official.
The idea behind the one nation, one ration card scheme is to ensure that if a beneficiary of the National Food Security Act (NFSA) moves out of his residential address, he will still be able to collect his
quota of allotments from anywhere in the country by matching his biometric details though point-of-sale (PoS) machines installed at any ration shop.
Bengal has 6.01 crore NFSA beneficiaries. Of these, 7 to 8 per cent beneficiaries have migrated to other states. If the scheme is implemented in the state, they would be able to collect their allotments from the states where they are staying at present, sources said.
All the related information, including biometric data of beneficiaries, is stored in the central server of Bengal's food and supplies department. Once the state joins the Centre's scheme, it has to share the beneficiary data with the Union government's server.
Most states have already shared their respective beneficiary data with the server of the Centre.
Explaining Bengal's initial misgivings about the scheme, an official said: "A file was moved forward to Nabanna, seeking approval to join the scheme in September 2019. But it had been gathering dust since the Centre was pushing the CAA hard and the state government was opposing it vehemently."
The pandemic caused the shift in mindset, said sources.
"The chief minister has asked the food and supplies department to implement the scheme as she does not want to deprive anybody from their rights amid the pandemic," said a source.