Bengal reports 1,000 new Covid-19 infections in 24-hour cycle
Calcutta and neighbouring North 24-Parganas accounted for the bulk of the cases, whose numbers were expected to rise after the Durga Puja celebrations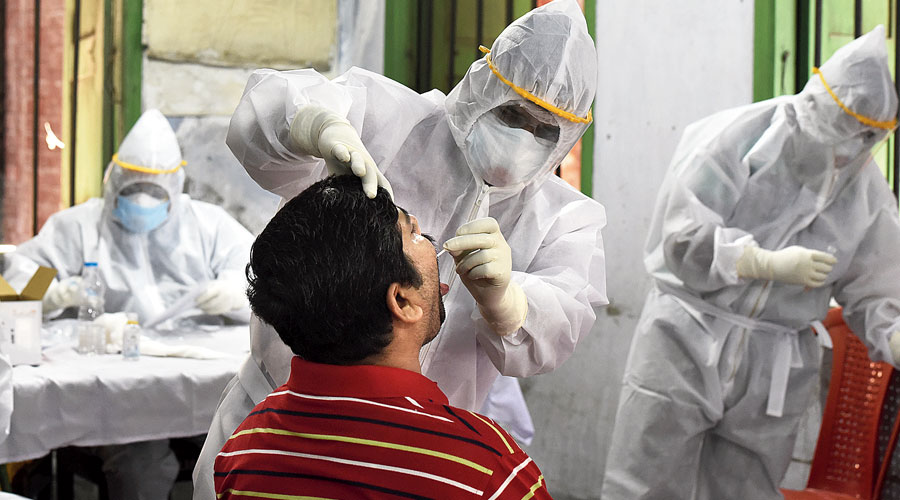 ---
Calcutta
|
Published 24.10.21, 01:25 AM
|
---
Bengal on Saturday came close to reporting 1,000 new Covid-19 infections in the 24-hour cycle, clocking the highest such figure in over three months at 974 cases.
Calcutta and neighbouring North 24-Parganas accounted for the bulk of the cases, whose numbers were expected to rise after the Durga Puja celebrations.
The last time the state had recorded such a large number of cases was 105 days ago on July 10, when 997 new infections had been counted.
On Saturday, Calcutta reported 268 new infections and North 24-Parganas 147. These are the only two Bengal districts to have been registering three-digit figures.
Hospital admissions have been on the rise. On Saturday, Bengal reported 12 Covid deaths. The number of active cases rose by 154 to reach 7,731.
The government is planning to set up containment zones in the worst-affected areas.
A minister said Saturday's figures included people who got infected in the October 14-18 (Navami to Troyodoshi) window. Lakhs had flooded Calcutta's streets during the Puja.
"The situation outside Calcutta and its immediate neighbourhood is under control at the moment. The city and surrounding areas witnessed the worst disregard for Covid safety protocols by revellers during the peak of the festival, so some degree of spike was expected," the minister said.
Calcutta, North and South 24-Parganas, Howrah, Hooghly and Nadia accounted for 710, or 73 per cent, of the fresh daily infections on Saturday.
Bengal now has 4.61 per cent of the nationwide total of active cases, and is sixth on the list of states with the highest number of Covid-19 patients.
Bengal's recovery rate has been 98.31 per cent against a national average of 98.14 per cent.
The daily positive confirmation rate, which was nearly 33 per cent at the peak of the second wave earlier this year, was 2.26 per cent on Saturday. A positivity rate of up to 5 per cent is considered tolerable.
The Covid mortality rate in Bengal stands at 1.2 per cent against a national average of 1.33 per cent.
Bengal has now clocked more than 15.85 lakh Covid-19 cases, since the first was recorded in March last year. The total includes nearly 15.59 lakh recoveries and 19,045 deaths.