Bengal races to face Cyclone Yaas
South 24-Parganas, North 24-Parganas and East Midnapore have started search for more buildings to house evacuees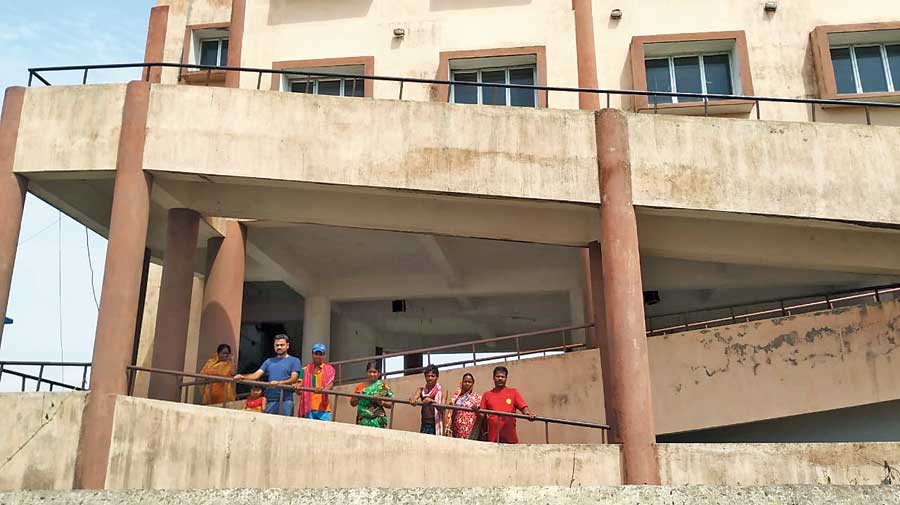 Migrant returnees during their quarantine at a flood centre in Kuyemari village, South 24-Parganas, in 2020.
File picture
---
Calcutta
|
Published 22.05.21, 01:27 AM
|
---
Administrations in three coastal districts of South 24-Parganas, North 24-Parganas and East Midnapore have started search for more buildings to house people to be evacuated from vulnerable areas in the event of Cyclone Yaas hitting Bengal next week.
Sources said the district administrations needed at least five times the number of houses they had arranged before Cyclone Amphan last year as more people couldn't be accommodated in a room or building amid the second wave of Covid-19 raging across the country currently.
The sources said at least 3,000 buildings had been identified primarily in the three districts to shelter the evacuees.
"Last year, we had the option to house 1,000 people at any two-storey high school building as the number of infections was low. This time, we can't house so many people in such a building. So, we are in search of more buildings in the Sunderbans," said Bankim Hazra, the Sunderbans affairs minister and MLA of Sagar in the South 24-Parganas.
During Amphan, the state government had evacuated around 1.5 lakh people before the cyclone hit the coastal areas. This time, the government planned to shift at least 3.5 lakh people based on the latest report on the route of Cyclone Yaas.
"We have 115 multipurpose cyclone centres (MPCS) in our district and we have already mapped 250 additional buildings where people would be housed. We are searching for more buildings in coastal pockets," said P. Ulaganathan, the district magistrate of South 24-Parganas.
A senior official said the plan was to take over school buildings, at least five times more than what we had done for Amphan.
"We have a plan to evacuate around two lakh people and because of the pandemic, we have to maintain the norms of physical distancing. So, we even asked the authorities of high schools, primary schools and even ICDS centres to hand over the keys to local panchayat immediately," an official in North 24-Parganas said.
Apart from hundreds of schools, there are 63 MPCS and 93 flood centres that have been ready in North 24-Parganas.
Sources in the meteorological department said the movement of the cyclone would be clear by Saturday afternoon. According to the present route, Cyclone Yaas could hit coastal areas of East Midnapore and South 24-Parganas badly.
In East Midnapore, over a thousand school buildings have been identified to relocate the people in the vulnerable areas and all the panchayats have been asked to collect the keys.
"We have already started work to sanitise the buildings after cleaning it. It is a Herculean job as the buildings are lying closed since last year. We are keeping the arrangement of sanitisers, hand-wash and masks in those buildings," said a senior official in East Midnapore.
Scurry to repair dams
The Bengal government has asked district administrative officials in North 24-Parganas, South 24-Parganas and East Midnapore as well as the irrigation department to identify vulnerable stretches of earthen dams and repair them by May 23 before Cyclone Yaas makes landfall.
Irrigation minister Saumen Kumar Mahapatra held meetings with senior officials on Wednesday and Thursday and directed them to prepare for "any kind of situation" while finishing pending maintenance works by May 23.
"Owing to high tidal waves in the rivers and the sea during storms, the earthen dams are swept away and saline water infiltrates human habitats, agricultural land and fishing bheries (farms), causing serious damage," said a district official.
Speaking to The Telegraph, minister Mahapatra, said: "There are around 400km of gross stretches of earthen dams in the three districts. The maximum stretch of such dams falls in the Sunderbans, spanning North and South 24-Parganas. The entire stretch in these two districts is vulnerable."
Additional reporting by Subhasish Chaudhuri in Calcutta