Bengal nod to Bangla import
Protests in neighbouring country and pressure from Centre believed to have forced Mamata Banerjee govt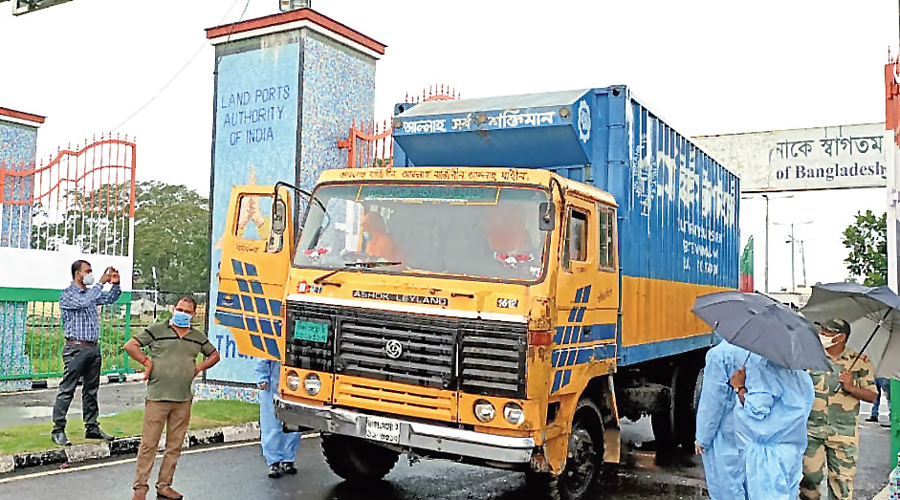 ---
---
Cargo trucks from Bangladesh rolled into Indian territory on Sunday through two land ports in North 24-Parganas, Petrapole and Ghojadanga, after 102 days, amid murmurs that the Mamata Banerjee government was forced to allow imports after Dhaka approached Delhi.
"The Bengal government was not allowing import through these two land ports Petrapole and Ghojadanga in North 24-Parganas district. We are happy that finally the two-way trade has resumed," said a Bangladeshi exporter.
Trade through all the six land ports between India and Bangladesh had stopped on March 23 as part of the lockdown measures announced by the Centre in the wake of Covid-19. After the Centre removed the embargo, it took another 75 days for the Bengal government to allow exports to Bangladesh. As imports from Bangladesh were still not allowed through these two land ports — which account for over 72 per cent of the overall trade between the two countries — discontent brewed in the neighbouring country. Amid protests in Bangladesh over one-way trade, its foreign minister A.K. Abdul Momen wondered why the Bengal government was not paying heed to the Centre.
"Bangladesh allowed exports from India, so Dhaka termed the trade one-way and urged Delhi to take it up with the Bengal government to resolve it," said a source from Dhaka. Amid discussions in diplomatic channels, traders in Bangladesh took another strong step and stopped imports from India from July 2.
"Protests in Bangladesh and a prod from Delhi forced the Bengal government to open gates for imports," said a source.
At least five Bangladeshi carriers had docked at Petrapole and 26 at Ghojadanga as of Sunday evening.
Earlier on Sunday afternoon North 24-Parganas district administration advised traders to resume operations. However, no specific standard operating protocols for imports was issued till evening.
Petrapole land port manager Suvajit Mandal confirmed the resumption of export and import but claimed that he had not received any order from the state government.
"Traders and stakeholders informed us of the arrival of cargos. We received the vehicles and complied with standard safety protocol in the wake of Covid-19," he said.
An officer of North 24 Parganas administration added: "Pending technicalities will be settled by Monday and guidelines for imports issued."
The Federation of Indian Export Organisations (FIEO) regional chairman Sushil Patwari welcomed the move.
Patwari had earlier written to chief minister Mamata Banerjee urging her immediate intervention to allow imports from Bangladesh. "Very good news. We are very thankful to the chief minister."
Petrapole Clearing Agents' Staff Welfare Association secretary Kartick Chakraborty said: "It is a timely decision by the state government, which actually helped over two lakh people on either side of the border to survive. These people are directly or indirectly involved with border trade through Petrapole and Ghojadanga as well."