State govt starts extensive legwork in remote corners of Sunderbans
Sources say exercise is initiated after CM discovers lapses on part of her government to reach grassroots beneficiaries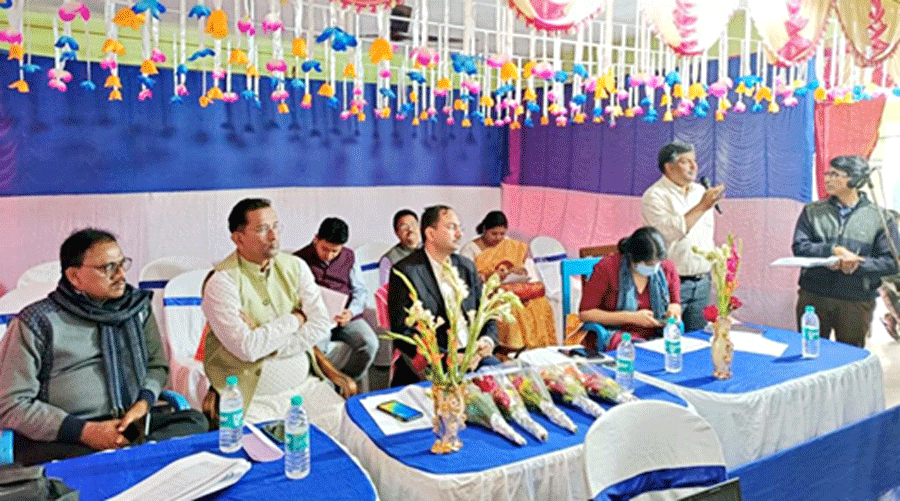 The review meeting headed by North 24-Parganas district magistrate Sharad Dwivedi with the representatives of panchayats and other departments at Hingalganj block last week.
The Telegraph
---
Calcutta
|
Published 26.12.22, 03:54 AM
|
---
State government officials have started extensive legwork in remote corners of the Sunderbans to prepare a database of beneficiaries who are eligible but have been left out of government schemes in an attempt to reach out to them ahead of the rural polls slated to be held early next year. 
Sources said the exercise was initiated after chief minister Mamata Banerjee discovered lapses on the part of her government to reach grassroots beneficiaries during her three-day visit to the Sunderbans in the last week of November. 
"Our officials have been travelling to each and every remote village of the Sunderbans to prepare a database of people to see whether they have been left out of any scheme. We have also started holding block-level administrative meetings to sort out local issues and make the delivery of government schemes to beneficiaries faster," said Sharad Dwivedi, district magistrate of North 24-Parganas. 
Dwivedi was present at an administrative review meeting in Hingalganj on Thursday. Hingalganj is one of the remotest blocks in the Sunderbans. Mamata had visited Samsernagar village, the last human habitation in Bengal before the border, during her visit in November. 
Sources said that once the database was prepared, senior officials from the district would conduct a review meeting with panchayat functionaries and other department officials to ascertain how those eligible could get their benefits at the earliest. 
Mamata had reportedly discovered the lapses made by the administration after attending a programme for the distribution of woollen items and lost her cool publicly. She changed her itinerary and travelled to another remote area in the Sunderbans in an attempt to gauge the problems faced by rural masses and find solutions before the panchayat polls. 
"Her visit to the remotest pockets did not turn out well as she received a lot of complaints from the locals, including several about the drinking water crisis. Though the crisis was temporarily figured out a few days after her visit, she was visibly annoyed with the cry for basic amenities and development schemes. In a bid to woo the people of those areas, she had appointed an additional magistrate to take care only of the remote pockets," said a senior district official.
"Proper development and reaching out to people living without many government schemes are her main concerns before the polls," he added. 
Mamata had last month announced two districts only for the Sunderbans to be carved out from both North and South 24-Parganas. The districts would be called Basirhat and Sunderbans.
It had been reported that Basirhat district would be carved out of North 24-Parganas and Sunderbans district would be created out of South 24-Parganas.