Bengal farmers to get Rs 5,000 an acre, and Rs 2 lakh for death
The election-year move in the backdrop of distress in India's farm sector will cost the bankrupt exchequer Rs 7,000cr a year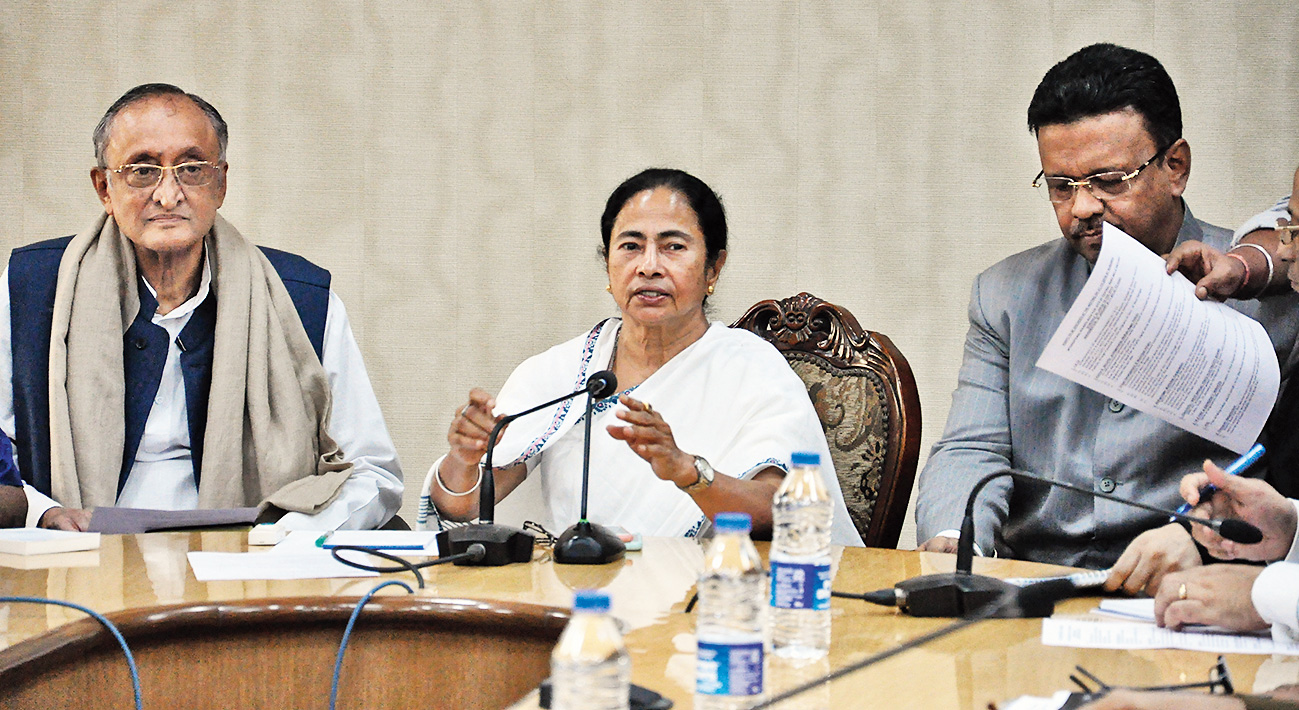 ---
|
Calcutta
|
Published 31.12.18, 09:09 PM
---
The Mamata Banerjee government has announced two new schemes for farmers — one to give Rs 5,000 per an acre annually and another to grant Rs 2 lakh to the family of a cultivator or a farm labourer if he or she dies between 18 and 60.
The schemes for around 72 lakh farmers in Bengal are apparently to woo them ahead of the 2019 Lok Sabha polls after Opposition parties launched agitation demanding proper price for agricultural produce.
"We are happy to announce two new schemes for farmers. This will be a New Year gift for them from the state government. The schemes will be in place from January 1, 2019. Farmers will be able to apply for schemes from February, 2019," the chief minister said after holding a meeting with top government officials at Nabanna on Monday.
Under the schemes, a farmer will get Rs 5,000 for an acre annually for cultivation. Besides, the next of kin of a farmer or a agriculture labourer in the age group of 18-60 years will get Rs 2 lakh in case of his/her death, irrespective of reasons behind the death.
Sources at Nabanna said the schemes — launched in the backdrop of farmers' movements across Bengal and several rallies by the CPM in the state — would put an additional burden of Rs 7,000 crore on the struggling state exchequer.
"The schemes will require a few thousand crores of rupees. We will try to arrange funds for the schemes by reducing expenditure elsewhere," said the chief minister.
Sources in the agriculture department said the new schemes revealed that there were areas in the agriculture sector where the government interventions still lacked.
"The scheme to give financial assistance to farmers makes it clear that majority of them don't get bank loans despite the government's repeated attempts. It is also clear that though more than 40 lakh kisan credit cards were issued in the past few years, it could help only a section of farmers," said a senior government official.
Sources in Trinamul said Mamata had received feedback that farmers were in trouble as the market price of paddy had fallen to about Rs 1,400 a quintal. The price was nearly Rs 1,500 a quintal during winter last year.
"The way farmers participated in rallies held by the CPM demanding proper price for their produce in some districts can be a cause of concern for any ruling party ahead of the 2019 Lok Sabha polls. Moreover, results of the recent Assembly polls in Chhattisgarh, Madhya Pradesh and Rajasthan hinted that farmers were unhappy with the ruling BJP at the Centre. We cannot take any risk," said a minister.
Asked whether the schemes were linked to the Lok Sabha polls, Mamata said: "Farmers across the country have grievances. We try to help them in Bengal and that's why their income had increased three times in the past seven years. If the new schemes bring smile to their faces, we will be happy."
A section of officials in the finance department expressed concern over the additional burden on the state exchequer.
"We are finding it difficult to meet the income expenditure gap as we have to spend Rs 48,000 crore this year to repay loans. The additional burden will leave us in trouble as we have to spend Rs 53,000 crore in the next financial year to repay loans. There is little chance to increase our revenue significantly as no new tax will be allowed to be levied ahead of the polls," said a finance department official.
Although Mamata said the government would try to reduce expenditure elsewhere, sources at Nabanna said it was easier said than done.
"All schemes like giving cheap grains to nearly 8 crore people and grant to clubs, which require huge money, will not be allowed to be withdrawn as they are the chief minister's pet schemes. So, arranging a sum of nearly Rs 7,000 crore will not be an easy task," said an official.
Sources said the government should have tried to ensure that farmers got loans from banks and cooperative societies and laid stress on securing proper price for farmers' produce as an alternative.
"This could have saved the state exchequer from the additional burden," said a source.