Bengal district schools in a fix over online classes
Ground realities ignored in order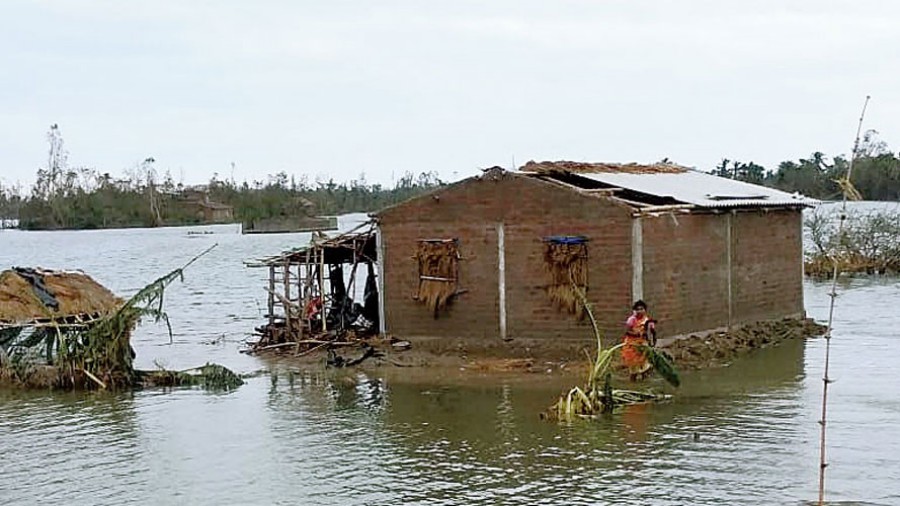 An official said that after Amphan, many mobile phone towers had been uprooted and telecom services in remote pockets are not fully restored.
File picture
---
Bolpur(Birbhum)
|
Published 10.09.20, 05:53 AM
|
---
Authorities of 1,053 government schools in South 24-Parganas are in a fix on how to implement a district administration order to hold online classes as large swathes of the district lack high-speed Internet facility and at least 60 per cent of 16 lakh students in these schools come from poor families that can't afford smartphones or computers. 
In an order issued on September 2, the district inspector of schools (secondary education) Prodyut Sarkar asked all schools to hold virtual classes as part of its "micro-plan to reach out to the students" in the time of pandemic. 
"The teachers have been asked to conduct classes online by using the Google Meet platform. The other option is to take classes online by forming WhatsApp groups," said a senior district official.
Many school headmasters this correspondent spoke to said the order was issued without considering the ground realities of the district where at least 400 schools are in remote areas, including pockets of the Sunderbans and other islands without Internet access. 
Sources said only around 70 per cent of the district has Internet coverage and high-speed Internet is available only in areas adjacent to the southern fringes of Calcutta. 
An official said that after Amphan, many mobile phone towers had been uprooted and telecom services in remote pockets are not fully restored.
Then, as many as 37 per cent of people in the district live below the poverty line, making smartphones or computers unimaginable for many. 
Multiple sources in the administration said that in areas such as Kakdwip, Namkhana, Sagar, Pathar Pratima and Raidighi blocks, thousands of students are on the verge of dropping out amid lockdown job losses in their families.
Chandan Maity, general secretary of State Forum of Headmasters and Headmistress, explained the problem. "I have 4,500 students in my school and only 1,200 of them have smartphones at home. Many of those with smartphones cannot afford high-speed Internet data packs," said Maity. 
Jayanta Chatterjee, a Class XII student of Subhasgram Nabatara Vidyalaya, cites how online classes are likely to exclude most students from poorer homes. Jayanta, whose father is no more and mother earns hardly Rs 5,000 a month as an attendant to patients, has a smartphone. But he needs high-speed Internet connectivity to run Google Meet on the phone, which is costly.
As school authorities have been asked to implement the online class order and file 
performance reports, the district unit of the All Bengal Teachers' Association has decided to write to the district inspector of schools and district magistrate.
"A small fraction of students are attending online classes and it is leading to a digital divide.
The plan to hold online classes for students, who come from families belonging to various income groups, is not a practical one," said Anupam Roy, secretary of the ABTA's South 24-Parganas' unit.
Asked about the problems schools face in holding online classes, district inspector of schools Sarkar said: "The decision had been taken by the district administration and I cannot comment on it."
District magistrate P. Ulaganathan said: "We have launched the drive to reach out to students and facilitate their studies. If students face any problem we will sort it out."