Mamata govt yet to send in names
Bengal delay in DGP appointment may lead to fresh tension with Centre
Incumbent Virendra set to retire in August, but Mamata govt yet to send in names as per SC directives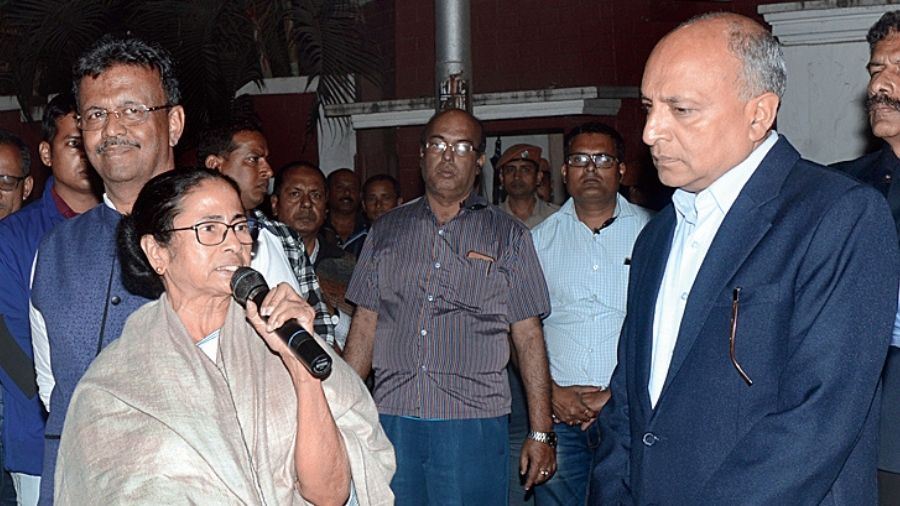 Mamata Banerjee with Virendra in Calcutta (2019).
Telegraph Picture
---
Calcutta
|
Published 29.06.21, 04:40 PM
|
---
The Mamata Banerjee government may be walking into a fresh set of troubles by not initiating the process of appointing Bengal's next Director General of Police (DGP), given that the incumbent is set to retire on August 31.
As per Supreme Court directives, the state government should have sent a list of contenders to the Union Public Service Commission (UPSC) months earlier. But since the Trinamul Congress-led government is yet to do so, it opens itself up for criticism from the apex court which is monitoring DGP appointments  for all states.
Earlier this month, Governor Jagdeep Dhankhar had raised the issue, claiming that norms were flouted during the incumbent DGP, Virendra's appointment. In a tweet, the Governor had mentioned that the state government should have sent names of three top contenders to UPSC by June 1.
"Directives of the Supreme Court came to be flouted in effecting appointment of the present incumbent of Virendra as DGP. Those concerned with such flouting of honourable SC order need to be held accountable. Such disregard of the SC directive is not at all appreciated," Dhankhar had said in his tweet.
The Supreme Court has set guidelines for appointment of DGPs in states. But such appointments remain mired in controversy with several  state governments often looking the other way and continuing to play favourites while making key postings.
The SC has instructed states to send names of the contenders to UPSC three months before the retirement of the current DGP. UPSC is then supposed to prepare a panel of three on the basis of merit and seniority on the condition that they all have two years of service left. State governments are to pick the candidate from this panel. The apex court's guidelines also forbid states from appointing any IPS officer to the post on ad hoc basis.
"Often states end up picking their favourites, ignoring seniority," said a retired IPS officer. Virendra's predecessor, Surajit Kar Purakayastha, was appointed DG in 2016, bypassing six senior officers. The Mamata Banerjee government went on to create a special post for him to continue after his retirement.
DG (CRPF) Kuldiep Singh should be the replacement for Virendra since he was senior-most. But given his stint with the Central force and the additional charge he holds, that of handling the NIA, it is unlikely that Singh would like to return to Calcutta. Also, Singh is due to retire in September next year, which means he would have a tenure of less than a year if he was appointed to the post.  
According to sources, Singh's batchmate Manoj Malviya, now posted as DG (Organisation), is not in Mamata's good books. Also, he faces cases of alleged corruption pertaining to his tenure outside the state. All these factors make him an unlikely choice. Next in the line is 1987 batch IPS P Nirajnayan, who was made DGP by the Election Commission during the assembly elections, in place of Virendra. Mamata removed Nirajnayan soon after taking oath as chief minister for the third time.
"She regards Nirajnayan as EC's man and would not like to see him lead the state police force," said an officer.
With no clear favourites in the running, and the shadow of Supreme Court directives looming, Mamata is yet to make her choice clear for the next state police chief, something that could well invite censure from the apex court and lead to fresh escalation of tensions with the Centre.