Bengal BJP agog over 'tweaks'
Subrata Chatterjee has been accused of 'favouritism' by several leaders of the state unit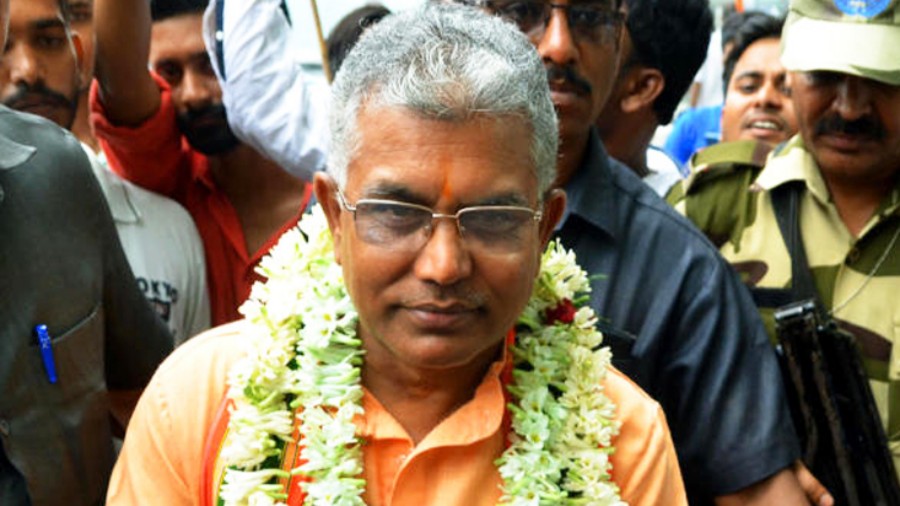 ---
|
Calcutta
|
Published 30.10.20, 02:05 AM
---
The sudden removal of BJP state organisation (secretary) Subrata Chatterjee, also seen as state party unit chief Dilip Ghosh's right hand, is being seen in state BJP circles as the outcome of discontent with Chatterjee's "style of functioning" and has left many curious on other tweaks in the party before the 2021 Assembly polls.
BJP national president J.P. Nadda replaced Chatterjee with Amitava Chakraborty as the state unit's general secretary (organisation). Till Thursday evening, no official party communiqué had arrived on Chatterjee's future role.
On Thursday evening, Ghosh told mediapersons: "It (Chatterjee's removal) is an organisational decision. I've worked with Amalenduda (Chatterjee, Subrata Chatterjee's predecessor), then Subratada and will continue the teamwork with Amitavada."
Over the past few months, many high-profile Bengal BJP leaders such as Babul Supriyo, Swapan Dasgupta, Arjun Singh and Jagannath Sarkar had accused Chatterjee of "favouritism".
"Subratada ruined the careers of many party workers by promoting others. What happens now to leaders who enjoyed power by virtue of their proximity to Subratada will be keenly watched," a senior state BJP leader said.
Chatterjee had bypassed Chakraborty, then joint general secretary (organisation), in key organisational decisions, the source said. "Though Amitavada was in-charge of Calcutta and Nadia zones, Subratada would appoint people close to him in the district committees of the two places. Amitavada wasn't even consulted," the source said.
According to multiple sources, Chatterjee's removal was only a matter of time and yet Wednesday's decision was a surprise as it was sudden. "None of us had any clue till the notice was uploaded on our party's website," a BJP leader said. "We did not expected a change in such a key position with Assembly polls a few months away."
Sources at 6 Muralidhar Sen Lane, the state BJP headquarters, appeared to be divided on Chatterjee's future.
A senior leader told this correspondent that Chatterjee had been asked to report to the RSS, his parent cadre. "Subratada has been asked to report to the Patna office of the RSS," the senior leader said.
Sources close to Chatterjee denied this. They said Chatterjee spoke to RSS leaders over phone and is waiting for orders on the way forward. "Subratada will be in Calcutta for a few more days. It is unlikely that he will be asked to hold any position in the state unit any longer," a source said.
In BJP's scheme of things, the post of general secretary (organisation) goes to people loaned from the RSS. Once their tenure in the party is over, they usually return to the RSS.
"Amalendu Chatterjee, who held the post before Subratada, had quietly gone back to the RSS after his removal. What happens to Subratada next is completely the Sangh's prerogative," the source said.