Bengal bans big trucks from rural roads
Trade impact fear in heavy vehicle bar on rural roads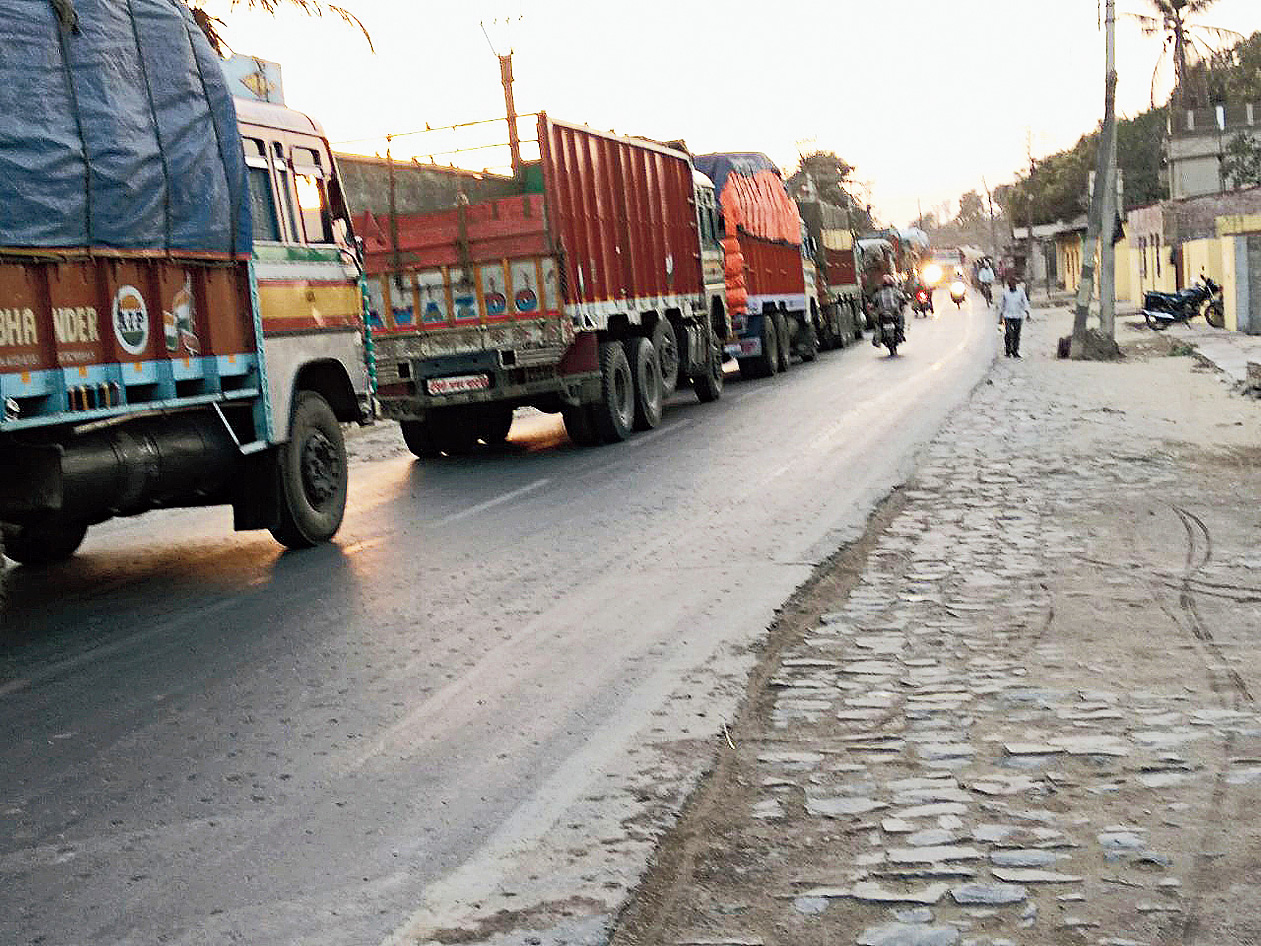 Chief Minister Mamata Banerjee will not allow anything bigger than 4-wheel trucks to ply on rural roads.
The Telegraph file picture
---
Midnapore
|
Published 04.12.18, 08:42 PM
|
---
Mamata Banerjee said on Tuesday that heavy vehicles, other than those up to four-wheeled trucks, would no longer be allowed on Bengal's rural roads to minimise damage to the surface, prompting questions on the pragmatism of the decision.
The Bengal chief minister, during an administrative review meeting for the West Midnapore district, said she has been noticing that large trucks have been using rural roads to bypass toll-plazas on highways and that this needs to stop.
"Ten wheelers, twenty wheelers, thirty wheelers, forty wheelers, all sorts of heavy trucks have been plying through rural roads, painstakingly built for enhancing vital infrastructure…. These roads are not meant for handling highway traffic," said Mamata at the meeting in Midnapore.
"I want the police, the panchayats, other local bodies, everyone to work together to make sure large trucks do not enter rural roads and damage them," she added.
In September, days after the Majerhat bridge collapse, Mamata had banished heavy goods vehicles from Calcutta, citing a similar concern of protecting its roads, bridges and flyovers, leaving it to the port trust and other agencies to make alternative arrangements so that trade and transportation does not suffer.
Since then, there have been concerns over the repercussions on trade and logistics for a state like Bengal, which is the vital link between the Northeast and the rest of the country.
On Tuesday, speaking in the pan-Bengal context, Mamata asked local authorities to put up barricades at access points to rural roads in order to prevent plying of large vehicles.
"Our government spends immense amounts of money to build the roads and we cannot bear the burden of constant repairs because of the damage caused by heavy vehicles," she said. "Nab them, fine them, hold the vehicles for 10-12 days…. That is how this can be made to stop," she added.
Sources said such decisions should not be implemented in haste as a majority of the movement of the heavy vehicles in question is not for avoiding toll taxes but for better and quicker access through the rural roads.
"It is not possible to use only highways for accessing every nook and cranny of the state. Alternative arrangements would considerably raise costs and impact trade," said an administrative source, adding the government should focus on building sturdier roads that can handle the load.
A Trinamul leader, on the condition of anonymity, said trying to ban vehicles based on their wheel count is "not the best" approach as a higher number of wheels means a more even distribution of weight on a road surface.
"Between a four-wheeled truck and a ten-wheeled truck, both carrying the same weight, the ten-wheeled truck causes considerably less damage," he said.