Trinamul on youth induction spree
An interactive session was organised in 14 districts, keeping in mind recent moves by the BJP's district units ahead of the upcoming elections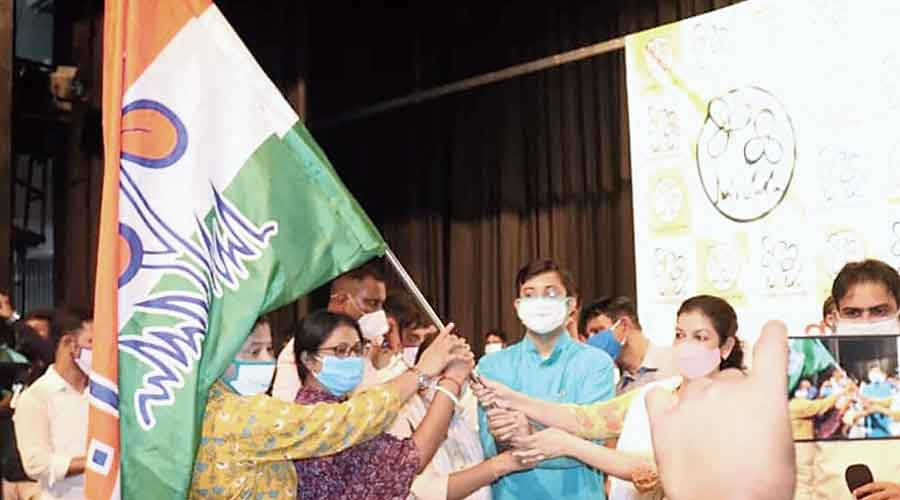 Youths receive Trinamul flags from Mausam Noor in Malda on Sunday
Soumya De Sarkar
---
Bolpur(Birbhum)
|
Published 24.08.20, 12:10 AM
|
---
At least 10,000 youths purportedly joined the Trinamul Congress in 14 Bengal districts on Sunday as a grand plan of poll consultant Prashant Kishor to boost the party's organisational strength and image makeover started showing dividends. 
Kishor and his platform, the Indian Political Action Committee (I-Pac), launched the "Youth in Politics" initiative in order to draw interested youths, aged between 18 and 35, to the ruling party.
Sources said the events in the 14 districts -- including Calcutta, Nadia, North 24-Parganas, Birbhum, Malda, Cooch Behar and East Midnapore - on Sunday were timed keeping in mind recent moves by the BJP's district units.
"I-Pac has already registered 4 lakh fresh faces…. More than half have already agreed to join Trinamul,' said a source.
A senior Trinamul leader said the infusion of young blood would help the party in the months before the Assembly polls in 2021. 
"This is the first time that such a large number of youths are joining our party en masse…. They should also be able to help us wean youth votes away from the BJP," he said.
Leaders such as Mahua Moitra in Nadia, Laxmi Ratan Shukla in Howrah, Mausam Noor in Malda and Anubrata Mondal in Birbhum handled the events in the districts. Senior party leaders such as secretary-general Partha Chatterjee and general-secretary Firhad Hakim welcomed the youths with motivational speeches and encouragement, virtually.
"Youths were addressed by the popular district leaders. In most cases, the district presidents addressed the first batch of the new beginners," said a Trinamul leader.
Sources in I-Pac said Sunday's induction events were the first leg of the enrolment and two more phases would be held, though slightly late because of Covid-19 restrictions.
"As we are in the midst of a pandemic, we couldn't enrol all of the youths who wished to join the party at once. The entire process will be conducted over a few months," said a Trinamul source.
Around 500 youths in Birbhum joined Trinamul in the presence of its district unit chief Anubrata Mondal.
"Most of them are new to the party. I told them about the journey of Mamata Banerjee and how she worked towards the development of Bengal," said Mondal.
At Krishnagar, after overseeing a similar event, Moitra said youths joining Trinamul was a ray of hope. "Trinamul is the only party that has been fighting against division over religion. The youths joined after being fascinated by developmental work undertaken by the Trinamul government over the last past decade, and its strong stand against communalism," said Krishnagar MP Moitra.
Around 1,000 college students joined Trinamul in Malda.
"Youths hold the key for tomorrow, our party is definitely stressing enrolling more youths and getting them actively involved in party affairs," said a district Trinamul leader. 
A similar event with around 250 youths was organised in Cooch Behar as well.
Additional reporting by Soumya De Sarkar and Subhasish Chaudhuri