Murmurs over BJP seat scan in Bengal
Questions arise over organisational weakness as several party members have joined TMC and the latter has also successfully launched anti-NRC and anti-CAA campaigns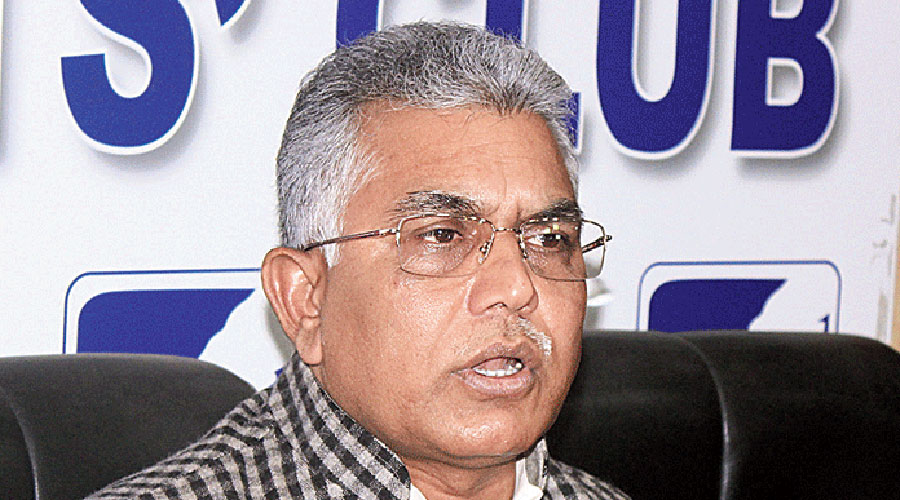 On August 18 and 19, state BJP president Dilip Ghosh and other party members initiated the second round of meetings to assess the party's position in 154 Assembly constituencies
File picture
---
Calcutta
|
Published 22.08.20, 02:13 AM
|
---
A section of Bengal BJP functionaries has started raising questions on the ongoing assessment of the party's position in 154 Assembly seats as they think the state leadership, aided by district presidents, is rolling out a rosy picture by sweeping under the carpet its organisational weaknesses.
"We couldn't put up agents at over 30 per cent of the booths during the general election. Still, we won 18 seats primarily because of the public's mood in favour of Prime Minister Narendra Modi," said a party source.
"Any fair assessment process should have started with the first question of whether we are now in a position to put up agents at 77,000-odd booths in the state," the source added.
On August 18 and 19, state BJP president Dilip Ghosh, national general secretary Kailash Vijayvargiya, party's co-in charge for Bengal Arvind Menon and other senior leaders like Rahul Sinha and Mukul Roy initiated the second round of a meetings to assess the party's position in 154 Assembly constituencies. 
Some party sources present at the assessment sessions — conducted at Dilip Ghosh's Rajarhat address — said that the leaders were in a "self-congratulatory" mode.
"The district presidents were presenting rosy pictures claiming that the situation is favourable for the party. Both state and central leaders present at the meeting took the district reports for granted, without asking many questions," a party leader said.
This section of leaders believes senior leaders like Ghosh are hoping for a rerun of the general election. But a series of events took place since then, which suggest Trinamul's resurgence in several areas. 
Not only the BJP failed to win in any of the three seats — including Kharagpur Sadar from where Ghosh was previously elected — in the Assembly bypolls, the political dynamics also changed in vast stretches of Bengal. 
Trinamul successfully launched anti-NRC and anti-CAA campaigns. Besides, hundreds of BJP supporters switched over to the Trinamul Congress at several places.
"Our leaders don't appear to have taken note of all of these events, which indicate Trinamul, at least to some extent, is recovering the lost ground," said a source.
Speaking of Trinamul's recovery, a BJP leader referred to the Arambagh Lok Sabha constituency, which the BJP had lost by a margin of around 1,100 votes.
"We have reports that Trinamul is leaving no stone unturned to cement its base in Arambagh. If we don't start building our organisation from now, it will be too late for the polls," this leader said.
This person reminded that a BJP supporter had been murdered on August 15 in Khanakul — which comes under the Arambagh constituency — in Hooghly and suggested that this incident was a proof of how desperate Trinamul had become.
"What are our leaders doing? Have you seen a single centralised rally over this death? Why will common worker support us if we don't support them?" the leader asked.