More MSMEs and big industrial units to create jobs
Mamata Banerjee announces universal basic income in Trinamul manifesto
If the proposal is implemented, Bengal will be the first state in the country to have such a scheme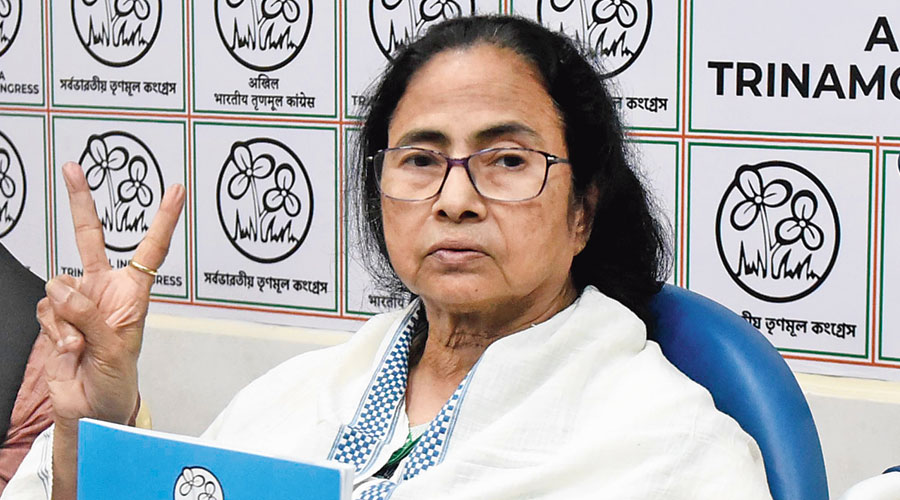 ---
|
Calcutta
|
Published 18.03.21, 03:57 AM
---
Mamata Banerjee on Wednesday promised to put cash directly in the hands of 1.6 crore households in Bengal if voted back to power, announcing a universal basic income (UBI) scheme in the Trinamul Congress manifesto that seeks to build on the ruling party's welfare narrative.
"If there is a will there is a way. It's not a political manifesto, it's a development-oriented manifesto," said Mamata, suggesting that giving a monthly dole was fiscally feasible.
In principle, UBI means paying citizens an unconditional monthly sum. The concept has gained popularity among various political schools of thought worldwide — especially during the pandemic — for its potential to eliminate poverty while also insulating workers from the impact of job loss.
According to the manifesto released by Mamata, a monthly amount of Rs 500 (Rs 6,000 a year) to general category households and Rs 1,000 (Rs 12,000 a year) to SC/ST category households will be directly deposited in the bank accounts of the female heads of 1.6 crore families in the state. Such families are estimated to account for 60 to 70 per cent of the total households in the state.
All SC/ST households will be eligible for the UBI scheme. For general category, the income support will be provided to all households except those with at least one tax-paying member and those who own more than 2 hectares of land.
The budget outlay for the plan, according to the manifesto, will be Rs 12,900 crore. If the UBI proposal is implemented, Bengal will be the first state in the country to do so.
Mamata also announced a credit card scheme for students with a credit limit of up to Rs 10 lakh at 4 per cent interest, a hike in annual support for farmers from Rs 6,000 per acre to Rs 10,000, 5 lakh low-cost houses in urban areas, 25 lakh low-cost houses in rural areas and piped drinking water for an additional 47 lakh households.
The resolve to roll out the UBI scheme seems part of Mamata's strategy to corner the BJP on a welfare initiative that the saffron camp's think tank has ruled out although the Economic Survey of India 2016-17 had advocated it as an alternative to various social welfare schemes as a means of reducing poverty.
Before the 2019 Lok sabha polls, Congress leader Rahul Gandhi had promised an UBI scheme of Rs 12,000 a year for over 250 million of the poorest Indians if his party was voted to power. The BJP leadership had mocked the idea saying it was not feasible.
Mamata stressed the financial feasibility of the scheme, saying the state's own income was rising -– despite lower economic activity because of the pandemic — in comparison with other states.
Trinamul sources said the guiding principle of the manifesto — prepared under Mamata's direct supervision — has been welfare measures so that the chief minister can announce these populist initiatives in her campaign meetings. The focus was decided following reports that the various pension schemes for SC/ST senior citizens and the widow stipend were helping the ruling party recover ground in various parts of the state.
Aware that job creation has been an Achilles heel, Mamata said: "We shall increase the number of MSME (micro, small and medium enterprises) by 10 lakh and add 2,000 big industrial units every year over the next five years."
The manifesto promises a hike in health expenditure from 0.83 per cent to 1.5 per cent of the state GDP, a jump from 2.7 per cent to 4 per cent of the state GDP for education, and delivery of free food grains at people's doorstep.
Asked whether a welfare-oriented manifesto would influence the poll outcome, Mamata said: "Elections will come and go but people will stay. If there is a democratically elected government, it has to deliver on development."
Mamata's assertion may be true on paper, but till now the political slugfest ahead of the Bengal polls has revolved around themes like "outsiders", polarisation along religious lines and the credibility of the injury she suffered in Nandigram. Some BJP sources said they would add another dimension to the campaign with some serious corruption cases to be exposed.
Trinamul sources, however, said they were not worried as the party's twin narratives -- Bangla nijer meyekei chai (Bengal wants its own daughter) and khela hobe (the game is on) – had caught the people's imagination.
Apart from economic measures, the manifesto includes proposals to address community concerns, something that observers think is aimed at social engineering of the vote bank in an election where caste issues are expected to play an important role for the first time in Bengal.
"A special task force will be set up to examine and propose OBC status for all communities like the Mahisya, Tili, Tamul and Saha, who are not recognised as OBCs," Mamata said.
Nandigram deal: The manifesto claims that Nandigram, from where Mamata will take on Trinamul turncoat Suvendu Adhikari, will be developed into a model town with better infrastructure, including well-connected roads, affordable electricity 24x7, and piped drinking water for all.
The East Midnapore village is also likely to get a new university, the manifesto says.