Bengal administration launches crackdown on coal smuggling
Sources say the state government is focusing on neighbouring Jharkhand and Assam borders as coal comes in through these borders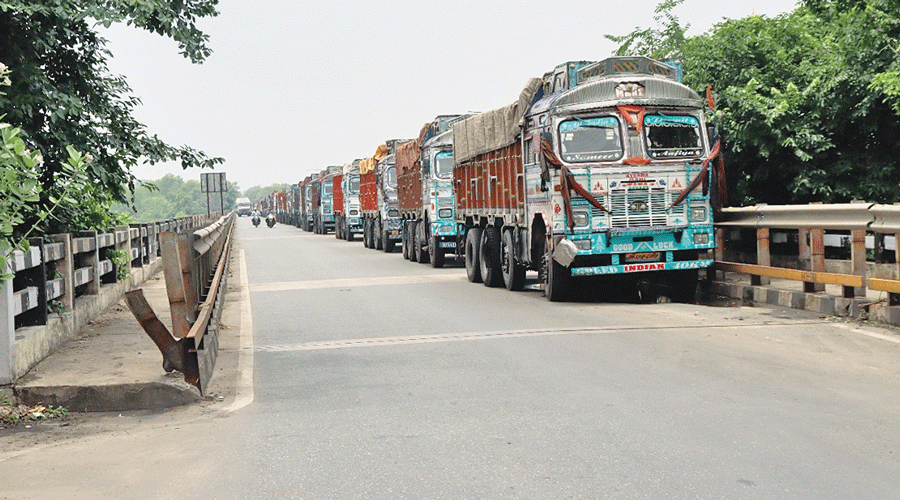 Trucks stranded on the Jharkhand border in West Burdwan's Asansol.
Santosh Kumar Mandal
---
Durgapur
|
Published 21.05.22, 01:36 AM
|
---
The state administration has launched a first-of-its-kind crackdown on illegal transportation of coal across the state after the chief minister instructed the authorities to ensure that Bengal was not used as a corridor for transportation of smuggled coal.
"All vehicles entering the state carrying coal will be checked. The vehicles, which will submit proper papers, will be allowed to enter the state. The system has been put in place to ensure that the state is not used as a corridor for transportation of smuggled coal," said a senior government official.
Earlier this week, the Asansol-Durgapur police stopped nearly 500 trucks, in three days, carrying coal from neighbouring Jharkhand. The trucks were stopped at the checkpost in Duburdih in West Burdwan's Kulti on the border of Jharkhand.
Sources said the police, acting on a tip-off that several trucks would enter the state with smuggled coal, stopped the trucks over a period of 3 days. All the trucks were asked to produce relevant papers.
Suspecting the papers produced by the trucks could be forged, the police in Asansol-Durgapur police commissionerate (ADPC)  decided to send emails to Eastern Coalfields Limited (ECL) with its headquarters in West Burdwan's Sanctoria near Asansol, Bharat Coking Coal Limited (BCCL) in Dhanbad and Central Coalfields Limited (CCL) in Ranchi (both in Jharkhand) to check whether the papers were genuine.
Sources said that the state government is focusing on neighbouring Jharkhand and Assam borders as coal comes in through these borders.
The decision to check papers of all vehicles entering the state carrying coal is significant in the backdrop of the CBI and the ED summoning several ruling party leaders in connection with the coal smuggling case.
"This will help the ruling party ensure that no further allegation is levelled against its leaders. It is also clear that the chief minister wants her party leaders to steer clear of such allegations. Once she can prevent the entry of smuggled coal in the state, the BJP will lose a weapon to attack the Trinamul ahead of 2024 Lok Sabha polls," said a bureaucrat.
There is a flip side to this tight vigil. An officer said if entry of coal gets delayed in Bengal, steel units spread across Burdwan West and Bankura could face a crisis of coal.
Similarly, the tea industry in North Bengal may also face the same problem.
"In such a situation, the state has to ensure that the supply of coal does not get hurt. The state can avoid such a situation if it ensures that papers of the vehicles carrying coal are verified quickly," said a source.