At least 15,000 people evacuated and relocated to shelters
Bengal: Eleven people die in floods in southern districts
Mamata Banerjee and minister Manas Ranjan Bhuniya called the floods 'manmade' and appeared to hold the Centre responsible, and pointed fingers at DVC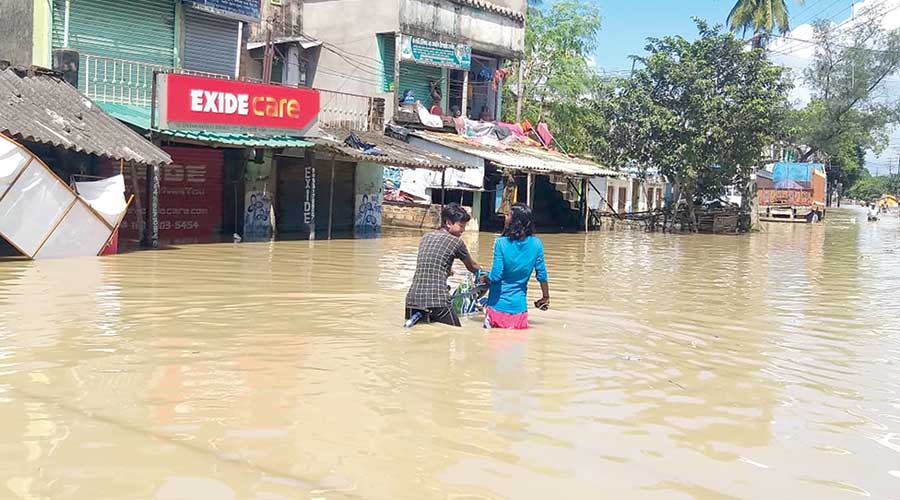 Buildings flooded in Howrah on Friday following the release of water by the DVC.
Amit Kumar Karmakar
---
Bolpur(Birbhum)
|
Published 02.10.21, 01:55 AM
|
---
At least 11 people have died in south Bengal districts, including Birbhum and Hooghly, that are witnessing floods of a severity unmatched since 2000.
A six-year-old boy, Soumyadip Chanak, and two others have died in West Midnapore's Ghatal since Thursday night. The boy was swept away by floodwaters while going for a bath with his father in Ghatal town.
Chief minister Mamata Banerjee called the floods "manmade" and appeared to hold the Centre responsible. "I would have accepted it had the floods been caused by heavy rainfall in the state. But this was only because the dams of the DVC in Jharkhand released excessive water without consulting us.... This is a man-made flood," she said.
"I have been talking about the need for de-siltation of the dams for the past several years, but they are not doing anything," Mamata added.
Minister Manas Ranjan Bhuniya too alleged that the West Midnapore floods had been caused by the release of copious amounts of water by the DVC.
"There has not been much rain in Midnapore but Ghatal and at least three other blocks went under water only because the DVC discharged huge amounts of water. Despite the chief minister's appeal, the DVC released so much water at the same time, causing major floods for the third time in three months," Bhuniya, water resources investigation and development minister and Trinamul MLA from Sabang in West Midnapore, said.
Bhuniya has been assigned by Mamata to monitor the situation in West Midnapore, while a few other ministers have been tasked with overseeing the other flood-affected districts.
Kamala Das, a 76-year-old widow, was killed in Goghat when her mud house collapsed on her as river water entered the village early on Friday morning.
Police recovered the body of Sibu Das, 17, who had been reported missing during the floods in the same area on Thursday night. The police have also recovered the body of an unknown middle-aged person from the Dwarakeswar river in Goghat on Friday morning.
Five people have died in Bankura since Thursday night. The police recovered the body of Subhas Majhi, 40, who was reported missing in the floodwaters in Simlapal on Thursday night. The body of a yet-to-be-identified person was found floating in the Kansabati river in Sarenga.
Two women were killed when a mud wall collapsed on them in two villages of Bankura, while a youth died from snakebite while he was crossing a waterlogged road in Bankura's Bamira village.
"Five people were killed because of flood and rain. Many areas like Sonamukhi and Barjora are also submerged. We have visited several affected areas," K. Radhika Aiyar, the Bankura district magistrate, said.
Sources said the flood situation in south Bengal had worsened after the discharge of water from DVC barrages following heavy rainfall in Jharkhand. This left vast areas in Hooghly, West Midnapore, Howrah and Birbhum flooded.
Construction of new dams upstream of the Maithan and Panchet dams of the DVC network, rather than de-silting the existing dams, could be the solution to the regular floods in south Bengal caused by the release of water, sources in the central utility and the Bengal irrigation department said.
Several government officials said they had not witnessed such devastating floods in 20 years.
A large part of Nanoor in Birbhum went under water after the Ajay breached a part of the embankment near Sundarpur village. At least two dozen villages in Nanoor's Basapara and Thupsura were inundated.
"It was in 2000 that such floods had last happened. At least two villages, including Sundarpur, have been washed away with hundreds of concrete houses collapsing there because of the heavy rush of water," said Karim Khan, a functionary of the Birbhum zilla parishad and resident of Basapara.
Sources said at least 500 families had spent the night atop an embankment in Nanoor. Birbhum district magistrate Bidhan Ray and police chief Nagendra Nath Tripathi on Friday visited the affected areas by boat.
"We had to evacuate at least 15,000 people and relocate them to relief centres in school buildings. We are providing relief materials to them. The flood was the result of the release of water into the Ajay from Jharkhand's Shikatia dam. Less water was discharged from that dam on Friday," Ray said.
The waters of the Ajay have also inundated vast areas of Mangalkot, Ketugram and Ausgram in East Burdwan. Several villages and Arambagh town in Hooghly were submerged along with neighbouring Goghat, Khanakul and Pursurah as water from the Mundeswari, Dwarakeshwar and Shilabati rivers entered these areas.