New DVC dams only solution to regular flood problem: Experts
The survey revealed that water holding capacity of all the four dams of the DVC network had reduced significantly because of siltation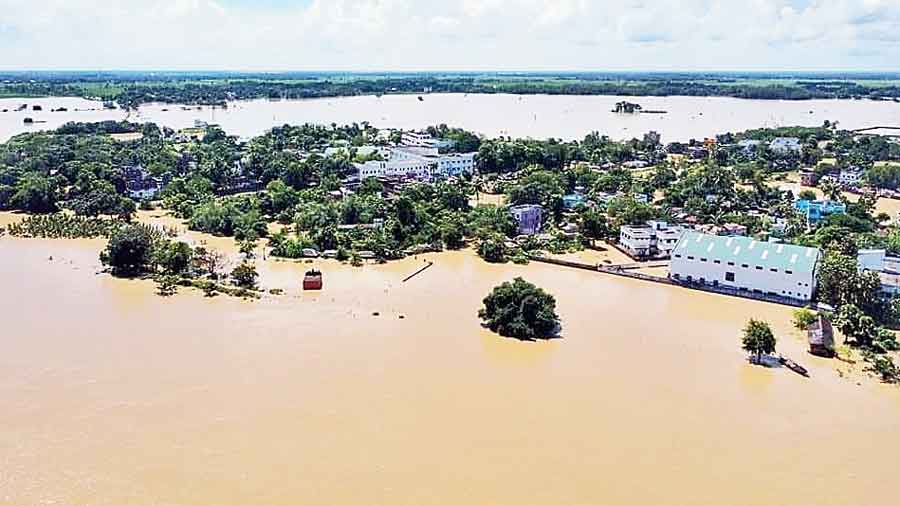 An aerial view of the flooded Arambagh in Hooghly district on Friday.
Ananda Adhikari
---
Calcutta, Durgapur
|
Published 02.10.21, 01:36 AM
|
---
Construction of new dams upstream Maithan and Panchet dams of the Damodar Valley Corporation network rather than de-silting the existing dams is the only solution to the problem of regular floods in south Bengal caused by water released from the DVC, sources in the central utility and state irrigation department said.
"Undoubtedly, the water holding capacity of the DVC dams has decreased since those were constructed in the 1950s. But de-silting the dams is not a practical solution. New dams upstream appear to be the only solution," said a senior DVC official.
According to sources, there are four dams in the DVC network — Maithan and Tilaiya on the Barakar river and Panchet and Konar on the Damodar river — from where water reaches Durgapur Barrage.
Once water is released from the Durgapur Barrage, there is no other dam to hold the water — while it passes through East Burdwan and Hooghly — till it meets the Hooghly in Howrah.
"So, if the DVC dams release more water, it is almost certain that parts of East Burdwan, Hooghly and Howrah would get inundated.Parts of Hooghly and Howrah went under water in August as the Durgapur Barrage was forced to release 1.53 lakh cusec water. The barrage released 2.36 lakh cusec water last night and that is why the floods are more devastating," said a senior irrigation department official.
In 2012, the DVC and the Central Water Commission (CWC) had carried out a survey to find out a solution to the long standing problem.
The survey revealed that water holding capacity of all the four dams of the DVC network — Maithan, Panchet, Tilaiya and Konar, all in Jharkhand — had reduced significantly because of siltation.
But it was also found that de-siltation of the four dams would cost nearly Rs 5,000 crore. It would also require a huge tract of land to stockpile the silt, which was not readily available.
"Furthermore, such de-siltation in the dams would require high end technology and the work is a time consuming one," said a source.
The officials conducting the survey felt that constructing two new dams upstream the Maithan and Panchet dams — from where water reaches Durgapur Barrage — would be a better solution.
Construction of new dams, however, will be easier said than done, said a DVC source.
"Not only will it require huge investments from the Centre, there would also be a need for land... These are the two factors which is the biggest hurdle to building new dams," said a source.