Barrackpore MP Arjun Singh back in Trinamul Congress
He had left TMC for the BJP in March 2019 after being denied a ticket for the Lok Sabha polls from the city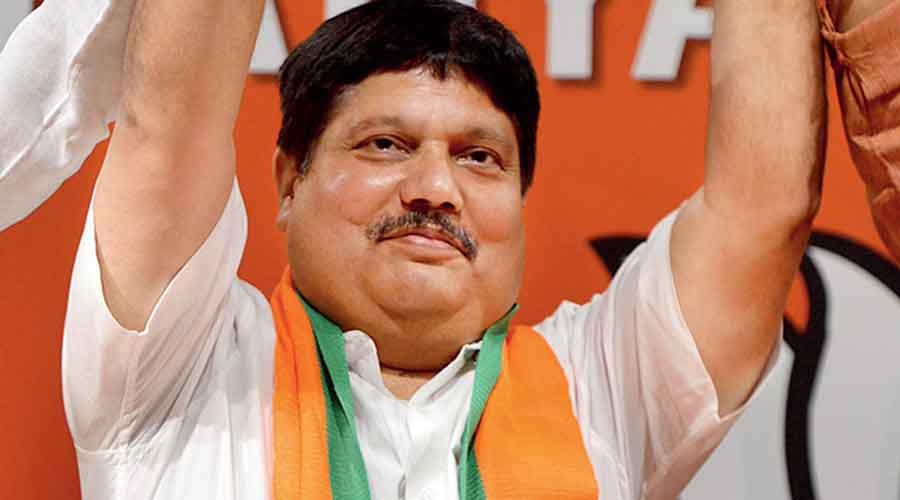 ---
Calcutta
|
Published 23.05.22, 04:01 AM
|
---
Barrackpore MP Arjun Singh returned to the Trinamul Congress on Sunday, days after casting himself as a crusader against the BJP-led Centre's alleged indifference towards the jute industry in Bengal.
"I've returned to my home today," Arjun, who had left Trinamul for the BJP in March 2019 after being denied a ticket for the Lok Sabha polls from Barrackpore, told a news conference after being re-inducted into Trinamul in the presence of national general secretary Abhishek Banerjee.
Five of the six Trinamul MLAs who represent the Assembly constituencies under Arjun's Barrackpore Lok Sabha seat, and veteran legislator and minister Jyotipriya Mullick, were present during the induction at Abhishek's south Calcutta office.
Arjun, who had been praising chief minister Mamata Banerjee over the past few days while taking on his then party BJP, said: "The area I belong to has (been suffering from) a jute issue for a long time. The Centre has been avoiding it. Bengal had 62 jute mills. It came down to 50 and then another 15 were permanently closed on Sunday."
A few days ago, Arjun had met BJP president J.P. Nadda in Delhi and complained against the party's Bengal unit. Arjun had publicly lashed out against the "inactiveness" of the Bengal BJP, of which he was a vice-president.
"I've tried to explain this (the Centre's perceived jute apathy) to the BJP leadership and the Union minister (Piyush Goyal) repeatedly. Our honourable chief minister had written to the Prime Minister in November urging him to take care of the industry," Arjun said.
He claimed his fight for the jute industry was inspired by the chief minister's initiative, adding that his "struggle" had led to only 25 per cent of the demands being fulfilled.
"If chief minister Mamata Banerjee doesn't take up this fight for jute, we will not be able to realise the rest of our demands," Arjun said.
His main demand that a cap on the per-quintal price of raw jute be lifted was granted by the Union textile ministry on Thursday.
In March 2019, weeks before the Lok Sabha polls, Arjun had left Trinamul for the BJP. His differences with the party had started after he was refused nomination for the Barrackpore constituency. He defeated Trinamul's Dinesh Trivedi by 14,857 votes.
Like many other turncoats who had defected to the BJP when it appeared that the party's electoral prospects were bright in Bengal, Arjun had been given a lot of prominence in the organisation.
In spite of the debacle in the 2021 Assembly polls, where Arjun could ensure the BJP's victory in only one of the seven seats that make up the Barrackpore Lok Sabha constituency, he continued to be given key responsibilities. He headed almost all the poll-management committees that have been set up since the Assembly elections. However, he failed to deliver, be it civic elections or by-elections.
The fact that Arjun continued to enjoy the trappings of power despite his abysmal performance had raised the hackles of old-timers in the Bengal BJP. On Sunday, one such veteran said Arjun's defection was yet another "slap in the Bengal BJP's face".
"In 2021, we won only the Bhatpara constituency (under the Barrackpore Lok Sabha seat) where Arjun's son Pawan was our candidate. He was in charge of fielding candidates in all the Assembly segments of Barrackpore. We lost the remaining six seats," the BJP leader said.
Arjun said Pawan would join Trinamul soon and could not attend Sunday's event because he was unwell.
With Arjun switching sides, the number of BJP parliamentarians in Bengal has fallen to 16 from 18 in 2019. Asansol MP Babul Supriyo defected to Trinamul last year and the seat was won by Shatrughan Sinha in a by-election last month.
The BJP claimed that Arjun had buckled under political pressure.
"People who have always had the police by their side find it difficult to participate in Opposition politics. Also, the government was creating several problems for his business and had lodged multiple cases against him. This is why he had to leave," BJP national vice-president Dilip Ghosh said.
Arjun, however, reiterated his allegations against the Bengal BJP. He said the state unit was active only on social media and functioned out of air-conditioned offices while having no connection with the grassroots.
"People like us who have been active organisationally will find it difficult to function in such a party," he said.
Although Trinamul heavyweights in North 24-Parganas felicitated Arjun on Sunday, the induction wasn't as smooth as it appeared.
Before he stepped into Abhishek's office, Arjun went to a hotel in Alipore and waited while the Diamond Harbour MP met Trinamul's Barrackpore leadership. After Arjun reached Abhishek's office, another meeting was held with senior leaders for over an hour.
Trinamul sources said Abhishek was trying to fix the fissures in the district leadership and arrive at a consensus on Arjun. To send out a message of unity, Abhishek will hold a public meeting at Shyamnagar on May 30.
"Arjun's return to Trinamul will only strengthen the party in Barrackpore," Mullick, the minister and Habra MLA, said.