Bar on sea bathing in Digha
As high tidal waves are likely to lash the coastal belt over the weekend because of the full moon, the administration did not want to take chances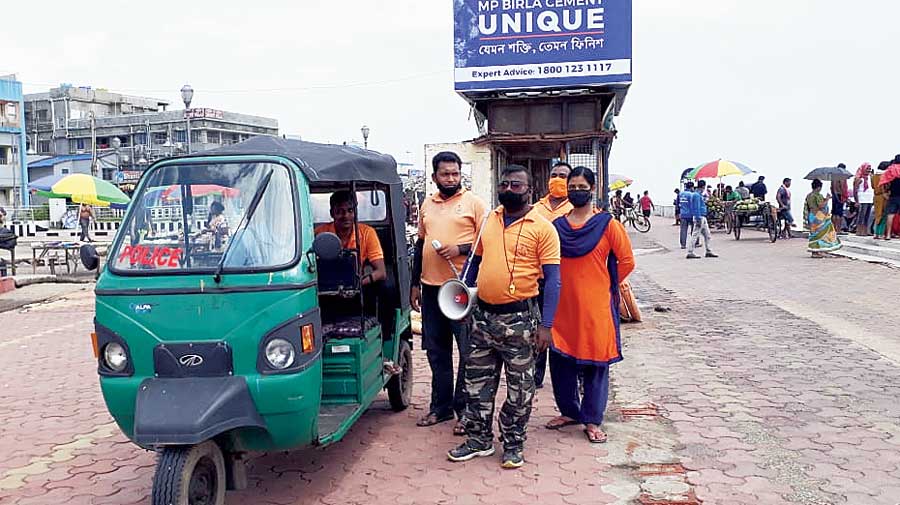 Public announcements on the ban to venture into the sea in Digha on Thursday.
Telegraph picture
---
Digha
|
Published 04.09.20, 03:36 AM
|
---
A five-day bar on sea bathing as a precaution against the rough sea has been clamped in East Midnapore's Digha where tourist rush has given lockdown-weary hoteliers a reason to smile.
The department of disaster management and civil defence on September 1 alerted the administration of seven south Bengal districts, including East Midnapore, to high tidal waves exceeding 19 feet — about the height of a double-storey building — lashing the coastal belt between Wednesday and Sunday.
The administration barred tourists from venturing into the sea till September 6.
Ever since Unlock 1 rolled out on May 31, tourists have been flocking to seaside resorts in East Midnapore. The rush increased since August 15.
As high tidal waves, which usually occur during full moon and new moon nights, are likely to lash the coastal belt over the weekend because of the full moon, the administration did not want to take chances.
"The state disaster management department has alerted us that the sea is expected to remain rough till September 6. The rush of tourists to the sea resorts increases during the weekends. To avoid any loss of lives, we have imposed a ban on bathing in the sea till September 6. We are conducting a campaign to alert tourists to the dangers of venturing into the sea," said Ramnagar-I BDO Bishnupada Roy.
"Every monsoon at least 25-30 tourists die as they try to be adventurous and venture into the rough sea. This year there has been only one death at Tajpur. We do not want unnecessary loss of lives," said officer-in-charge of Digha police station Krishnendu Pradhan. He said as Digha was slowly getting back to its normal self, the administration was extra careful about safety.
Hoteliers are also concerned about tourist safety.
Joint secretary of the Digha-Shankarpur Hoteliers' Association Bipradas Chakrabarty said: "All hotels are up and running because of the rush of tourists since mid-August. As more buses have been running on the route since Unlock 4 was announced, we expected a rush this weekend. People tend to love a rough sea. As far as bookings go, this weekend will be no different. We want to make the most of the situation as we have suffered because of the lockdown. However, we want people to stay safe."
Schoolteacher Soumen Konar, walking on the seaside with his family, said: "We have come to enjoy the beauty of a rough sea. But we need to be safe. Too much adventure may end in tragedy." As a government vehicle zipped past telling people about the sea bathing ban, he said: "That's good."
Fishermen have been asked to stay away from the rough sea, deputy director, department of fisheries (marine), Surajit Bagh said.
The administration is also evacuating people from the low-lying areas near the sea.