Bailey bridge to Balason's rescue in Siliguri
One of its pillars got titled and a stretch of its concrete plank sank to an extent owing to the force of the swollen Balason river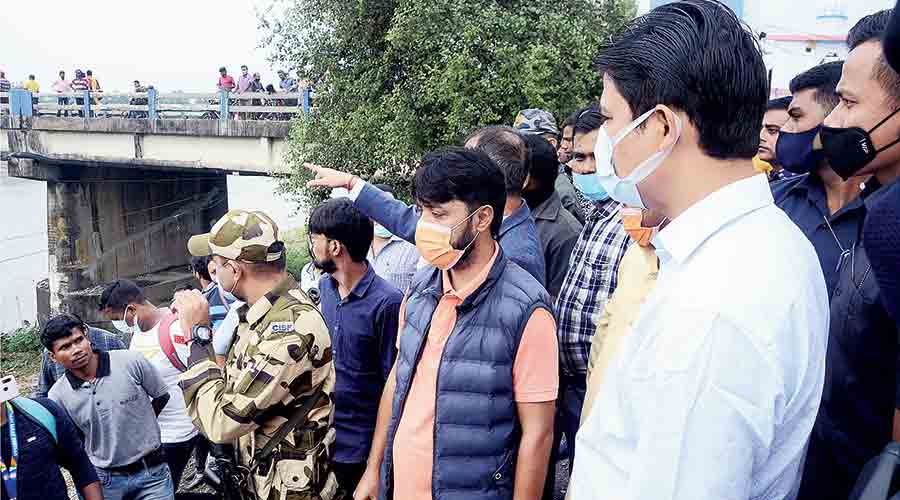 ---
Siliguri
|
Published 24.10.21, 12:50 AM
|
---
The Bailey bridge installed at Majerhat in Calcutta after the old one collapsed in 2018 will now be installed over the damaged bridge on Balason river at the northwest end of Siliguri on NH31, officials of state PWD (NH–IX division) said here on Saturday, a day Darjeling MP  Raju Bista visited the site and accused the state government of neglecting the bridge.
Since Wednesday, traffic on the bridge, barring two-wheelers, has been banned by the Siliguri Metropolitan Police as one of its pillars got titled and a stretch of its concrete plank sank to an extent owing to the force of the swollen Balason river.
"We will bring the dismantled iron parts of the Bailey bridge installed in Majerhat. Once these parts reach the site, our engineers will install the Bailey bridge here, most likely from the first week of November. We hope  traffic is restored on this vital route by the end of next month," said an official of the state PWD.
Bista, the BJP MP, visited the site and "doubted" if the state PWD, tasked to maintain the bridge, did any maintenance work.
He asserted again that the Union ministry of road transport and highways would build a new bridge parallel to the old one. "The ministry will build a new bridge, which will have three lanes, parallel to this bridge. Once the new bridge becomes operational, this one will be dismantled and a similar three-lane bridge built. This means we will have two bridges, each three-lane, over the Balason river in due course," said Bista.
He said it was part of the central project to widen the stretch of NH31 between Balason and Sevoke.
This August, the MP said the Centre  had allotted Rs 1,150 crore for the project.
Countering this, Alok Chakraborty, the chairman of Trinamul's Darjeeling (plains) district committee, said: "Since 2011, BJP candidates have won from the Darjeeling Lok Sabha seat but have hardly taken any initiative to develop the infrastructure of the region. Now they are again making tall talks..."
He added: "We doubt when this so-called project will begin. The state has cleared land-related issues for it around two years back."