Axe on postmaster in East Midnaporeover Rs 1-crore fraud
The postmaster cheated nearly 150 customers holding savings accounts or fixed deposits of Rs 1 crore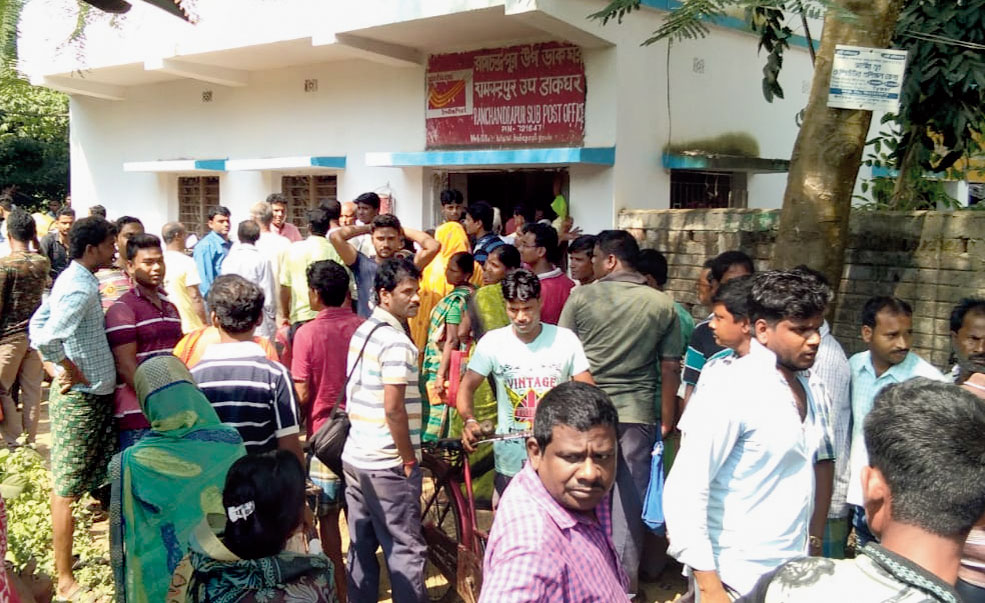 ---
---
The postal department has suspended a postmaster in East Midnapore's Moyna on the charge of cheating nearly 150 customers holding savings accounts or fixed deposits.
Lakshman Chandra Hembram, 50, has been accused of defrauding them of Rs 1 crore.
Police have started an investigation on the basis of an FIR lodged against Hembram by the current postmaster at the sub-post office in Ramchandrapur village.
Hembram, who is absconding, had been the postmaster at the sub-post office from February 2014 to early September this year, when he was transferred to Kolaghat.
A few weeks after his transfer and shortly before the Pujas, several complaints began trickling in to the present postmaster, Rabindra Sandar, about funds missing from customers' accounts.
Farmer Raja Khandekar, 40, said: "I toiled hard for this money, which was my safety net. I had Rs 2.2 lakh in the account, and noticed in the first week of October that there was only Rs 20,000 left. I had not made any transactions. Then, I came to know that the same fate had befallen several friends and neighbours."
Khandekar added: "We have submitted a joint complaint to the police."
On Monday, affected customers of the post office staged a demonstration in front of the building demanding their money back and the arrest of Hembram.
Since the last week of September, postmaster Sandar has received over 150 complaints from local people alleging defalcation of their deposits. The amounts range between Rs 20,000 and Rs 5 lakh.
The post office has 25,756 active customer accounts.
Sandar said: "These scams happened during Hembram's tenure. At first, I thought there might have been a mistake while uploading data on the computer. But on closer inspection, we found that there was fraud. We informed the police immediately."
Tamluk sub-divisional police officer Surajit Mondal said: "We received the complaint and started a probe."