Author returns award in protest of CM's special prize
Ratna Rashid Banerjee accuses Paschimbanga Bangla Academy of setting an 'disgusting example'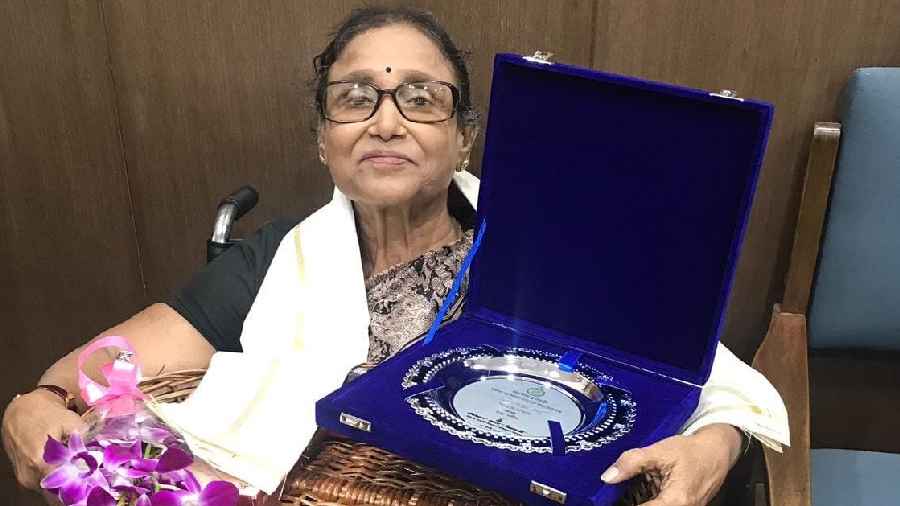 Ratna Rashid Banerjee
File picture
---
Calcutta
|
Published 11.05.22, 01:21 AM
|
---
Folk researcher and author of at least 34 books, Ratna Rashid Banerjee, on Tuesday decided to return her "Annadashankar Roy Smarak Samman" that she had received in 2019 from the Paschimbanga Bangla Academy and accused it of setting a "disgusting example" by conferring a special award on chief minister Mamata Banerjee on Monday for her book of poems Kabita Bitan.
"I received the honour from Bangla Academy with great honour on July 26 in 2019. I came to know that the Academy had awarded the chief minister of West Bengal with a special award for her relentless contribution in Bengali literature. The Paschimbanga Bangla Academy not only set an disgusting example by conferring such an award on the chief minister but also humiliated those who are really involved relentlessly with Bengali literature. So, the reward which was conferred on me is like a crown of thorns. I am returning it," Ratna wrote to the Bangla Academy.
She added she would send the memento to the address of the Bangla Academy soon.
On the occasion of Rabindranath Tagore's 161st birth anniversary, the Bangla Academy honoured the chief minister with a special award for her relentless contribution to Bengali literature.
At the ceremony, education minister and Bangla Academy chairperson Bratya Basu said that a host of leading litterateurs had chosen Mamata for the inaugural award.
Speaking to The Telegraph, Ratna said by returning the award conferred on her by Bangla Academy, she wanted to protest against the "inappropriate decision" to award Mamata. "I don't consider her (Mamata) an author. There cannot be a greater falsehood than claiming that the honour was a recognition of the chief minister's relentless dedication towards Bengali literature. I also don't know who in the Bangla Academy decided this," she said from her home in Burdwan town.
Ratna, a retired official of the state education department, had penned several books on various genres ranging from poems, novels to folklores. Her works on traditional songs sung during marriage ceremonies of Bengali Muslims and those on Bengal's culture are widely recognised.
A member of the Bengali advisory board of the Sahitya Akademi, Calcutta, Anadiranjan Biswas, also resigned from his post to protest Bangla Academy's decision to award Mamata.