At the wheel, 15 hours daily
App-cab owner-driver revved up schedule to make up for lost week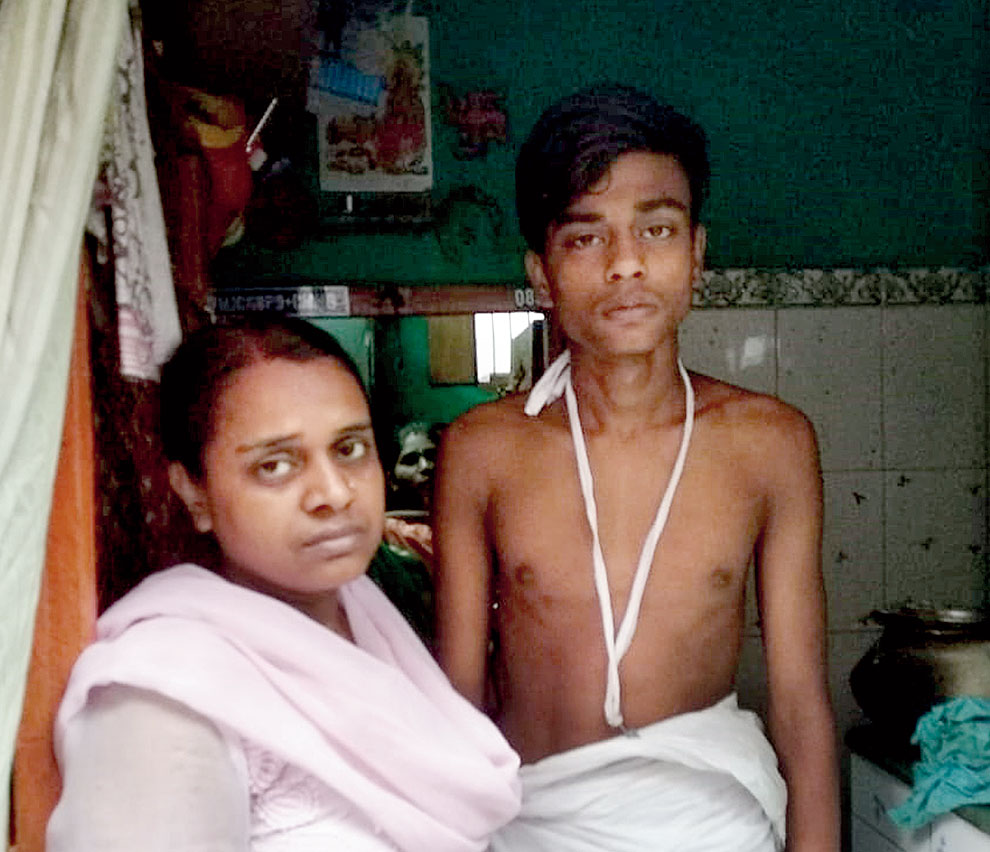 ---
|
Calcutta
|
Published 17.04.19, 09:45 PM
---
Akhya Nayak, who died when the app cab he was driving crashed into a truck early on Tuesday, had been at the wheel for around 15 hours daily over the past few days, his wife and son said.
Police said the 42-year-old, who was ferrying a sales executive of a pharmaceutical company to the airport, had dozed off when the Swift Dzire rammed into a truck in the service lane along the airport-bound flank of VIP Road around 4.30am.
The passenger, Nazrul Islam, was critically injured.
Metro met Akhya's wife Rita and 18-year-old son Rohan, who has just been promoted to Class XII, at the family's single-room house in a lane off Karl Marx Sarani, in Kidderpore, on Wednesday afternoon.
"My husband had bought two cars, one in 2015 and the other a year later, with bank loans. Both cars were in a garage for a week for repairs," said Rita. "He was trying to make up for the days lost and working for around 15 hours a day over the past few days. He would drive through the night and till well past noon."
While Akhya would drive one of the cars, he had hired a driver for the other, also a Swift Dzire.
Rita said the loans Akhya had taken to buy the cars had not yet been repaid.
All the relatives, who had gathered at the Nayaks' home, blamed Akhya's punishing work schedule for the fatal crash. Everyone said Akhya would never exceed the speed limit and was never involved in any major accident.
Akhya, who worked for a local cable TV operator before buying the first car, was the sole earning member of the family.
"My father had to work hard because the EMIs for the car loans, my school fees and household expenses totalled Rs 24,500 a month. We would urge him to take it easy but he always told us not to worry about him," said Rohan.
Rita said her son wanted to become a chartered accountant. "Now that his father is no more, I don't know how he will be able to continue his studies," she rued.
This newspaper had reported on Wednesday that the compulsion to meet targets that decide earnings prompted a section of app-cab drivers to drive for 15 hours a day without rest, increasing chances of mistakes that often end up in fatalities.
App-cab drivers and owners said the operators usually set two targets in a week — a car has to complete around 60 trips from Monday to Thursday for the owner to earn an incentive varying between Rs 1,100 and Rs 1,500, and around 45 trips from Friday to Sunday for an incentive between Rs 800 and Rs 1,000.
Many app cab owners have said without the incentives they had no hope for early repayment of bank loans.
Both cars of Akhya, Rita said, have "valid" fitness certificates. A fitness certificate states that a vehicle is fit to run.
A vehicle's registration will remain valid so long it has a fitness certificate.
For app cabs, taxis, buses, minibuses, school buses and lorries, the certificate is issued for two years and renewed annually.
An officer of the Bidhannagar commissionerate said the car Akhya was driving was running on the Ola platform. An Ola official, however, said Nayak had not been driving on their platform since March and that all drivers were advised to take adequate rest.
Injured passenger
An official at Apollo Gleneagles Hospitals, where Islam had undergone two surgeries on Tuesday, said the patient was sedated and on ventilation. "The patient is stable but still critical. We are keeping a tab on his levels of consciousness," the official said.
One of the surgeries was for the blood clots in his brain and the other was to remove bony fragments of the skull from his brain.