At the receiving end of protesting doctors in Calcutta
Harassment of patients and their families continued on the 6th day of ceasework by junior doctors at medical colleges across Calcutta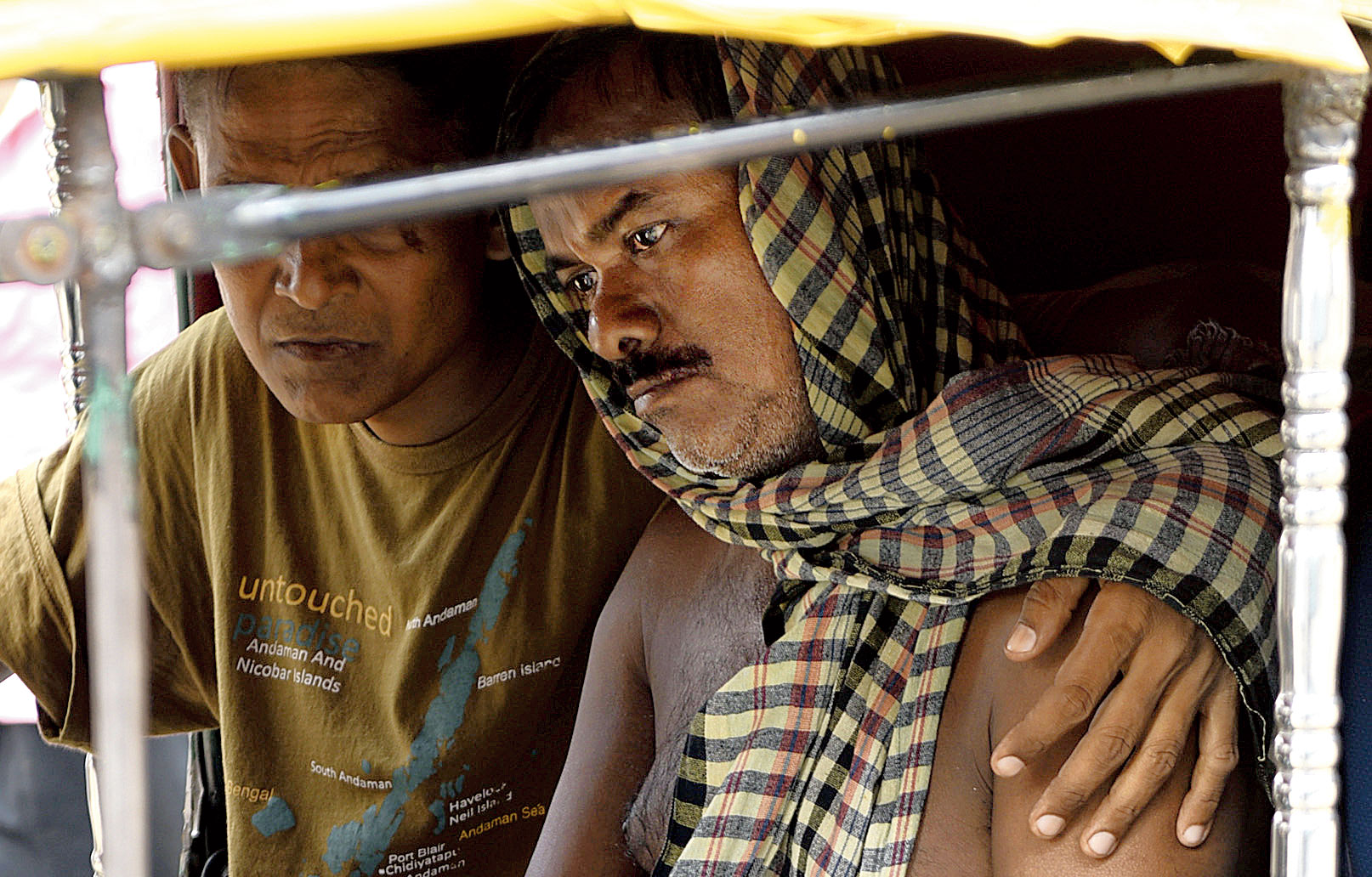 ---
|
Calcutta
|
Published 16.06.19, 09:49 PM
---
At the receiving end of protesting doctors Rajendra Prasad, a resident of Goabagan in north Calcutta, collapsed on Sunday afternoon after being allegedly hit on the face by the son of his landlord over a tiff related to rent.
Singh, who had suffered cerebral attacks twice, became stiff in the right part of his body and lost his ability to speak, prompting family members to take him to the RG Kar Medical College and Hospital.
"Hospital staff turned us away from the emergency ward saying doctors were unavailable. We then headed to the Calcutta Medical College and Hospital," Prasad's nephew Vinod Singh said.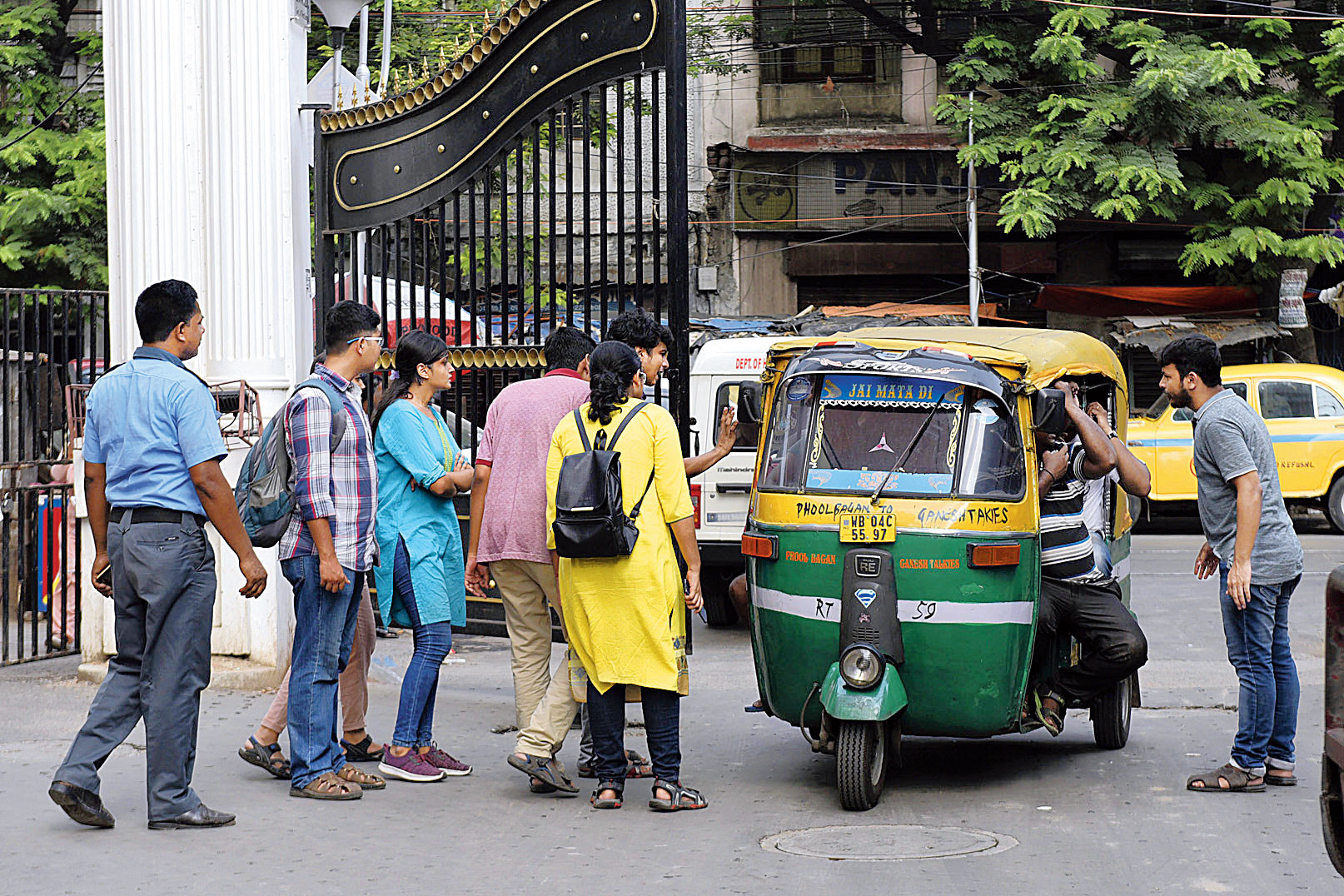 The auto carrying Prasad (head wrapped in a gamchha) and relatives had barely entered the College Street campus through gate No. 3 when a group of junior doctors stopped it. The doctors were sitting on plastic chairs guarding the gate.
"Dada aamra Goabagan thekey aaschi. Patient-er condition serious. Ektu emergency-te niye jetey din (Brothers, we are from Goabagan. The patient's condition is serious. Please let us take him to the emergency ward)," a relative pleaded with the protesting doctors.
"Ekhaney kono admission hobey na. Ekhaney strike cholchhey. SSKM-e jaan (No one will be admitted here. A strike is on. Go to SSKM)," one of the doctors said.
The relative then said: "You are all doctors. You can see for yourselves what his condition is. Let him get admitted. How many more hospitals will we go?)." But the doctors were unrelenting. The protesting doctors declined comment when Metro asked them why Prasad was not allowed to be taken to the emergency ward. He was finally admitted to a private hospital in north Calcutta. Pictures by Sanat Kr Sinha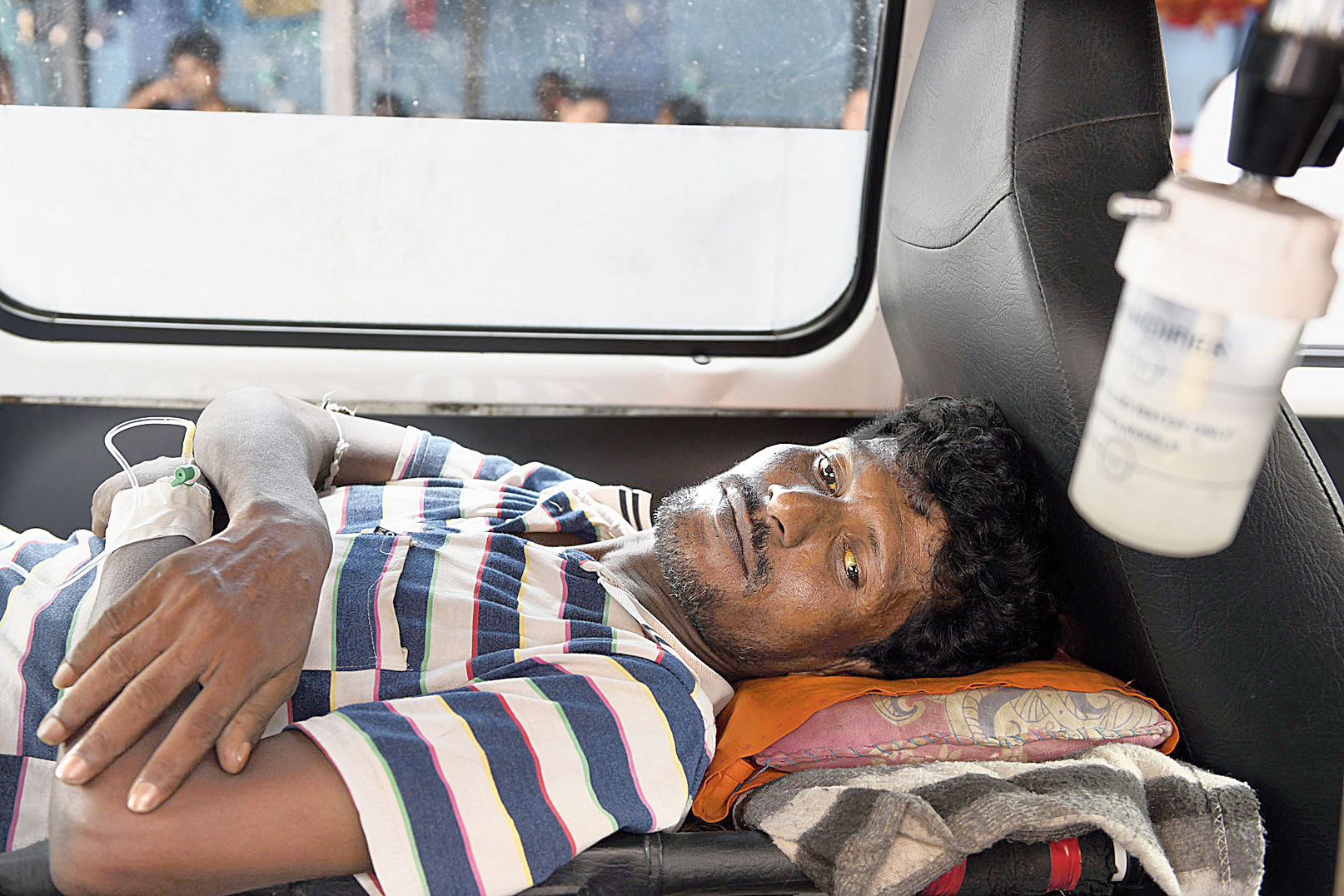 Ainul Mandal, a contract labourer, was brought to the RG Kar Medical College and Hospital from Ashoknagar in Habra, North 24-Parganas, with jaundice. "Doctors at the Ashoknagar State General Hospital have said my father also has a tumour in his liver. They referred him to RG Kar for further examination," said son Yunus Mandal. Ainul was brought to the emergency ward of the north Calcutta hospital in a private ambulance. "But we were told he cannot be admitted in the absence of doctors. So we have to go elsewhere," Yunus said.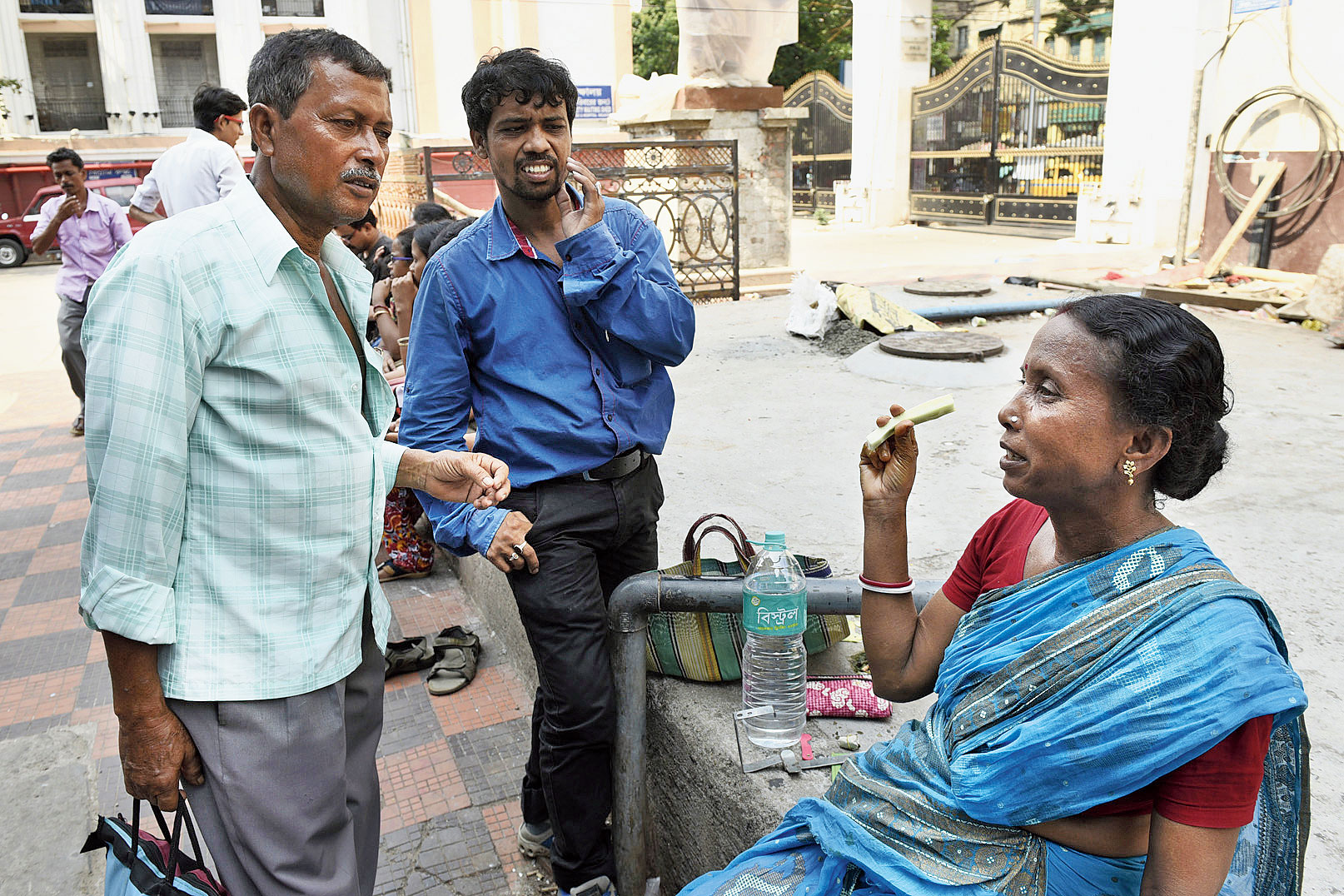 Nirmal Das's family from Magra in Hooghly has been wondering if he should be taken to a private hospital in Bangalore. Das, who has been diagnosed with liver cancer, was admitted to the Calcutta Medical College and Hospital a fortnight ago. "He needs surgery. But since the strike started, the doctors have not been able to give us a date yet. We are wondering if we should take him to Bangalore. We will have to sell our agricultural land for that but we cannot afford to delay either," wife Prabhati Das (in picture left) said.
Striking junior doctors at the Calcutta Medical College and Hospital stopped a car carrying relatives of a patient at gate No. 3 on Sunday. Shoumik Saha, who had come with his family members to visit his mother-in-law Shikha Sen, was asked to park his car outside the hospital compound. "They asked me to park the car outside. I pointed out that the stretch of road in front of the hospital was a no-parking zone, but they refused to relent," Saha said.
One of the junior doctors was heard telling Saha: "Torko bariye laabh nei. Gari theke neme jaan (There is no point dragging the argument. Get off the car)." Saha's mother-in-law, a resident of Bowbazar, was admitted to the hospital a fortnight ago. "She needs a new pacemaker but the procedure has been delayed because of the strike. I can still understand that. But who are they to tell me that I cannot park the car in the compound?" wondered Saha, who had to park the car on College Street and walk to the ward.