The Telegraph School Awards recognises 'action' of individuals during pandemic
I'm requesting you from today onwards to give an action hug — an action hug to yourself and an action hug to others: Barry O'Brien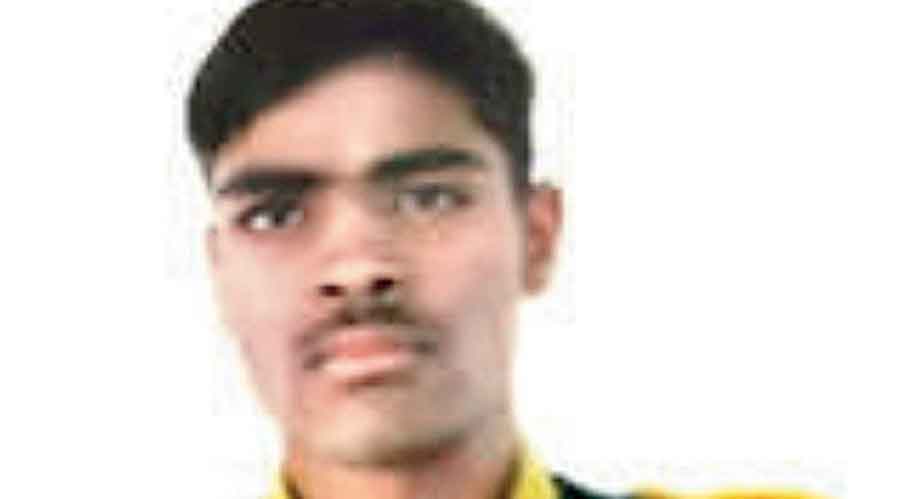 Cadet Amit Raj of Sainik School Purulia, who was posthumously awarded The Surrendra Paul Memorial Award For Courage.
The Telegraph
---
Calcutta
|
Published 31.10.21, 02:15 AM
|
---
Stories of hope, understanding and generosity marked a 90-minute award ceremony that recognised the "action" of individuals and institutions in reaching out to people during the pandemic.
These challenging times do not allow physical hugs. But from the online platform of the IIHM presents The Telegraph School Awards for Excellence 2021, 26th edition, in association with The Bhawanipur Education Society College, partnered by Tutopia, a request went out on Saturday for an "action hug".
"I'm requesting you from today onwards to give an action hug — an action hug to yourself and an action hug to others," said Barry O'Brien, trustee, The Telegraph Education Foundation, who hosted the event.
"We are so happy to tell you that there are many action hugs going around, and so let's keep talking about action hugs throughout today's event."
O'Brien said the "h" in hug stood for hope, the "u" for understanding and the "g" for generosity.
"The day we lose hope we've lost everything. Please be understanding with yourself, be patient with yourself — we are very impatient with ourselves nowadays and it's causing all of us mental health issues," he said.
"Finally, 'g' is for generosity. You can't take it with you, friends — whether you go to the smashan ghat, the burial or the cemetery. You can't take anything with you. So those of us who are privileged enough, blessed enough, let's be generous, generous with our time, generous with the way we approach life and generous with our money."
Such generosity in pandemic times was exemplified by a "shy school" (it had never before entered itself for the awards) called Future Hope School that travelled almost across the state distributing 90,600 bags packed with relief material by its boys and girls.
Similar generosity was shown by "a small school with a huge heart" — the Chowringhee High School, which carried forward the legacy of its late administrator, Perminder Dasani. Within months of Dasani's death from Covid, his wife and daughters and the team he had left behind collected Rs 3 lakh and donated it for the people of the Sunderbans. They are also carrying on with all the charitable work their mentor did.
Both these schools won The Telegraph School of the Year along with the Lakshmipat Singhania Academy.
Individuals too had stood up to be counted. Cadet Amit Raj of Sainik School Purulia rescued two teenagers from a fire at his Bihar village but himself died of burns.
A gas leak had caused a fire in a building. Amit saved a 15-year-old and a 13-year-old and went in again to look for anyone left behind, suffering fatal burns.
Amit was one of the recipients of The Surrendra Paul Memorial Award for Courage.
The stage also recognised Mamoon Akhtar who had to leave school because his father, an iron fabricator, could not pay his fees but went on to complete his education later and start a non-formal school in 2001.
Akhtar, founder of the Samaritan Help Mission in Tikiapara, Howrah, on Saturday won The Bhawanipur Education Society College Honour for an Educationist. Amid the pandemic, Akhtar provided food and education to thousands of children and their families.
At a time parents are struggling to pay school fees, O'Brien's appeal to schools was: "Let's not ask children to leave school."
The MOM Sundarbans Self Help Group — formed by a group of former and present students of Kanaknagar SD Institution, Hingalganj — received The Somak Dutta Endowment.
The group trained women in tailoring and provided livelihood to them during the pandemic. Some of these women's families had no other source of income.
The Somak Dutta Endowment went also to the Rokeya Siksha Kendra, a "learning centre" run in Patuli by a group of doctors, engineers, teachers and activists, and to the Sudhu Sundarban Charcha, Hooghly, a group that has in the last 12 years provided education-related material such as books, bags and school uniforms worth Rs 20 lakh to 5,000 students in the remote areas of the Sunderbans.
Delhi Public School Megacity and Don Bosco School, Liluah, were joint winners of The Anand Paul Memorial Award for Social Service.
Students of DPS Megacity have started the Calcutta Anti-Covid Belt, whose more than 1,200 members have been working with Covid patients and their families, and which now has seven organisational partners. DPS Megacity provided relief during Cyclone Yaas and gave donations for Amphan victims.
The MCKV Charity Trust announced 25 scholarships at the award ceremony on the occasion of the MC Kejriwal Vidyapeeth, which it runs, completing 25 years. The trust has been doing social work in Howrah and parts of Jharkhand.
O'Brien dedicated the event to Covid warriors — doctors, nurses, attendants, ambulance drivers — many of whom have died.
What had started "as a small seed of an idea 26 years ago" has grown strong, O'Brien said. With uncertainty looming large, one needs to stoke the "goodness" inside, he added.
"Life is really short, life is really uncertain. So let's live for ourselves, our families. Let's live for others too. We will see you next year. Let the movement go on. Start reaching out from tomorrow if you haven't already," O'Brien said.
The number of entries this year was higher compared with not just last year but even the pre-Covid years.