At lunch, chat with tribal host not part of menu
Bibhishan said he and his wife can earn up to Rs 10,000 a month as farmhands, but spend over Rs 5,000 every month on their child's treatment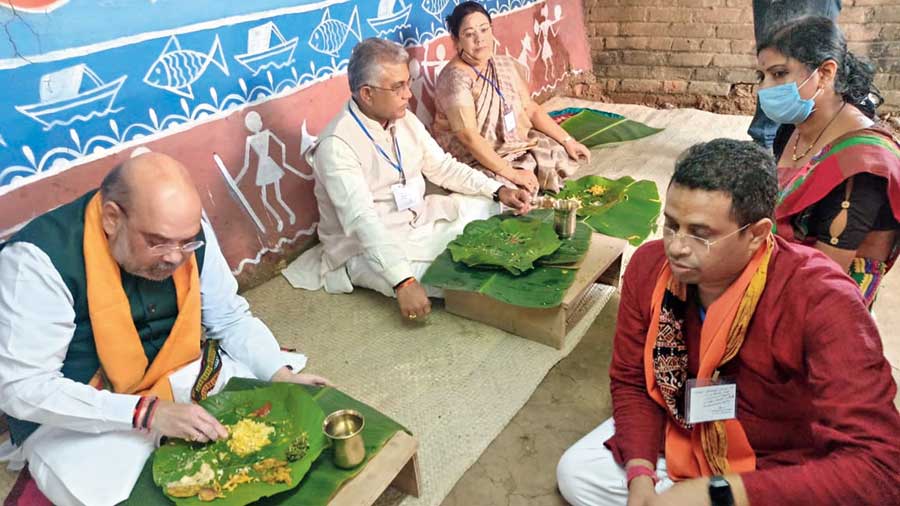 ---
---
Bibhishan Hansda, 47, was within whispering distance of home minister Amit Shah during lunch on Thursday.
But the tribal farmer from Bankura, who hosted the lunch as part of the BJP's tribal outreach, didn't get the chance to speak to Shah. If Bibhishan did, he would have told the minister about his daughter Rachana, a 16-year-old diabetic.
Bibhishan lives in Chaturdihi village of Bankura, around 13km from Bankura town where Shah held an organisational meeting with party leaders. Meeting over, Shah visited Bibhishan's home to partake of simple vegetarian Bengali dishes — rice, dal, roti, traditional bhajas (fries), and aloo posto.
But if Bibhishan had hoped this proximity would help him approach Shah for help in treating Rachana, a Class XII student who needs insulin twice a day, that was not to be. In the span of the 45-minute visit, Shah, who came with state BJP chief Dilip Ghosh and BJP's Bengal minder Kailash Vijayvargiya, was surrounded by photographers and later by local BJP leaders, his family members said.
Bibhishan said he and his wife can earn up to Rs 10,000 a month as farmhands, but spend over Rs 5,000 every month on Rachana's treatment.
A BJP supporter, Bibhishan said he was "proud" that Shah visited his home. "But I am unfortunate that I could not share with him my concern about my diabetic daughter." "We did not get two minutes to tell him (Shah) about our daughter. Anyway, I was happy he came to our home," echoed wife Manika, 36.
Adhir flays divisive politics
Adhir Chowdhury, Congress MP and state unit chief, held a news meet on Thursday to slam the BJP for cosying up to tribal communities. "Nobody can forget the atrocities on Dalits, minorities and women in BJP-ruled states...Shah is eager to prove that his love for backward communities is greater than Didi's. This brand of divisive politics of the BJP won't work in a place like Bengal," he said.
The Behrampore MP, however, also blamed Trinamul for participating in "competitive communalism" in the state.
"Both parties are now looking to take Bengal backward, to the path of casteism and exclusion…. In Bengal, caste was never a major issue. But that system is now being imported to a progressive state like Bengal," he said.
"The BJP and Trinamul are trying to create or deepen divisions for petty political dividends," he added.
Prior to the news meet, Chowdhury led a dharna in protest against alleged attacks on Dalits and women across the country.