Asok taps Centre on river revival
Mayor to meet Union water minister on Mahanda rejuvenation plan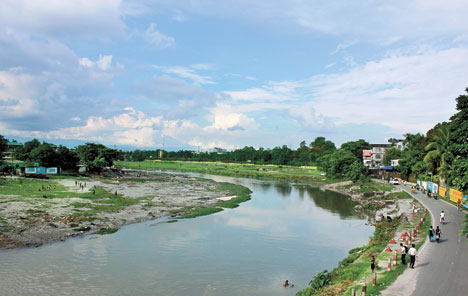 ---
|
Siliguri
|
Published 13.06.18, 12:00 AM
---
Siliguri: Siliguri mayor Asok Bhattacharya will meet the Union minister for water resources Nitin Gadkari later this week and will appeal to him to include Mahananda Action Plan under National Council for River Ganga (Rejuvenation, Protection and Management) (NCRG).
The mayor will visit Delhi on June 14 and June 15 to attend a meeting of the All India Mayor Council and has already sought an appointment from the Union minister's office.
Bhattacharya, while speaking on the issue, said the Mahananda river that flows across Siliguri is dying due to pollution of the water and dumping of wastes.
The river is a tributary to Ganga and thus the Mahananda Action Plan should be implemented to conserve it, he said.
"Given the pitiable state of Mahananda in Siliguri, the state and agencies like Siliguri Jalpaiguri Development Authority should immediately take necessary initiatives with the central government so that it can be included under NCRG and the Mahananda Action Plan can be implemented. It is unfortunate that representatives of the state government, particularly ministers and MLAs, have remained silent on the issue and have instead, indulged in a political blame game by raising fingers at the local civic body," said the mayor.
This alleged silence of the state, he said, has prompted him to call on the Centre.
The Mahananda Action Plan was taken up around five years back by SJDA to conserve the river. It was decided to clean Jorapani and Fuleswari, two rivulets which also flow through the town. However, as the scam at SJDA came to surface, the project has come to a halt.
Even the Eastern Zone bench of the National Green Tribunal has expressed concern over the river and has passed a set of instructions to the administration and the civic body.
The mayor also said that on Wednesday, he will try to meet state minister for municipal affairs and urban development Firhad Hakim.
"I will be at the Assembly on Wednesday and have plans to meet the minister to speak on the issue and also for funds which the state is yet to release to us," he said.