Art tells story of tuberculosis
25 students at a school on Nilmoni Mitra Street were handed cards and engaged in Loteria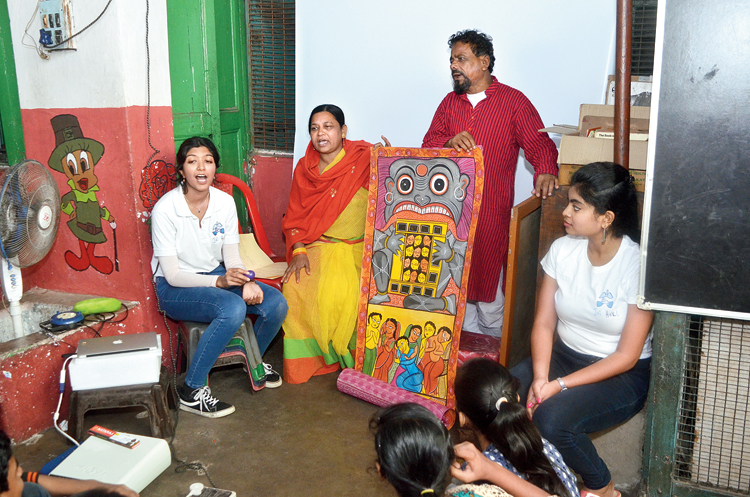 ---
|
Calcutta
|
Published 18.12.19, 08:29 PM
---
A graduate in her gap year and two pat artists from Midnapore educated children about tuberculosis and its early signs through art and a card game at a school in Girish Park on Wednesday.
Twenty-five students at a school on Nilmoni Mitra Street run by NGO Calcutta Rescue were handed cards and engaged in Loteria (a traditional Mexican card game similar to Bingo). Instead of numbers, every card had a picture related to tuberculosis (TB).
XDR-tuberculosis is a drug resistant TB, said one card. Fever, coughing and weight-loss are the early signs of TB, said another.
As the game progressed, children got to know what BCG vaccine (immunisation against TB) is, how smoking can aggravate the condition and why one needs to get a chest x-ray done at the early signs of discomfort.
The interaction was thr brainchild of Sreyashi Basu, a BSc student of University College of London.
"Malnutrition makes women more vulnerable but they often hide it till it's too late, thanks to the stigma. So I decided to conduct an awareness campaign in schools. The children will go on to make their parents aware and urge them to seek help early," said Basu, who has covered 67 government and aided schools. She plans to reach out to 2,000 children by April.
Helping her out were an artist couple — Swarna and Shambhu Chitrakar from Pingla, who used patachitra scrolls to make the children aware of cleanliness at home, share personal hygiene tips and emphasise on consulting a doctor early.
The first artwork was that of a monster with people etched on its tongue. It signified how the infection can spread when too many people live under the same roof in unhygienic conditions.
Swarna and Basu sang about the importance of washing hands, keeping one's environment clean and going for regular check-ups as one scroll followed another.
"We have used our art to spread awareness against HIV and abuse in the past. This is the first time we are reaching out to school students about TB," Swarna said.
The session ended with the children attempting to illustrate what they learnt at the workshop. "I already knew about the disease. My uncle had been affected by it. But it was interesting to know how our lungs work and why it is important to cough with our mouth covered," said Tushar Gain, 12, as he busily drew a pair of lungs.