Army stress on Siliguri corridor
Siliguri corridor is a narrow stretch of land in Bengal, which connects India's northeastern states to the rest of India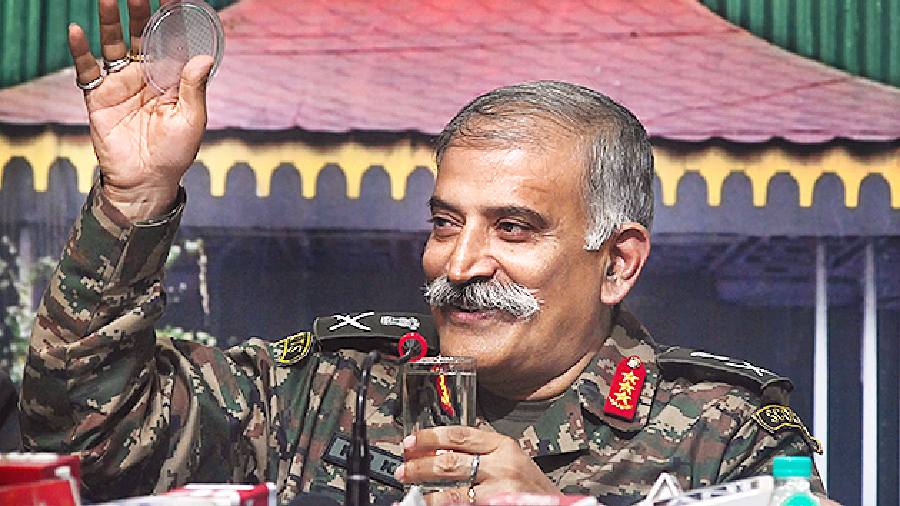 Lt Gen RP Kalita interacts with reporters in Calcutta on Friday
PTI
---
Calcutta
|
Published 28.01.23, 03:56 AM
|
---
Lt Gen. R.P Kalita, the chief of the Eastern Command, on Friday said the Indian Army was ramping up its military infrastructure at a rapid pace and taking necessary steps to ensure connectivity to the Northeast through the narrow Siliguri corridor. 
His comment was in response to questions during an interaction with journalists on the recent attempts by China to strengthen connectivity in Chumbi valley in the Tibet Autonomous Region (TAR), close to the Siliguri corridor, also called Chicken's Neck; and India's preparedness in the eastern theatre. 
"The Siliguri corridor is geo-strategically extremely important to us because all our connectivity to the Northeast runs through this narrow corridor. Particular importance is the stretch of 20-25 kilometres around Islampur and its adjoining areas (in North Dinajpur). Necessary measures and mechanisms are in place to ensure there are no disruptions as far as maintaining connectivity to the Northeast is concerned," the General Officer Commanding-in-Chief (GoC-in-C) of the Eastern Command said. 
The Siliguri corridor is a narrow stretch of land in Bengal, which connects India's northeastern states to the rest of India. At its narrowest, the corridor is just about 17km wide. The corridor  borders Nepal, Bangladesh and Bhutan and extends from the Darjeeling hills, Jalpaiguri and the Terai to the Northeast. 
Intelligence reports that China has been building an alternative axis in Chumbi Valley, which is close to the Siliguri corridor and sandwiched between Sikkim and Bhutan, and increasing its depth by building roads through Bhutanese territory have caused concerns in India. 
"Post-Doklam, the PLA (People's Liberation Army of China) has started infrastructure developments in these areas within its own territory. To counter those activities, requisite infrastructure activities have been carried out so as to ensure a better response from us if required," Lt Gen. Kalita said. 
Satellite images that have been recently accessed by the armed forces show China building roads in the Torsa river area in the Bhutanese territory.
For the Indian forces, rail networks in the Chicken's Neck give access to the Line of Actual Control between the two countries. Different rail links have been created or are being developed from the New Jalpaiguri railway station, which connects the three important military formations located opposite China. 
From the NJP station, a rail link moves towards Guwahati and from there, a road network moves towards the strategically important Tawang town in Arunachal Pradesh. 
The developments along the China-Indian border have left the Eastern Command in a high state of preparedness. 
The Siliguri corridor has remained very critical for the armed forces, the importance underlined by the recent visit of India's army chief General Manoj Pande a week ago to review the military preparedness.