Anti-CAA protest at International Mother Language Day venue
Large number of people gathered at the programme wearing anti-CAA and anti-NRC bands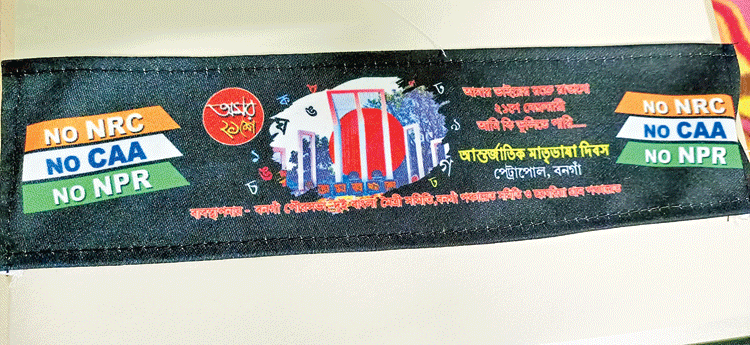 ---
---
A programme organised close to the India-Bangladesh border to pay tributes to the martyrs of the 1952 language movement on Friday turned into a show of resistance against the Citizenship (Amendment) Act that many feel is discriminatory and violates the basic tenets of the Indian Constitution.
The Dui Bangla Maitri Samity, Bongaon Panchayat Samity and Bongaon Municipality had organised the event to observe International Mother Language Day but it virtually became an occasion of protest against the CAA, NPR, and the NRC in Petrapole.
The annual ritual is marked by cultural programmes and blood donation camps at Petrapole in India and Benapole in Bangladesh close to the zero point.
In keeping with the tradition, this year too, blood collected at each camp was sent to the blood bank on the other side of the border. But, the protest over the citizenship act made a difference in the overall mood of the programme, particularly the one organised at Petrapole.
A large number of people gathered at the programme wearing anti-CAA and anti-NRC bands on their wrists and foreheads. They also raised slogans against the CAA which they said was an attempt to divide the nation on the basis of religion.
Bengal food and supply minister Jyotipriya Mullick said: "This is a special day for us. It is a day that remind us of our bonding, our love for the language and the country. Today people are scared of the draconian act. So, we have gathered here and vowed to fight a battle for our existence as in 1952 our brothers had fought to save the dignity of our mother tongue. The Centre with its CAA, NPR and NRC has pushed us towards another battle."
In 1999, the Unesco had announced February 21 as the International Mother Language Day to promote multilingualism and cultural diversity. It was a recognition of the prolonged struggle of the people of Bangladesh who fought with the rulers of Pakistan who had imposed Urdu as the official language in 1948.
"It has become a similar situation for us now. The citizenship act has become a divisive tool to disintegrate us. We cannot accept this. The martyrs' day is the ideal occasion to take a vow against the divisive provisions that seek to rob us of our motherland," said former Bongaon MLA Gopal Seth, one of the organisers.
Shankar Adhya, chairman of the Bongaon municipality, said: "It is a day to inspire ourselves. We are determined to win this battle. Our chief minister is our leader in this battle. She is not just spearheading the protest in Bengal, but is the main voice against the CAA, NRC, and the NPR across the country."
The protesters sang Rabindranath Tagore's song, paid tributes to the martyrs and encouraged all to raise their voices against the Narendra Modi government's citizenship matrix.
A team of Bangladeshi people, including the MP, was in Petrapole to pay tributes to the martyrs.