Animal attack alarm in Dooars
A senior official said the given "human encroachment" on the forests, the incidents would only rise in the coming days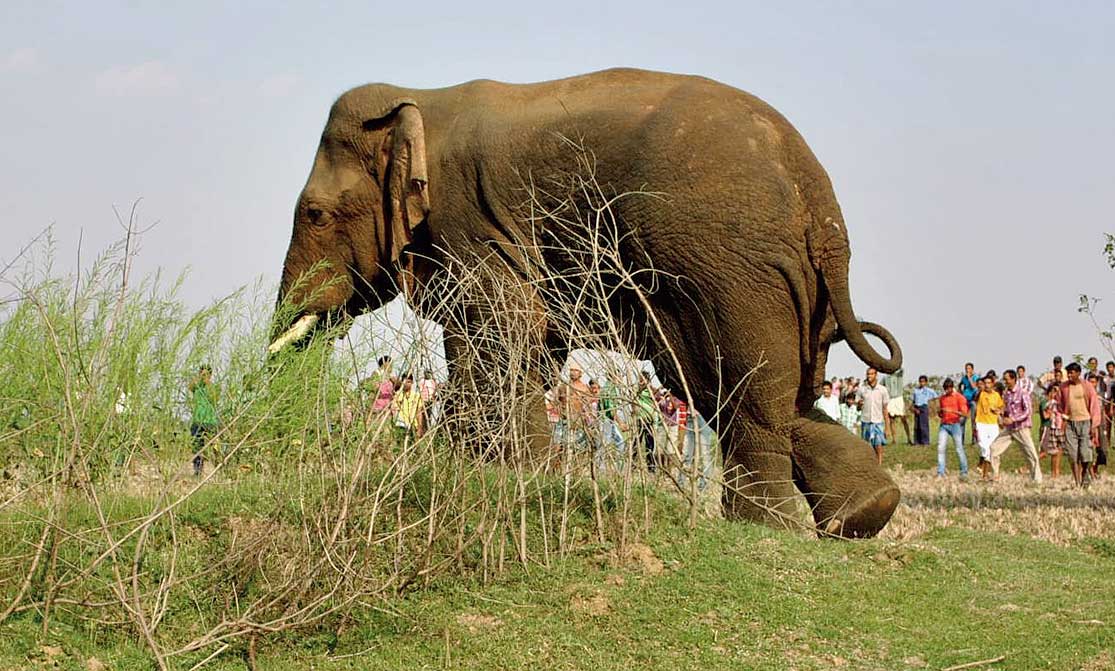 ---
Jalpaiguri
|
Published 29.10.19, 07:52 PM
|
---
Three persons, including a couple, were killed in a suspected elephant attack on the fringes of the Gorumara National Park on Tuesday while seven others were injured by a bison in another part of Jalpaiguri, underscoring the increase in man-animal conflict in the Dooars of north Bengal.
Foresters and environmentalists say the Dooars is now reporting one of the highest incidents of "human-elephant" conflict in Asia, with an average of 50 deaths annually.
Gaona Oraon, 45, and wife Kumari, 38, workers of the Jadavpur Tea Garden, had gone to a nearby Kali puja and were said to be returning home around midnight. Around 8.30am on Tuesday, the bodies of the couple were found. Barely 2km away, another body, that of Budharu Lakra, 36, a resident of Kalamati in Jalpaiguri district, was discovered.
Although there were no eyewitnesses, foresters said the trio were killed by a jumbo, citing the "signs of attack" and the presence of elephant dung. The forests believe an elephant that had strayed from the herd attacked the three persons.
Ujjwal Ghosh, chief conservator of forests wildlife (north), said: "Pressure on the forest is increasing. Elephant corridors are being encroached. Man-animal conflict is bound to increase."
Tuesday's deaths have also swivelled the spotlight on a human tragedy. Three minors of the Oraon couple, aged 8, 6 and 4, have been orphaned. Under existing norms, an elephant-caused death fetches a compensation of Rs 4 lakh. The Oraon kids, who have lost both parents, will get Rs 8 lakh. But the villagers said they would seek more aid.
Nisha Goswami, the divisional forest officer, said they were looking into the issue of rehabilitation for the kids.
Around 45km away, seven persons were injured when a bison entered Karbala Tea Garden in Malbazar block. The bison died after it was tranquillised.
Additional reporting by Anirban Choudhury in Alipurduar.