Amit Shah's 'micro' plan to revive BJP in Bengal
Saffron camp to hold small booth-level meetings by Union home minister and party chief J.P. Nadda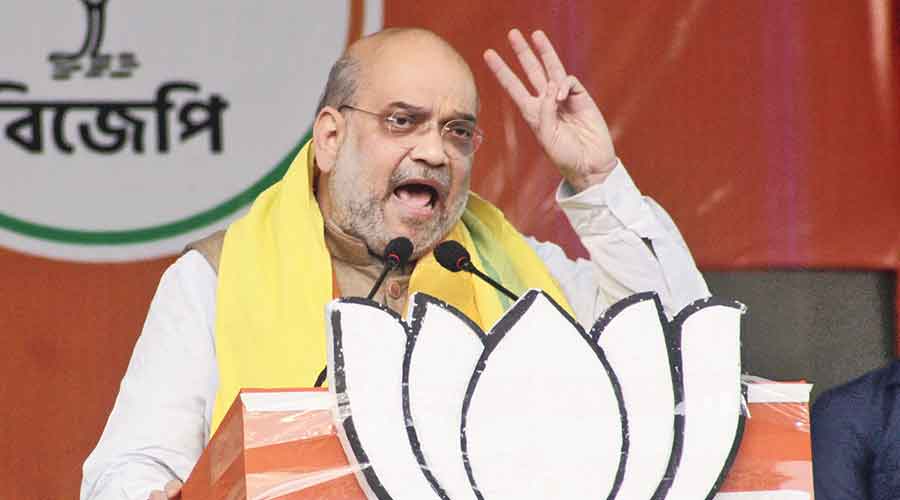 ---
Calcutta
|
Published 25.05.22, 01:33 AM
|
---
The BJP has decided to hold small booth-level meetings by Union home minister Amit Shah and party chief J.P. Nadda across Bengal over the next year or so as a part of its plan to build the party's organisation from the grassroots ahead of the panchayat polls in 2023 and the general election in 2024.
According to BJP  sources, Shah prescribed those decentralised micro meetings to lift the morale of party workers.
"We are not looking at more than 1,500 to 3,000 people for these meetings. Amitji forewarned us that such small meetings may cause rivals to say these meetings are not drawing crowds. But he stressed such meetings are needed to strengthen the organisation," a source said, adding that the instruction had come from Shah in Calcutta on May 6.
Shah, the source added, held that large rallies were good for show of strength but had little impact on the party's organisation.
"He stressed it is vital to 'begin from zero' and expressed interest to take up the challenge (in Bengal). The year-long drive is supposed to begin next month," the source added.
The saffron camp had followed a similar strategy ahead of the Assembly polls, when almost the entire Union ministry was flown in to seek votes in the name of Narendra Modi against Mamata Banerjee. However, the BJP tally stopped at 77 despite its 200-plus target out of 294 seats.
In the months that followed, the BJP unit in Bengal not only saw several defections, but growing squabbles.
On Tuesday, several BJP workers from Moynaguri and Nandigram resigned to protest against newly formed mandal committees. In Nandigram, represented by the leader of Opposition Suvendu Adhikari, several workers resigned from two mandal committees, alleging that people close to Suvendu were made chiefs at the cost of old-timers.
In Moynaguri, those who resigned, protesting that loyalists had been ignored, included BJP district secretary Amal Roy.
"In such a situation, we need someone like Amitji to steer us with his regular presence," said a party source.
The prolonged absence of central leaders in the party's Bengal affairs had compounded the problems, said a party source.
"The central leadership was busy with several other things like the Uttar Pradesh elections. It is heartening that they are looking at Bengal with renewed interest," the source said.
While Shah's promise of regular visits to Bengal has enthused some party leaders who called it the need of the hour after MP Arjun Singh's defection to Trinamul, some others privately said that if the BJP second-in-command has to hold booth-level meetings, it may send a wrong signal.
"The drive is meant to strengthen our booth level organisation. But it will suggest that we have to depend on leaders like Amitji to do things that state leaders are supposed to do," an office-bearer added.