All parties criticise TMC as post-poll violence claims lives
Situation in Bengal reminiscent of Partition days, says Nadda; Congress, CPM blame Trinamul cadres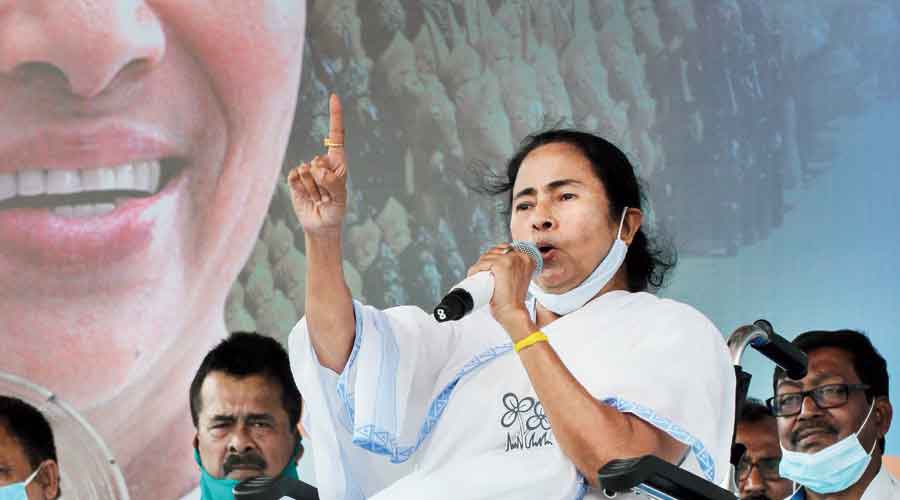 ---
|
Calcutta
|
Published 04.05.21, 06:06 PM
---
Prime Minister Narendra Modi on Tuesday called Bengal Governor Jagdeep Dhankhar and expressed anguish over the law and order situation in the state following reports of post-poll violence from several districts.
The state was in the throes of widespread violence on Monday that allegedly left several BJP workers dead and injured in clashes, and shops being looted, prompting the Centre to seek a factual report from the government on incidents of attack on opposition workers.
"PM called and expressed his serious anguish and concern at the alarmingly worrisome law & order situation @MamataOfficial. I share grave concerns @PMOIndia given that violence vandalism, arson, loot and killings continue unabated," Dhankhar wrote on Twitter.
Bengal BJP on Monday alleged that at least six supporters, including a woman, had been murdered by Trinamul workers as reports of political clashes poured in from across the state. Four Trinamul supporters were also allegedly killed in post-poll violence in south Bengal.
Till Monday evening, the number of political activists killed — across all parties — had crossed 10. Many more were beaten up. Many homes and shops were ransacked or torched.
Trinamul chief Mamata Banerjee publicly urged people to refrain from violence.
Several political parties on Tuesday condemned the violence that had been shrouding Bengal ever since the result of the Assembly elections were announced.
BJP president J P Nadda on Tuesday said the widespread post-poll violence in West Bengal is reminiscent of the atrocities people had to face during the country's Partition, and exhorted party workers in the state to democratically fight the "savagery".
Nadda, who arrived on a two-day visit to Bengal, said BJP workers across India have expressed solidarity with their activists in the state, who are "facing violent attacks".
"We are committed to democratically fight this ideological battle and the activities of the TMC, which is full of intolerance," he told reporters at the NSC Bose International Airport here.
"I had heard of the immense atrocities committed during the Partition, but I have never seen such post-poll violence that is occurring in West Bengal after the declaration of election results (on May 2)," the senior BJP leader said.
Nadda said he will visit the residences of BJP workers "killed" in attacks in South 24 Parganas district and speak to their kin.
"We want to give this message that crores of BJP workers across the country are with them," he said.
CPI(M) general secretary Sitaram Yechury had on Monday criticised the TMC over the violent clashes in the state since the announcement of results for the 292-member Bengal assembly.
"Are these reports of gruesome violence in Bengal TMC's victory celebrations'? Condemnable. Will be resisted & rebuffed. Instead of focusing on combating the pandemic TMC unleashes such mayhem. CPI(M), as always, will be with the people to protect, assist, providing relief," Yechury had said in a tweet.
After the BJP and the CPI-M, the Congress also condemned the post-poll violence in Bengal by TMC cadres, saying such incidents were unacceptable and people of the state have not voted for lawlessness.
Congress' Bengal incharge Jitin Prasada alleged on Tuesday that his party cadres were attacked by Trinamool Congress workers and even women and children were not spared.
"The post-poll violence that has been unleashed by the TMC on the Congress workers is unacceptable. Even women and children are not spared. I'm sure the people of West Bengal did not vote for this lawlessness," Prasad said on Twitter.
He said the duty of every politician or public servant is to speak up against "all wrongs and stand by their cadre irrespective of which ideology one belongs to".
Asked about the post-poll violence taking place in West Bengal after the Trinamool Congress' victory in the state, Congress spokesperson Shaktisinh Gohil said his party never condones such violence.
"Congress has never supported any kind of violence. The Congress party never condones or supports any kind of violence. There is no place for violence in a democracy," he said.
"We expect that if Mamata Banerjee has received so much love and votes in Bengal, she should control the violence," he said.
The Congress leader said, "Even if those who have died are BJP workers, our condolences are with their families".