Ajoy set to lose Darjeeling board
Switchovers take TMC ally close to civic board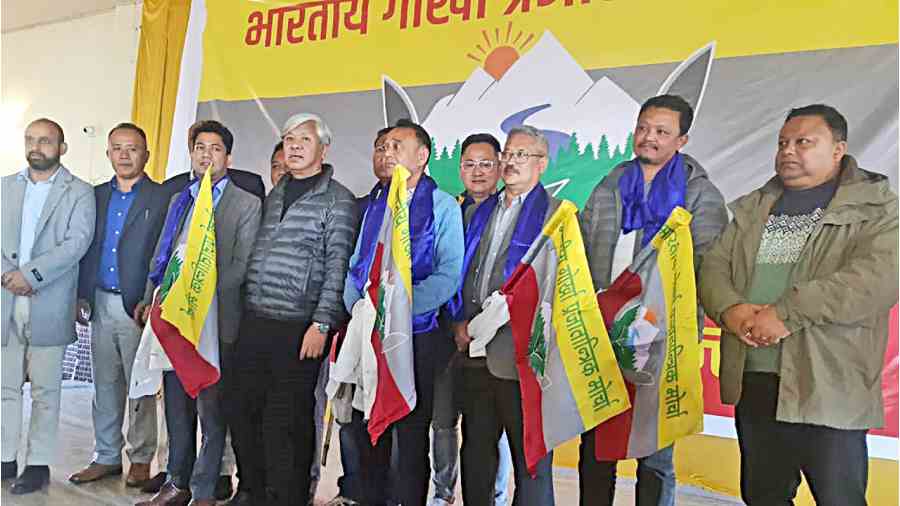 Hamro Party's councillors join the Bharatiya Gorkha Prajatantrik Morcha in Kurseong on Thursday
Picture by Passang Yolmo
---
Darjeeling
|
Published 25.11.22, 03:28 AM
|
---
Ajoy Edwards's Hamro Party which had won elections to Darjeeling municipality within four months of formation is set to lose control of the civic body as its five councillors joined the Bharatiya Gorkha Prajatantrik Morcha (BGPM) on Thursday.
The switchover will indirectly strengthen the Trinamul Congress's grip on politics in the Darjeeling hills as the party is aligned with the BGPM led by Anit Thapa.
Five councillors who had won the elections held in February as Hamro Party (HP) candidates joined the BGPM in Kurseong on Thursday. The five are Dipen Thakuri (ward 2), Bishnu Malla (7), S. Lama (19), Ganesh Pradhan (4) and Saran Chhetri (13).
BGPM leaders said another HP councillor Dorjee Lama of ward 6, too, had decided to switch but could not attend the induction programme in Kurseong because of a medical emergency in his family. 
The HP had won 18 seats and the BGPM nine at the 32-member municipality. The effective strength of the civic board is now 31 following a BGPM councillor's resignation. The defection of the six councillors means the BGPM will now have 14 members.
Trinamul immediately announced that its two councillors would provide outside support to the BGPM. So, the BGPM's tally will reach the majority mark of 16.
Shanta Chhetri, a Rajya Sabha member of Trinamul, said: "We had contested the GTA elections in alliance with the BGPM. So, we will provide outside support to the BGPM at Darjeeling municipality."
As HP's tally would go down to 12 from 18, it will have to sit in the opposition.
In the past, Bengal chief minister Mamata Banerjee had tried different permutations and combinations in hill politics. She shared ties with Bimal Gurung's Gorkha Janmukti Morcha, formed boards for various communities in the hills, propped up Binay Tamang to effect a split in the Morcha and joined hands with GNLF leader Mann Ghisingh.
Mamata has also been inviting Ajoy Edwards to government programmes in Darjeeling during her visit to the hill town.
"It seems she has finally tasted success... Mamata's decision to bet on Thapa seems to be yielding results. Apart from ensuring peace in the hills, he has also started winning elections keeping Trinamul in a comfortable position," said an observer.
No party based in the plains of Bengal has had so much control over the hill politics as Trinamul has now.