Aishe questions govts on Covid-19 tests
Ghosh delivered free rations to around 200 poor people on Saturday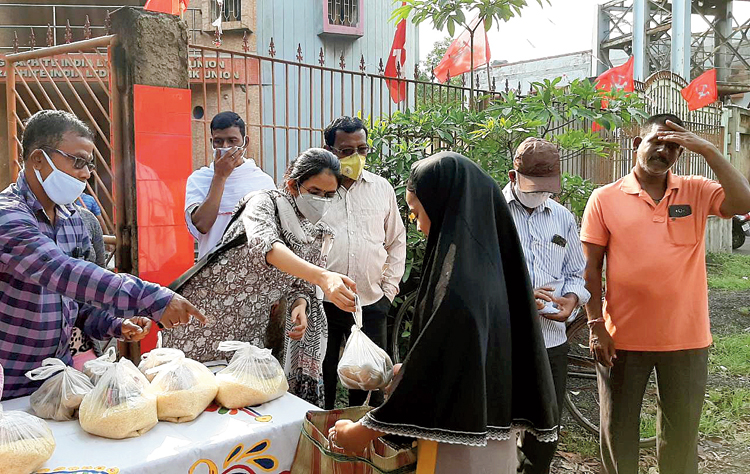 ---
|
Durgapur
|
Published 03.05.20, 07:52 PM
---
Students' Federation of India leader and Jawaharlal Nehru University Students' Union president Aishe Ghosh has distributed rations and medicines among the needy in Durgapur.
Ghosh delivered free rations to around 200 poor people on Saturday. On Thursday, she had handed over medicines, sanitisers and dry food items to the needy.
The SFI leader used the occasion of relief distribution overdrive to allege that central and state governments were not properly conducting Covid-19 tests. "The (Union) government has divided areas into green, orange and red zones depending on Covid-19 cases. But how did they identify the zones without conducting enough tests," asked Ghosh.
Sources said the SFI and the Citu had persuaded Ghosh to make an appearance and take a stand on the handling of the pandemic after a section of the saffron propaganda machinery had started criticising her apparent silence on the crisis. Ghosh was accused of sitting idle during the pandemic, while she had been at the forefront of the agitation against the Citizenship Amendment Act.
On Sunday, the SFI leader blamed both the central and the state governments for circulation of "false reports" on the novel coronavirus outbreak and alleged concealment of facts. "Both the governments are trying to hide facts from people and circulating wrong news pertaining to Covid-19. How will people understand and become aware of the situation if they are not allowed to know the facts?"
Ghosh has stressed that the governments should reach out to people who are starving because of the lockdown.
"You are asking people to stay at home to save themselves from Covid-19, but if they do not have food at home, they will starve to death. The government should ensure food for them — it is more important now rather than the conflict between the state and Centre over the number of casualties and other statistics," said Ghosh.
She said the Centre should explain to the people on how the lengthy lockdown was helping control the outbreak.
"The statistics reveal that the number of novel coronavirus-affected patients are increasing. The government should justify its actions and focus on practical issues like the loss of jobs and income because of the lengthy lockdown," she said.
Asked about the allegations of being inactive amid the Covid-19 pandemic and lockdown, Ghosh said she was doing whatever she could.
"It is not true that I was inactive. On behalf of the SFI, we distributed rations among 100 sanitary workers at the JNU who were not given wages during the lockdown. We are doing whatever we can within our limits," she said.