Air quality 'very poor' in parts of Calcutta
First time three air quality monitoring stations showed "very poor" levels of PM2.5 in the air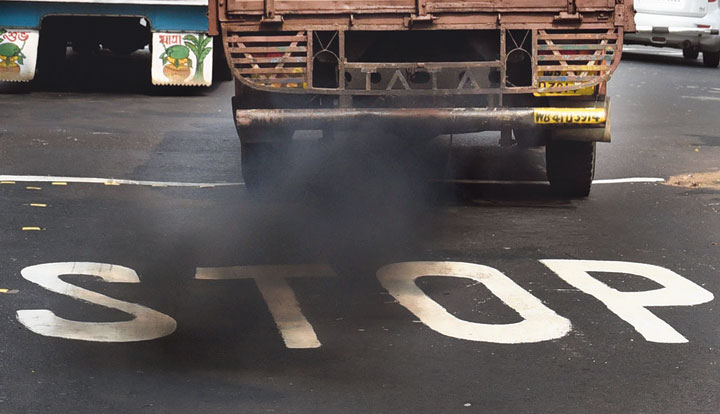 A truck belches out smoke in the city
File picture
---
Calcutta
|
Published 19.10.19, 08:06 PM
|
---
The tiniest pollutants in air that can act as carriers of toxic carcinogenic chemicals and enter the deepest crevices of human organs have already reached "very poor" levels in several places in the city during morning hours.
This is the first time this autumn that three air quality monitoring stations showed "very poor" levels of PM2.5 in the air, environment activists said. The "very poor" levels on a single morning do not mean that the air quality in these places have become that bad, but they should trigger alarm bells so that it doesn't get worse with time, scientists said.
The National Air Quality Index says that "poor" PM2.5 levels can cause "breathing discomfort to most people on prolonged exposure", while "very poor" levels can trigger "respiratory illness on prolonged exposure".
PM2.5 is the primary pollutant in Calcutta. These are particles less than 2.5 microns in size and the miniscule size allows these particles to get past the nostrils, where bigger particles get stuck.
Scientists said that toxic chemicals attach with particles and PM2.5 acts as carriers of these toxic chemicals, many of which are carcinogenic. "PM2.5 is invisible to naked eyes. They enter the bloodstream and can enter all organs. This is why PM2.5 has the ability to affect any human organ," a scientist said.
According to the National Air Quality Index, the range for PM2.5 was "very poor" at Fort William from around 1am to around 6am on Saturday. In Ballygunge, PM2.5 stayed in the range of "poor" to "very poor" from midnight on Friday to a little after 6am on Saturday, while at Victoria Memorial also PM2.5 was in "very poor" range till a little after 6am.
Since this is the period when a lot of people step out for morning walks, the high levels of PM2.5 in air can cause harm, according to public health specialists.
Air quality management specialist Anumita Roy Chowdhury said the levels would continue to increase during winter when the particles cannot disperse but get trapped in the atmosphere immediately above the surface.
"Daily and consistent exposure will increase risk. Health advisories usually tell people to adjust timings and reduce outdoor exposure during the period when the levels are very high," Roy Chowdhury said.
Metro reported on Saturday that the state government has planned a series of steps to keep the air quality in check from deteriorating to risky levels.