Adhir Chowdhury and Mamata Banerjee trade charges
It is during the Trinamul government (tenure) in the last 10 years that the RSS has increased its shakhas in Bengal: State Congress chief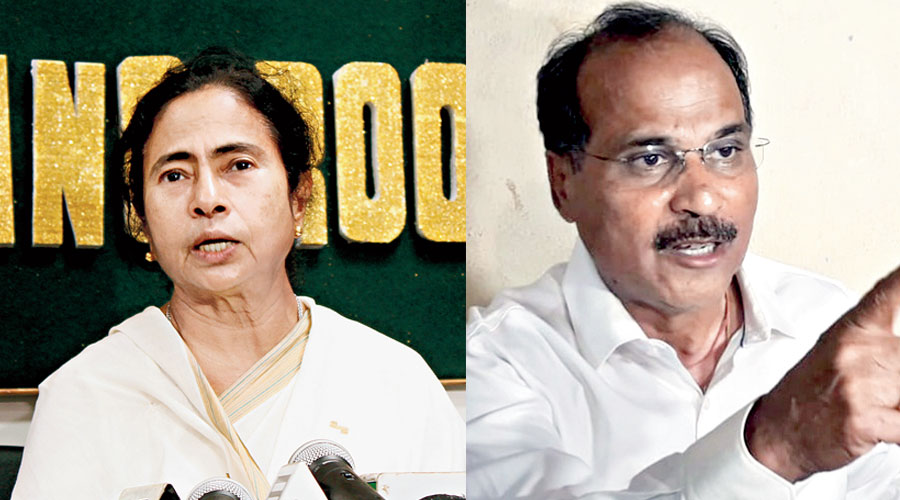 Mamata Banerjee and Adhir Ranjan Chowdhury
Telegraph Picture
---
Calcutta
|
Published 02.11.21, 01:01 AM
|
---
Bengal Congress chief Adhir Ranjan Chowdhury on Monday alleged that the Rashtriya Swayamsevak Sangh, BJP's ideological parent, multiplied the number of its shakhas or branches manifold in the state under the Trinamul regime.
"Trinamul and the BJP have the same DNA. It is during the Trinamul government (tenure) in the last 10 years that the RSS has increased its shakhas in the state," he said, possibly in response to Trinamul's blistering attacks on the Congress's alleged failure to contain the BJP.
Between 2013 and 2020, the number of RSS shakhas in Bengal grew from 820 to 1,600.
He asked why Mamata had allied with the BJP in the past.
Mamata addressed the issues later. "We used to do Congress (Mamata cut her political teeth with the Congress). Why did we leave them? Because they cheated us, cheated the people. We quit the (Congress-led) UPA. Why...Because there was a hike in the price of (cooking) gas every day... How did they support the CPM, which was our biggest enemy?" she asked.
She added: "We had once gone into an alliance with the (BJP-led) NDA based on a common minimum programme… Our first condition was that someone from a different religion cannot be harmed."
Mamata added her party was forced to venture into other states as the Congress cannot be trusted anymore. "Since Narendra Modi came to power, has the Congress ever put up a fight?" she asked.
Trinamul MP Saugata Roy said RSS's growth can't be linked to Trinamul. "The BJP is at the Centre and facilitating the growth of the RSS," he said.
The war of words, which started in the morning with Chowdhury's comments, continued till this evening as the state Congress president tossed up questions for Mamata in reply to her comments. "She is deceiving herself. Why didn't she realise the Congress's mistakes in 2011, when she went into an alliance with the Congress to remove the CPM from power?" he asked. "Bengal's chief minister has taken supaari from BJP to finish the Congress. Otherwise why does she use 100 words against the Congress and none against BJP? Astonishing."
A political observer said it was clear that Chowdhury attacked Mamata in response to her recent comments about the Congress's inability in taking on the BJP. Since early August, Congress has been attacked on more than two dozen occasions by Mamata, her nephew Abhishek and Trinamul's mouthpiece Jago Bangla.
The most scathing attack came from Mamata on Saturday while speaking to journalists in Goa on the last day of her three-day trip in the western state where Trinamul will contest the 2022 state polls.
"Modiji is going to be more powerful because of the Congress... Congress is the BJP's TRP…,"she had said in Goa.
Sources in the state unit of the Congress said that the volley of attacks didn't go down well with the Congress high command in Delhi.