Adda, Nobel winner Banerjee's greatest longing
Abhijit Banerjee plans to drop in for a day in Calcutta to catch up with friends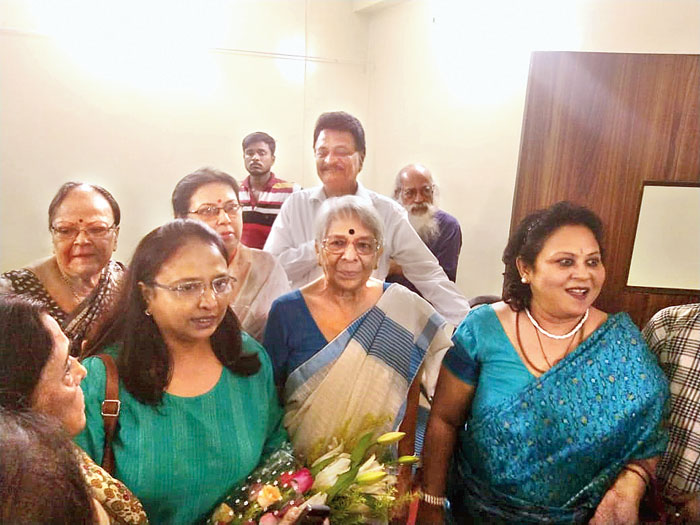 ---
Calcutta
|
Published 16.10.19, 12:13 AM
|
---
A hearty adda with friends is what Nobel winner Abhijit Vinayak Banerjee craves the most.
Banerjee, who is scheduled to visit Delhi soon for the launch of his next book, plans to drop in for a day in Calcutta to catch up with friends.
"He is apparently just coming for a day to enjoy an adda with his friends after the launch of his book in New Delhi," mother Nirmala Banerjee said at a felicitation ceremony organised by the residents of Saptaparni, where she lives.
Somewhat baffled at being felicitated for her son's feat and met with a request for the economist's time for a felicitation, Nirmala Banerjee said: "I will definitely tell him but (I) have no clue about his schedule. "
At least 50 residents had gathered in the community hall of the building on Ballygunge Circular Road. Some of them had left work early to hear the Nobel winner's mother speak.
"We are very proud of professor Abhijit Banerjee and will definitely try to felicitate him whenever he is around and comfortable," said Indranath Chatterjee, the secretary of the residents' association. Abhijit Banerjee has recently applied for joint membership of the association along with his mother.
Questions flowed in steadily. Someone asked how Abhijit Banerjee had managed to explain complicated economic theories in his book so simply. Mother Nirmala Banerjee
attributed the skill to her son's teaching genes. "His grandfather, his father and Abhijit himself are essentially teachers, which might have helped him explain complicated things simply because all of them have done that as teachers".
Another trait that might have stood Banerjee well, according to his mother, was his ability to stick to his point. "From the time he was very young, he stuck to his point," said the resident of 86F on the eighth floor.
Nirmala Banerjee described her son and daughter-in-law as "extremely hardworking and patient".
When another resident pointed out how freely and fearlessly Abhijit had voiced his opinion about India's economy, his mother had a smile of approval.
"I am very happy that his work has been recognised," she said.
An economist herself, Nirmala Banerjee pointed out that she was interested in knowing the conclusion alongside the randomised control trial (RCT) methodology that brought Abhijit his Nobel.
Abhijit Banerjee has said in his post-Nobel speeches that that he had understood various facets of poverty during his days in Calcutta.